The Untold Truth Of Arnold Palmer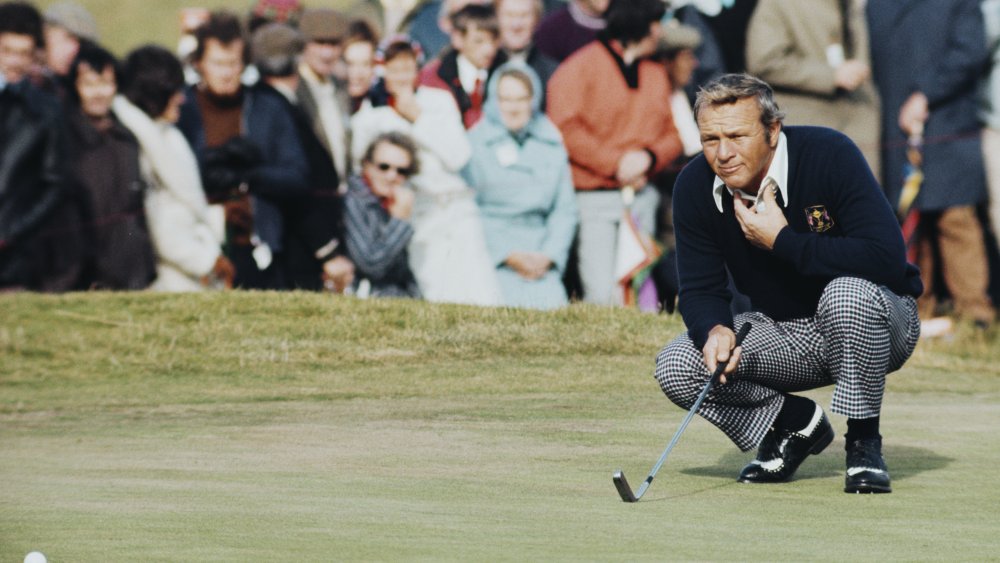 Don Morley/Getty Images
For most people, the name Arnold Palmer evokes a drink that mixes both iced tea and lemonade. There's even a mass-marketed "hard" version blended with vodka. Arnold Palmer, though, is more than a tasty beverage; he's one of the most influential golfers of all time. He helped popularize the sport beyond wealthy elites, making golf into a televised sport, explained the website of the Professional Golfers' Association of America (PGA). His contributions to the sport earned him a Presidential Medal of Freedom and the Congressional Gold Medal. Considered one of the greatest players of all time, he won 62 PGA tour titles and is fifth in the all-time victory list behind other famous golfers like Tiger Woods and Jack Nicklaus.
Palmer grew up in Latrobe, Pennsylvania, a working-class steel mill town where Fred Rogers also grew up. (They were a year apart, reports Golf Digest.) Palmer learned golf from his father, who was a professional and groundskeeper at the Latrobe Country Club, CNN wrote. He attended Wake Forest College on a golf scholarship but dropped out after his friend and roommate Bud Worsham was killed in a car accident. He decided to join the US Coast Guard and ended up serving for three years, 1951-1954. Just because he was serving in the military didn't mean he stopped playing golf. He was stationed in Cape May, New Jersey, and he built himself a nine-hole course to practice golf. He left the Coast Guard and returned to college and competitive golf.
He made golf look cool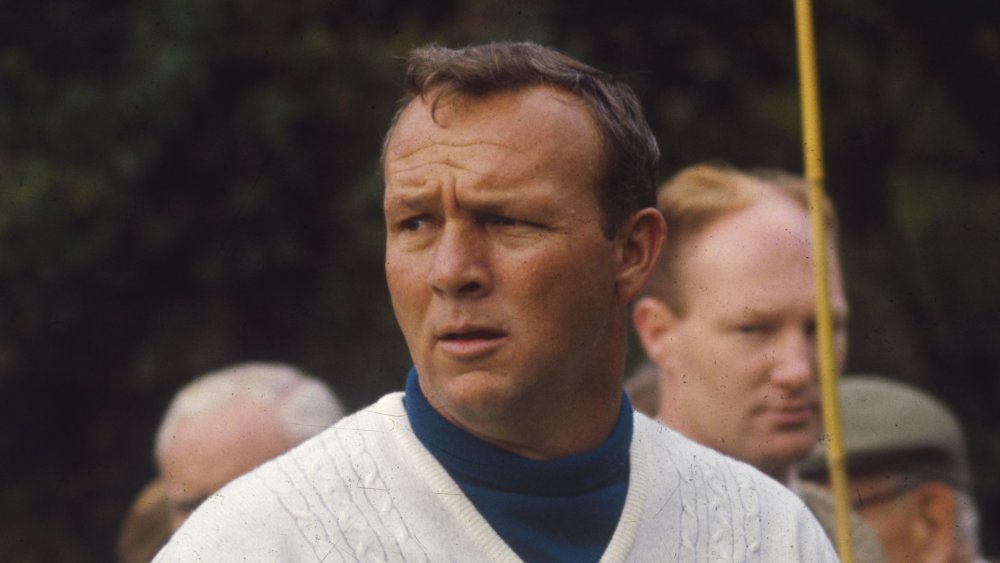 George Freston/Getty Images
Palmer won an amateur competition in 1954 and decided that it was time to turn pro. He'd taken a job selling paint but hoped to make golf his full-time career. He joined a tournament in eastern Pennsylvania and met his future wife Winnie there, reported The New York Times. From that point on, Palmer was focused on making it big in golf. From 1955 onward, he began racking up win after win. He won his first Masters in 1958 after a controversial ruling. Palmer's signature strong swing and go-for-broke attitude earned him fans. A group of former servicemen called themselves "Arnie's Army" back during the 1960 Masters. The name stuck, and the fanbase grew.
As Palmer started to make his mark on the golfing world, television also began to see potential in the sport. Palmer made the perfect character for TV. He was handsome and charming, said the PGA's website, completely different from what people thought golfers were. He wasn't staid or stuck up, and his blue-collar background was easy to market. In the words of fellow golfing great Jack Nicklaus, Palmer made golf cool.
And cool sells. In 1960 Palmer met sports agent Mark McCormack, who sold the Palmer personality to the public, said USA Today's Golf Week. It helped that Palmer continued to win titles. And even though Palmer never won the PGA Championship, thus completing a Grand Slam, he's still considered one of the best ever to play the game.
There's a lot of Palmer related businesses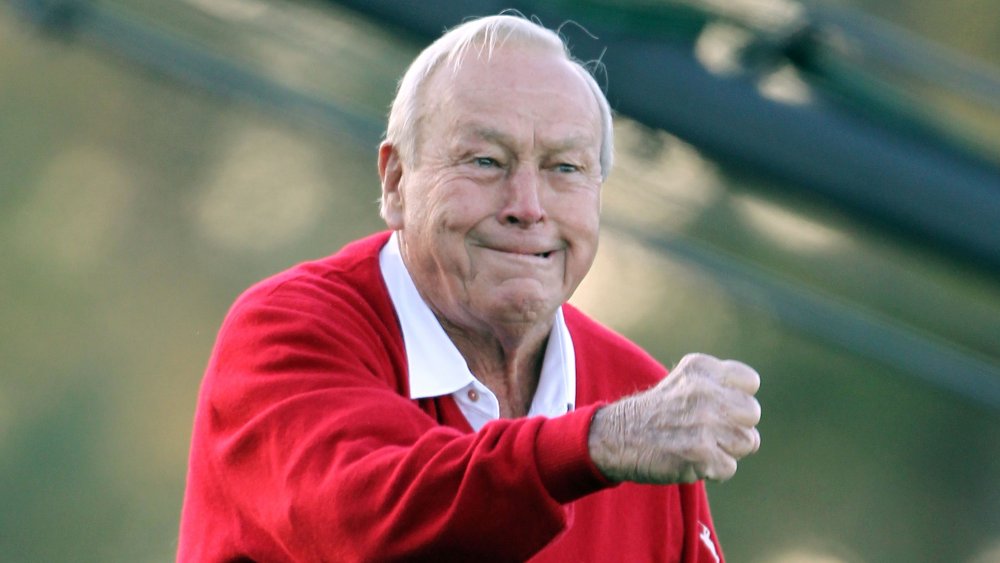 Jamie Squire/Getty Images
Palmer and McCormack knew they could build his brand beyond his golf playing. Palmer started a business dedicated to designing and redesigning golf courses. He bought the Latrobe Country Club, where his father taught him how to swing. He became a spokesperson for Pennzoil, and was the original chairman of the Golf Channel. There's now an Arnold Palmer Invitational.
Palmer was a pilot as well. He flew his aircraft to his tournaments and found time to circumnavigate the globe in 1976, said The New York Times. It's not surprise that the Latrobe airport is named after him. Palmer also raised money for many causes. Two hospitals are named after him and his wife. Woods even said his children were born in the Winnie Palmer Hospital for Women & Babies. And yes, even the Arnold Palmer drink was a business venture. He officially licensed his name for the drink.
Palmer's wife, Winnie, died from complications from ovarian cancer in 1999. He remarried in 2005 to Kathleen Gawthorp. Palmer's grandson Sam Saunders also golfs professionally, though according to his Instagram post he pulled out of the 2019 season due to a shoulder injury.
Arnold Palmer almost single-handedly made golf cool, and his death in 2016 from heart problems at 87 caused the golf world to mourn. If you know golf as a popular sport, then you have Palmer to thank for that. So, cheers, Arnold Palmer.