Jimi Hendrix's Heartbreaking Last Words Left On His Manager's Answering Machine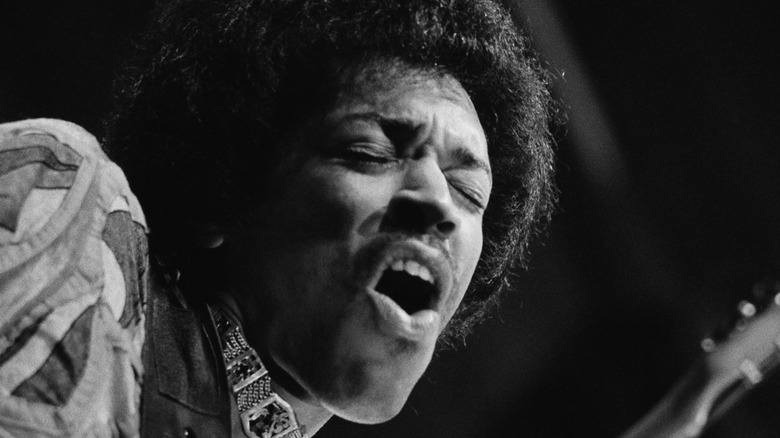 Michael Ochs Archives/Getty Images
Jimi Hendrix is rock 'n' roll's god of the electric guitar, and he attained that status in an incredibly short amount of time; his first album, "Are You Experienced?," was released in 1967, and he died in 1970. It takes a special kind of genius to achieve what most rock stars spend years –- if not decades –- striving for in only four years. Hendrix was of a rare breed, and that small period of time when the world was lucky enough to have him is filled with hit songs and legendary performances, such as his rendition of "The Star-Spangled Banner" in 1969 at Woodstock.
But then again, it's nearly impossible for anyone to reach that level of success so quickly and not experience the toll it exacts. His substance abuse is well-documented; Hendrix's friend Herbie Worthington recounted in Charles R. Cross' book "Room Full of Mirrors" (via Far Out Magazine) that the famed guitarist didn't hold his alcohol well. Worthington said, "He simply turned into a bastard." There's no shortage of these kinds of contemporaneous accounts, such as Mick Jagger's description in a Rolling Stone interview of how fame and drugs pushed Hendrix over the edge: "He goes, 'uh, I don't want to play 'Purple Haze' every night. I don't want to burn the guitar.' And then when everyone went off the deep end, he had to go off the deep end. He became a heroin addict."
The events of his final night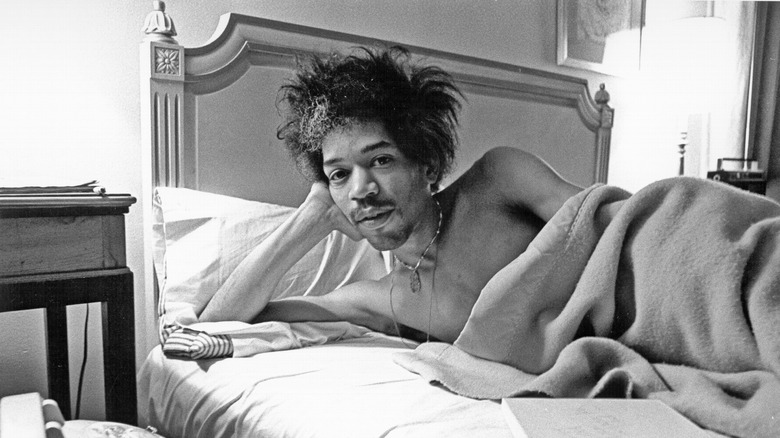 Roz Kelly/Getty Images
Jimi Hendrix's rock 'n' roll lifestyle not only lasted until his tragic end but was also responsible for it. According to Yahoo, at the time of his death, Hendrix was living in an apartment with his girlfriend Monika Dannemann. On his final night, Dannemann dropped him off at a friend's place at 1:45 a.m., where he stayed until she picked him up around 3 a.m. She then took Hendrix back to their apartment, where he took a large number of her prescribed sleeping pills. This would be Hendrix's last act of overindulgence.
Yahoo states that later that morning on September 18, 1970, Hendrix was found dead, prompting Dannemann to call an ambulance at 11:18 a.m. The paramedics took the unresponsive Hendrix to St. Mary Abbot's Hospital. He was officially pronounced dead at 12:45 p.m., with the cause of death attributed to barbiturate-related asphyxia, thus ending the life of one of rock's brightest stars.
His final words
Doug Mckenzie/Getty Images
There's so much tragedy surrounding Jimi Hendrix's death, such as the fact that he died so young (becoming a member of the 27 Club). However, there are more details around his death that make it all the more heartbreaking. As stated in Yahoo, it was later revealed that a handwritten note was discovered in Hendrix's apartment that Monika Dannemann believes was written for her. 
The contents of the note are as follows: "The story of life is quicker than the wink of an eye / The story of love is hello and goodbye, until we meet again." It's hard to know for sure whether it was a poem, a suicide note, or the beginning lyrics to a potential song Hendrix was working on, but the words are made all the more bittersweet considering the circumstances.
However, the tragedy of Hendrix's death doesn't end there. Perhaps the most heartbreaking aspect of his untimely passing is the message he left on his manager Chas Chandler's answering machine, which Yahoo reveals was, "I need help bad, man." 
Did Hendrix know that his life was about to end? If so, why did he reach out specifically to Chandler? And what could've happened had Chandler gotten the message on time? There are too many unanswered questions surrounding Hendrix's final plea, all coalescing into a grim demise for such a great musician. But, because Hendrix's music continues to leave us mystified, perhaps it's fitting that his passing remains just as enigmatic.