How Angela Davis Inspired One Of The Rolling Stones' Only Political Songs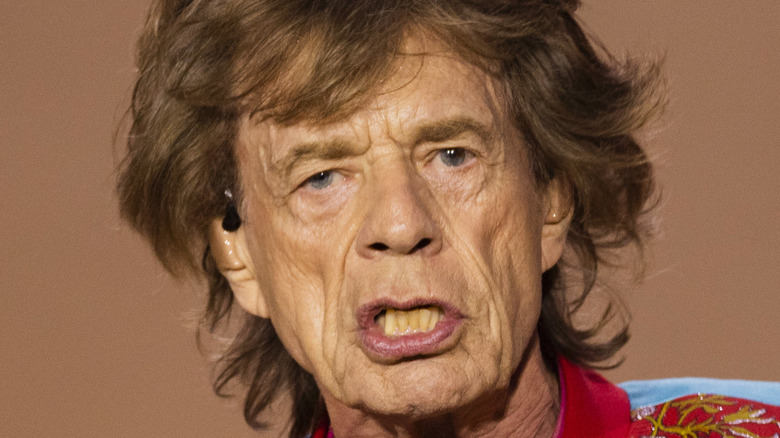 Bsr Agency/Getty Images
Politics and pop culture intersected in the 1960s, as it continues to do today. With the Vietnam War abroad and civil rights conflicts at home, the United States saw young people raising their voices in new avenues like on college campuses and with celebrity allies. Even British celebrities gave their two cents in the years following the so-called British Invasion. The Beatles released "Blackbird," inspired by the plight of African Americans of the era, especially the nine black students who enrolled in a white school in Little Rock, Arkansas. 
The other well-known British Invasion band was The Rolling Stones. Controversy followed them from the early days of their career. They first performed on "The Ed Sullivan Show" in October of 1964, but Sullivan himself did not want to book them for the show again because of their "untidy appearance" (per Ed Sullivan). Run-ins with the law due to drug use occurred in the late 1960s as well. The subject matter of some of their songs was controversial as well, but only political on a handful of occasions.
Angela Davis was an activist in the 1970s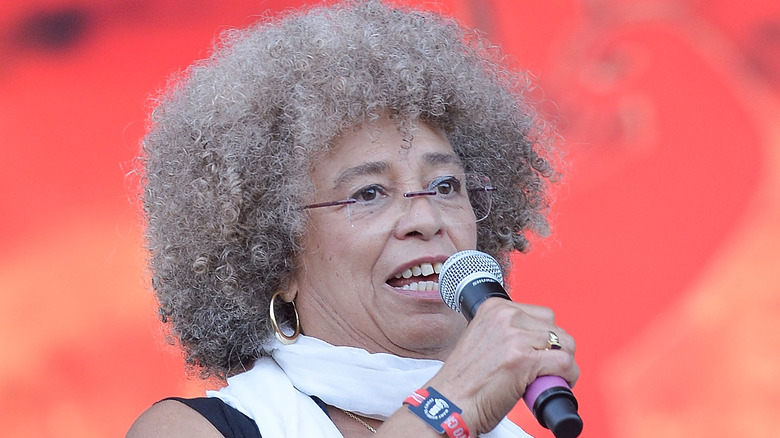 Paras Griffin/Getty Images
Angela Davis was an African American activist who gained attention in the early 1970s. After working as an instructor at the University of California in Los Angeles, her Marxist ideologies prevented the university from renewing her as a lecturer. Then in 1970, she supported activist George Jackson, whose brother was killed in an escape and kidnapping attempt from prison that also involved the death of a trial judge. Davis was thought to be a co-conspirator in the debacle and was arrested for possible murder, kidnapping, and conspiracy, but was acquitted.
In 1972, The Rolling Stones released "Exile on Main Street." Lead singer Mick Jagger wrote the song "Sweet Black Angel" about Davis. He and wife Bianca Jagger walked in a march supporting Davis in Paris on the same day "Exile on Main Street" was released. The band only released a few other politically-charged songs, but were vocal about their opposition of segregation by refusing to play at segregated performance venues (per Yesterday's Papers). 
Angela Davis became an author after her arrest and acquittal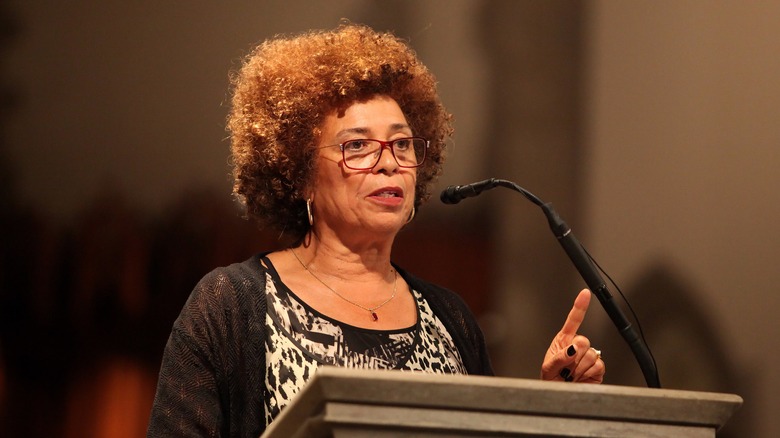 Raymond Boyd/Getty Images
The lyrics to "Sweet Black Angel" do not directly address Angela Davis, but the song does reference a murdered judge, a "gal in chains," and asks "Ain't someone gonna free her?" According to the Associated Press, The Rolling Stones rarely performed the song live, but the band Phish did a rendition of it in 2009, opting to ditch Mick Jagger's Caribbean accent that he put on while recording the song. Davis also caught the attention of John Lennon and Yoko Ono, who included a song titled "Angela" on their 1972 album "Some Time in New York City." Aretha Franklin wanted to pay Davis's bond as well.
Davis remained in political spheres after her arrest and eventual acquittal. She unsuccessfully ran for vice president in 1980 as a Communist. In the late 1980s, she published books about multiple social issues and subjects, including feminism in the black community and prisons (per Britannica). She continued to make appearances and speeches into the 21st century including at the Birkbeck Annual Law Lecture in 2013.