Kobe Bryant's Symbolic Meaning Behind Changing His Jersey Number From 8 To 24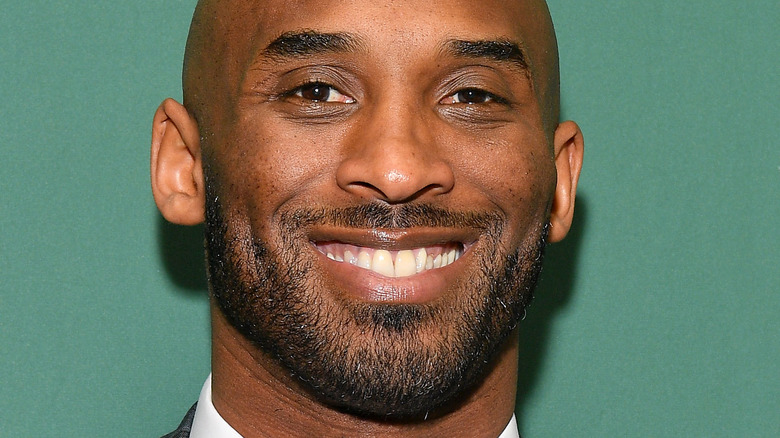 Dia Dipasupil/Getty Images
If you're a Los Angeles Lakers fan, we can't blame you if you're pining for the days when the late Kobe Bryant was winning consecutive championships for the franchise. Over a career that lasted 20 long years (and started just months after he graduated from high school), the Black Mamba won titles for the Lakers with two separate supporting casts ... and two separate jersey numbers.
When Bryant chose a number after being drafted in 1996, he went with No. 8 because that was the number he wore on the court while spending his childhood in Italy and because that was the sum of the digits of his jersey number (143) at the Adidas ABCD Camp. Most NBA fans know that he eventually switched to No. 24, which is the number he wore until he retired at the end of the 2015-16 campaign. It was also one of the numbers he wore while starring for Lower Merion High School in Ardmore, Pennsylvania (via CBS Sports), the other one being No. 33; upon joining the Lakers, he couldn't use either, as journeyman forward George McCloud was wearing the former, while the latter, which Kareem Abdul-Jabbar had previously donned, had already been retired by the team.
But what was the primary reason behind the change? Speaking to ESPN in 2017, Bryant gave an especially symbolic justification for the move.
No. 24 represented growth and new beginnings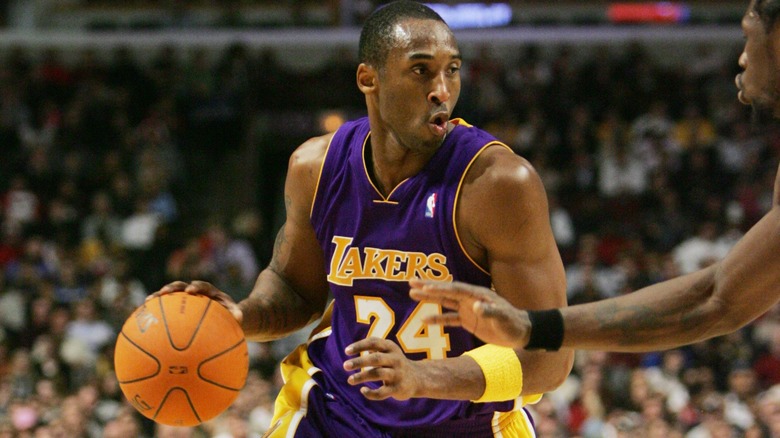 Jonathan Daniel/Getty Images
When Kobe Bryant entered the NBA in 1996 as a fresh-faced 18-year-old, he had no intentions of ever changing his jersey number. And while it took him a few seasons, he ultimately made No. 8 iconic in Los Angeles, emerging as one-half of the late '90s/early 2000s Lakers' championship-winning superstar duo alongside Shaquille O'Neal. But when O'Neal was traded to the Miami Heat in the summer of 2004, Bryant realized he needed to start fresh just as the Lakers were doing, and that meant getting a new number. 
It was only in the 2006-07 NBA season when Bryant started wearing No. 24; had he submitted his request before the previous season's deadline, he would have gone from No. 8 to 24 a year sooner. In a December 2017 interview with ESPN, he explained why he had made this decision. "It's kind of a clean slate," Bryant told the outlet's Baxter Holmes. "I started new. Just start completely fresh, focus on the number that meant a lot to me."
Bryant added that while No. 8 represented who he was when he was trying to establish himself in the NBA, No. 24 stood for his growth as a player and as a person. "Physical attributes aren't there the way they used to be, but the maturity level is greater," he said. "Marriage, kids. Start having a broader perspective being one of the older guys on the team now, as opposed to being the youngest. Things evolve. It's not to say one is better than the other or one's a better way to be. It's just growth."
Both of Bryant's jersey numbers were retired by the Lakers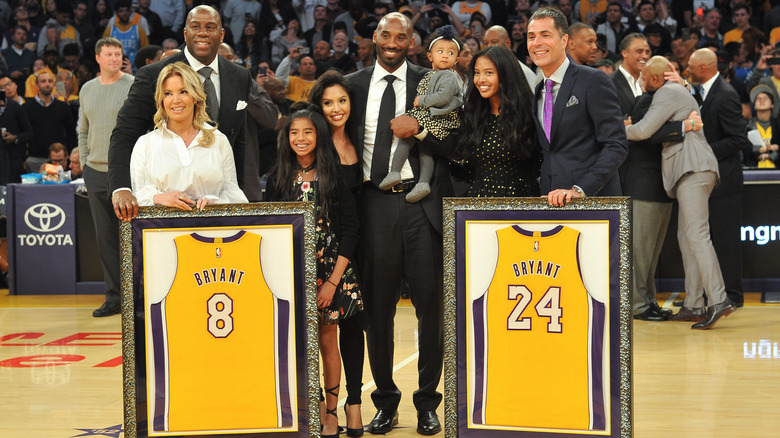 Allen Berezovsky/Getty Images
Prior to Kobe Bryant's jersey number switch, he had scored a total of 16,777 points in 10 NBA seasons wearing No. 8. After making the change to No. 24, he scored another 16,866 across 10 more seasons, giving him an almost identical number of points scored in the second half of his career. Although he told ESPN that the switch helped motivate him at a time when NBA players are expected to start slowing down and suffering more aches and pains, he still played at an elite level for the most part, winning his lone MVP award (in the 2007-08 season) on top of two more titles to give him five championships in total.
Given the similar levels of success in the first and second halves of his career, it didn't surprise anyone when the Los Angeles Lakers retired Bryant's No. 8 and No. 24 jersey numbers on December 18, 2017. It was a well-deserved honor for the Black Mamba; impressive as it was that he was only the 10th Laker whose jersey was retired by the organization, it was doubly more impressive that he was the first NBA player in history to have both his numbers retired by the same team. Unless someone like Giannis Antetokounmpo, Luka Doncic, or any other young superstar from today's crop of players pulls off a similar mid-career number change while staying put on their current team, it might be a while before we see this feat repeated in the NBA.