The Tragic Death Of Dead Kennedys' Drummer DH Peligro
Punk rock's reputation for being politically blunt and aggressive is well-earned, thanks to the numerous anti-establishment acts in the genre's history. Bands like The Clash, Bad Religion, NOFX, Crass, and more all took the status quo down a peg. And Dead Kennedys is no exception. As AllMusic explains, Dead Kennedys smashed opened the doors of rock with an anti-capitalist, anti-fascist sledgehammer, penning lyrics that were often revolutionary and left-wing. Some of their best-known songs are "Holiday in Cambodia," "Kill the Poor," "Pull My Strings," "Let's Lynch the Landlord," and more. 
The Dead Kennedys' band lineup included lead guitarist East Bay Ray, bassist Klaus Flouride, drummer Bruce Slesinger, vocalist Jello Biafra, and rhythm guitarist Carlos Cadona. Drummer D.H. Peligro later joined the band, becoming one of the most beloved punk rock drummers in history. As CNN reports, Peligro tragically died on October 28, 2022, after experiencing a head injury from an accidental fall. Before his death, D.H. Peligro lived an often contentious and fascinating life. 
Who was D.H. Peligro?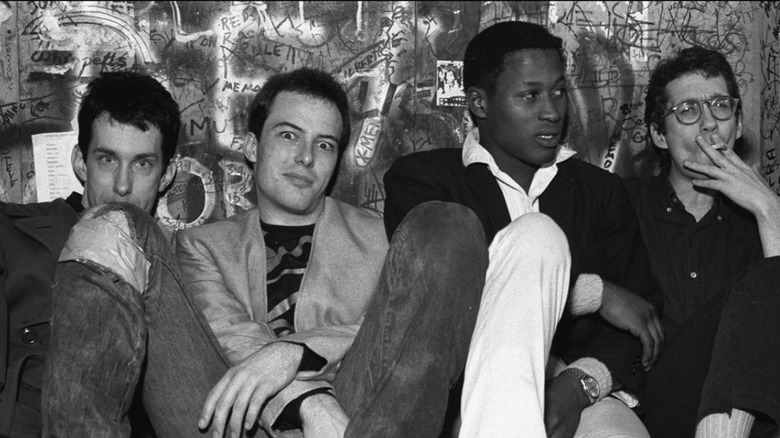 Jim Steinfeldt/Getty Images
D.H. Peligro's life was both tumultuous and successful. As Pitchfork says, Peligro, born Darren Henley, was born in St. Louis, Missouri, on July 9, 1959. Peligro wouldn't meet up with the band Dead Kennedys until the year 1980. The band's then drummer, Bruce "Ted" Slesinger, had been playing with the band for two years. However, he ultimately left the group and was replaced by Peligro (via AllMusic). 
As Far Out Magazine explains, the Dead Kennedys eventually broke up in the year 1986. After a short stint with the Red Hot Chili Peppers, Peligro focused on his own solo drumming work. He even had three albums produced under his own name. When the Dead Kennedys came back together in 2001, Peligro rejoined and played with them until he died in October 2022. 
He was also a drummer for the Red Hot Chili Peppers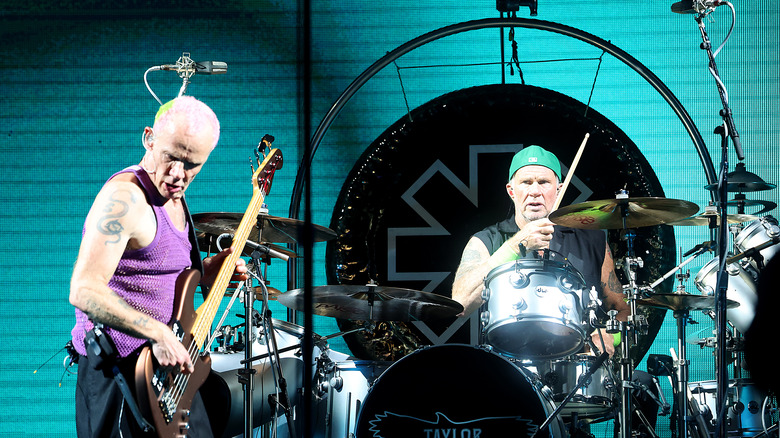 Gary Miller/Getty Images
The Red Hot Chili Peppers are one of the most famous bands of all time. As Britannica explains, the band is best known for smash hit albums like "Californication," "By the Way," and "Stadium Arcadium." They draw on the long history of 1970s Los Angeles punk rock, which was a pivotal influence on their overall sound and style. Eventually, their drummer Jack Irons left the band after fellow band member Hillel Slovak died of a drug overdose (via The Daily Beast). 
D.H. Peligro became Irons's replacement drummer. Peligro played with the Red Hot Chili Peppers for a year, though he faced some internal band conflict, per Far Out Magazine. He was using alcohol and drugs at the time, which impacted his behavior in the band. It wasn't long before the band decided to fire Peligro entirely from the band. Though Peligro experienced personal problems in his life, his legacy leaves a heavy mark on punk rock history. 
If you or anyone you know needs help with addiction issues, help is available. Visit the Substance Abuse and Mental Health Services Administration website or contact SAMHSA's National Helpline at 1-800-662-HELP (4357).