Why Madonna Claims Her British Accent Was Guy Ritchie's Fault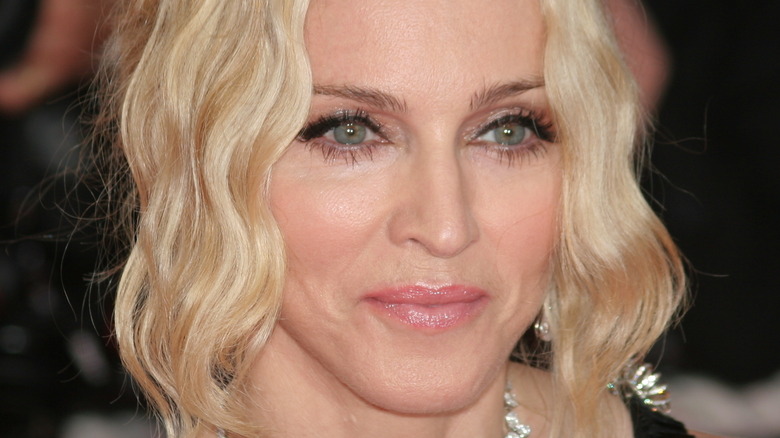 Denis Makarenko/Shutterstock
If someone were to ask you to summon to mind an especially embarrassing moment from your past, you'd probably have little trouble producing one. Maybe it was that Duran Duran shirt you wore every day for a year back when you were a teenager, or maybe it was when you bent down to pick something up on the first day of a new job and accidentally ripped your pants wide open before the whole office. If your name happens to be Madonna, it might have been the time that you tried to convince the world at large that you miraculously developed a British accent out of nowhere (via Yahoo! News). Man, that's enough to make you cringe just by reading it.
Back in the early 2000s, the world was more than a little puzzled when the vaguest traces of an English accent started appearing in Madonna's voice inflection. As far as anybody knew, the Bay City, Michigan-born pop mogul had spent the entirety of her life in the United States and would have no natural reason to speak in a British accent, but there it was all the same (per Biography). It did fizzle out after a time, but it stands to reason that we'd all be left wondering what the heck that was all about. Well, she gave us something of an answer to that question in 2020, and according to the BBC, it had everything to do with her previous marriage to director Guy Ritchie. 
Madonna blamed her accent on Guy Ritchie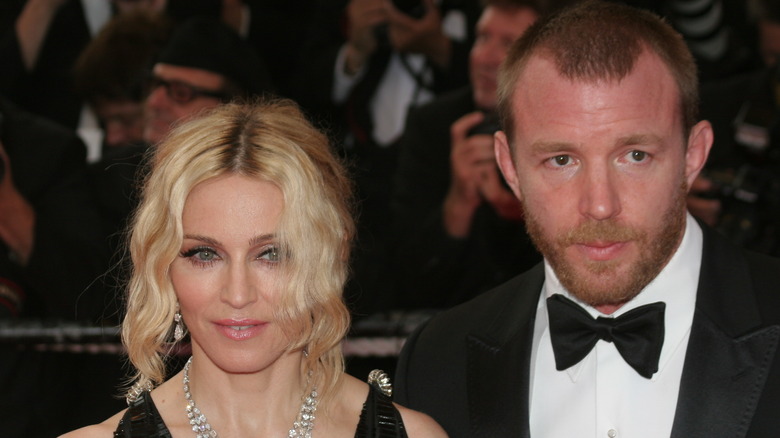 Denis Makarenko/Shutterstock
According to Biography, Madonna and Ritchie were married in 2000. The latter was born and raised in the United Kingdom, so his accent was certainly justified, but after a time, the "Lock, Stock, and Two Smokin' Barrels" director started to rub off on his spouse in a rather unusual way — or so she would have us believe. "It's all Guy Ritchie's fault," she remarked to a sold-out crowd at The Palladium in London, England in January 2020 (via BBC). "He made me to it." Madonna and Ritchie remained married for eight years and had two sons together (one biological, one adopted), so they definitely became immersed in each other's lives, but does that necessarily mean that their accents were liable to blend together, or was it merely a fickle excuse for trying to sound fancy? The world may never know. 
Following the couple's split in 2008, Madonna's seemingly natural disposition for a Union Jack accent faded, but our recollection of it wasn't going anywhere. She alleged that she had no idea she was even doing it, stating that she "didn't know what anyone was talking about until I heard old interviews of myself" (per Metro). 
Madonna was embarrassed about her British accent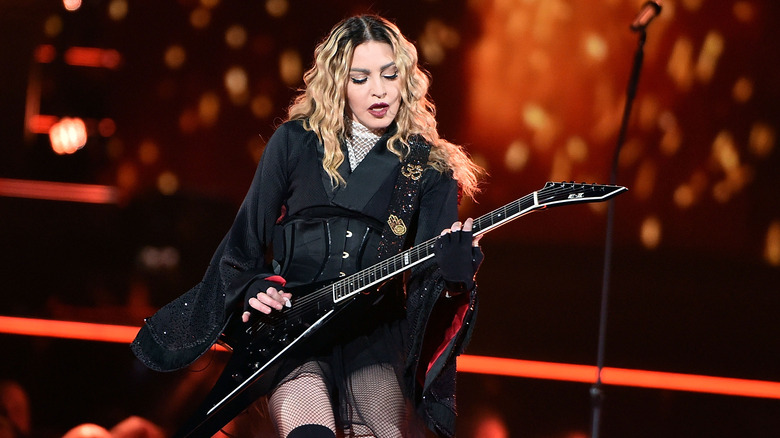 Paras Griffin/Getty Images
It's 2022, so any last vestige of Madonna's faux British accent faded a long time ago, but the subject still crops up from time to time in questions and interviews with the press. "I was horrified and flabbergasted. Why did you let me do that to myself?" the "Like a Virgin" singer went on before the Palladium crowd. "I'm from Michigan!" In response, the crowd gave a hearty, rousing round of boos — presumably directed towards her ex-husband.
According to BBC, the Palladium show was Madonna's first concert back following a hiatus due to medical reasons, telling her audience, "I'm happy to have made it. How could I not do a show in London?" — so perhaps she had some time to ponder her jarring experimentation with British articulation during her absence from the stage.