Who Is Kegan Kline, Another Suspected Lead In The Delphi Murders?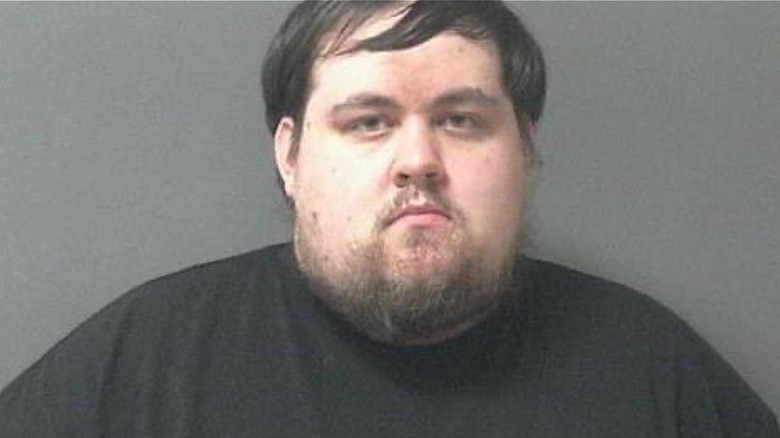 Miami County Sheriff's Office
In October 2022, Indiana state authorities held a press conference to announce the arrest of Richard Allen, FOX59 reported. The previous Friday, Allen was charged with the double murder of 14-year-old Libby German and 13-year-old Abby Williams in February 2017. (Kline has denied all charges against him, and the investigation is ongoing.) The two friends had been hiking the popular Monon High Bridge Trail in Delphi, Indiana, when they were brutally killed by an unknown assailant. 
Allen, however, was not the first person linked to the case. Other names made public include Ron Logan, who owned the land where the girls' bodies were found. (Although Logan reportedly lied to the police about where he was on the day of the murder, he was never charged and died in 2020, The Independent reports.) The other was Kegan Kline, an accused pedophile who lived in Peru, Indiana, just a short distance miles from where the girls were killed.
Kline was linked with the so-called "Delphi murders" in December 2021, when Indiana Police revealed that he owned fake social media accounts featuring the image of a male model. Kline confessed to using those profiles to contact underage girls. Police searched Kline's property a few weeks after the murders, suspecting him of child sex offenses. 
Though never officially named a suspect in the Delphi case, three years after his 2020 arrest on child sex abuse charges, Kline pleaded guilty to all 25 felony charges against him, WISH-TV reports. As of this report, Kline's sentencing hearing was delayed (via FOX59).
He denies any connection to the Delphi murders
Not long after Kegan Kline pleaded guilty to charges against him unrelated to the Delphi murders, he said he had not seen all the evidence against him and was reconsidering his guilty plea related to child sex abuse charges. Per WISH-TV, Kline's legal team was surprised by the sudden move and reportedly asked to step back from the case as two new lawyers were assigned to represent Kline going forward. 
Around that same time, Kline appeared on "The Murder Sheet" podcast from prison, as he continued to deny any involvement in the 2017 murders of Libby German and Abby Williams. (Kline has admitted contact with German via social media, which he called a coincidence, per ABC7).
Although Kline reportedly declined to discuss the Delphi case in the interview, the topic came up, The U.S. Sun reports. Kline denied ever knowing Richard Allen, the only man formally accused of the crime. Kline also characterized the shakeup in his legal team related to child sex abuse charges as his idea. 
Kline has admitted some guilt over the charges against him, as well as some remorse. He said his father may be responsible for the remainder of the charges against him. "When I get to prison I want to talk about some of the Delphi stuff but right now I don't think that would be smart to do," Kline said (via The U.S. Sun). "Everyone paints me to be this monster and I'm not."
Kline claims he has mental health challenges
Around the time Kegan Kline pleaded guilty to all charges against him related to child sex abuse, his one-time girlfriend, who lived with him at the time of his arrest, contradicted his claim that he knew nothing about the murders. She also said that Kline's recent claims of living with bipolar disorder and schizophrenia were likely untrue. 
On "The Murder Sheet" podcast, Kline's ex said (via WISH-TV), "You can't tell me he was texting one of the girls to meet on the bridge the days before the murders occurred and he knows nothing about it. It doesn't add up." Kline also displays behaviors consistent with narcissism, his girlfriend said. The full list of charges against Kline includes child exploitation, possession of child pornography, and obstruction of justice.  
Kline admitted using two fake social media accounts — "anthony shots" and "emilyanne45" — to contact minors and solicit sexual content. Evidence suggests German intended to meet "anthony_shots" near the bridge where she died. According to Indiana police, a message from "anthony_shots" sent via social media said he intended to meet German but she never showed up. Kline also reportedly failed a polygraph test when asked if he had any knowledge about who might be responsible for the crime. Each charge against Kline carries a 30-month to six-year minimum prison sentence.
If you or someone you know may be the victim of child abuse, please contact the Childhelp National Child Abuse Hotline at 1-800-4-A-Child (1-800-422-4453) or contact their live chat services.