The Delphi Murders: What Happened And Who's Been Charged
Liberty "Libby" German, 14 years old, and 13-year-old Abigail "Abby" Williams were both perfectly normal and sweet teenage girls. German was your usual extrovert, with a dream of one day becoming a science teacher. Williams was a little quieter but open with her friends and hoping to go into some kind of investigative work. The two of them were brought together by sports, meeting and becoming best friends through a shared love of volleyball and softball.
Living in the small town of Delphi, Indiana, both of the girls should've had their entire lives ahead of them, filled with bright futures. But fate wouldn't be so kind. Instead, it would be terrifyingly cruel. Tragedy would strike in early 2017, suddenly robbing these two innocent girls of their lives and leaving behind an enduring mystery. Their case — now usually called the Delphi murders — still hasn't been fully resolved by the time of writing, and it's filled with little tidbits of scattered information, a lot of allegations, and some questions still to be answered. 
Where they went missing and where they were found
February 13, 2017, was an incredibly normal day for Libby German and Abby Williams. Well, maybe not exactly normal. According to Northern Star, it was a precious extra day off from school, and what teenager doesn't love that? They had every plan to take advantage of it, along with the nice weather that day, going on a hike through the nearby, familiar trails.
German's older sister dropped them off in the area around 1:30 p.m., and almost immediately, the best friends were posting pictures of themselves to social media. At 2:09, German posted a picture to Snapchat of Williams walking along Monon High Bridge (seen above). But after that, there was just silence.
German's grandfather gave the girls a call around 3 p.m. to say he was on his way to pick them up, but an hour later, they still hadn't arrived and weren't answering calls. By 5:30, they were reported missing, and within half an hour, most of the town was helping to search for them, but to no avail. The search was called off until the next morning, most people assuming they had gotten lost or injured. No one expected murder.
As late morning rolled around on February 14, their bodies were finally found lying 50 feet from Deer Creek, about a half mile east of the bridge where German had posted her photo (via IndyStar). And from there, a mystery formed.
Libby German is considered a hero
Initially, police released a blurry photo of a man (the main suspect) walking along the bridge, head down and dressed inconspicuously — jeans, a hat, a blue jacket, and a brown hoodie (via IndyStar). In 2019, a bit more was released — the video that the initial photo was taken from, showing the man walking awkwardly along the bridge. Investigators were hoping that someone might be able to identify the man by the way he moved.
Aside from the video, there's also a bit of audio. The initially released evidence included just a few words — "Down the hill." It's definitely a male voice (again, the prime suspect in this case), but aside from that there isn't much to say. The voice is frustratingly nondescript. Like the video, though, investigators released a slightly updated and extended audio file — "Guys ... down the hill" — which was explained by WRTV to be a single individual talking to the girls. There's no context beyond that, though. Apparently, there's also a bit more audio that hasn't been released to the general public. WTHR reported that police shared a clip with the girls' families, in which they briefly mention a man following behind them.
All of this was pulled from Libby German's phone, and she's a hero for capturing the footage she did. In the midst of a terrifying situation, she had the foresight to gather evidence on her attacker, and that took an insane amount of courage (via A&E).
There are a couple different sketches of the suspect
In trying to better find a concrete suspect in the murder of Libby German and Abby Williams, police released a couple sketches, though they're pretty markedly different from each other. The first (seen on the left), released in 2017, pretty near to the start of the investigation, looks like it was created based on the blurry image from the video, hat and all (via Northern Star). Police added that the suspect was believed to be a white man with reddish hair, somewhere between 5 foot 6 inches and 5 foot 10 inches, and weighing about 180 or 200 pounds.
But come 2019, the sketch — much like the audio clip and video — got an update (seen on the right). On the whole, it just looks pretty different, with the information that the police were looking for a suspect somewhere between the ages of 18 and 40 but who probably looked younger than he is (via ABC News). Why the sudden change? It's most likely that the revised sketch came from some new information, namely eyewitness descriptions from people who claimed to be there at the scene and saw the suspect walking along the trails. It's certainly not based on the video and more closely resembles sketches based on witness descriptions. In any case, IndyStar further reported that, with the new sketch, the earlier one from 2017 would be relegated to "secondary" status for the police.
There have been a handful of potential suspects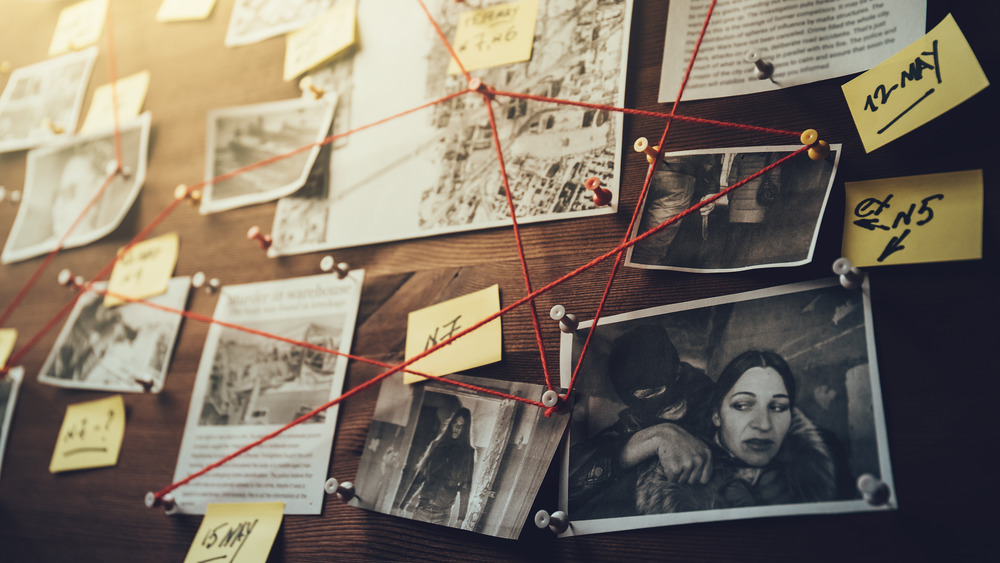 Shutterstock
With the mystery surrounding this case, people began to speculate whether or not certain convicted criminals whose names make the news are actually tied to the Delphi murders. One of those suspects was John Miller, convicted in 2018 for a 1988 murder of an 8-year-old girl. On its own, the case didn't seem to stand out, but Fox News reported that Delphi investigators had actually gotten involved, working with those in Fort Wayne on the case. And of course, that raised questions, though the police never commented on any connection.
In the same way, Paul Etter and Thomas Bruce were tied to the Delphi investigations. Etter was wanted for kidnapping and assault against a 26-year-old woman. He killed himself after a standoff with police in 2019, but CBS Chicago later added that he was also considered a suspect in the Delphi murders due to a tip that had mentioned him. Bruce was arrested for murder and assault in 2018, but St. Louis investigators ended up reaching out to the authorities in Delphi, citing "some similarities," according to WIBC. None of those connections amounted to anything really concrete.
Person of interest: Charles Eldridge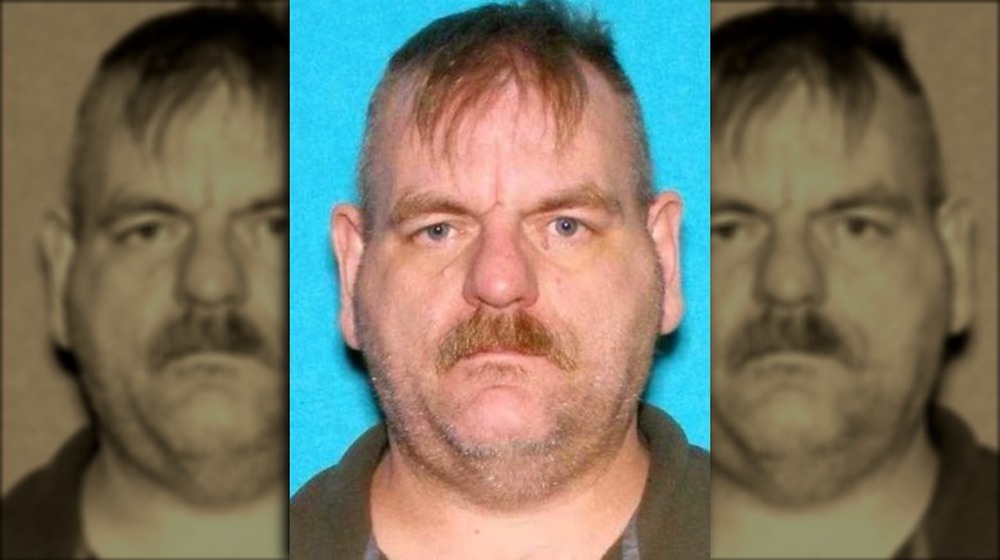 Crimeola
Charles Eldridge is another name that came up as a potential suspect in the Delphi murders. A 46-year-old man who lived in Indiana, Eldridge was arrested in early 2019 and faced charges of attempted child solicitation. IndyStar explained that he had been caught communicating with a person posing as a 13-year-old girl in order to arrange sex, but the interest in the case really skyrocketed once his mugshot was released.
He bore more than a passing resemblance to the 2017 sketch, and it didn't take long for the police to be inundated with tips pointing to him. But they couldn't do a lot with that information. According to WTHR, the case was forwarded to the FBI for further investigation, but there hasn't been a lot of note. Police said they would continue looking into possible connections but stopped short of officially calling Eldridge a person of interest.
It's also worth noting that police mentioned Eldridge being only one of a sizable number of tips they've received based on physical resemblance. He entered the public eye for it, but he's not unique in that regard. Not to mention that he resembled the older sketch, not the updated version from two years later.
Person of interest: Daniel Nations
A few names were thrown around as suspects in the Delphi murders, but Daniel Nations was probably the suspect who received the most initial interest.
According to WRTV, Nations was arrested in late 2017 — his car matched one involved in an incident where a man had threatened hikers with a hatchet (Nations was also found with a hatchet in his car).
He ended up getting connected to the Delphi murders due to physical similarities with the sketch that had been released in 2017. And as a plus, he was actually in Indiana at the time when the murders had been committed. He was known to be homeless during that year, living at an inn in Indianapolis, was a registered sex offender, and was required to check in with the county. He did — the written records are there to prove it — and then spent time in an Indiana jail just 10 days after the murders. An interesting part of the story? He'd been missing until his arrest involving the hatchet incident, skipping a court appearance, and going on the run just two days after the first sketch was released by Delphi police.
Really, though, it's still circumstantial. Delphi officials were curious enough to go interview Nations and collect evidence, but they only went so far as to call him a person of interest (via WRTV). It far from led to an arrest, and they later said he wasn't a suspect (via WTHR).
Investigators are convinced the murderer is someone local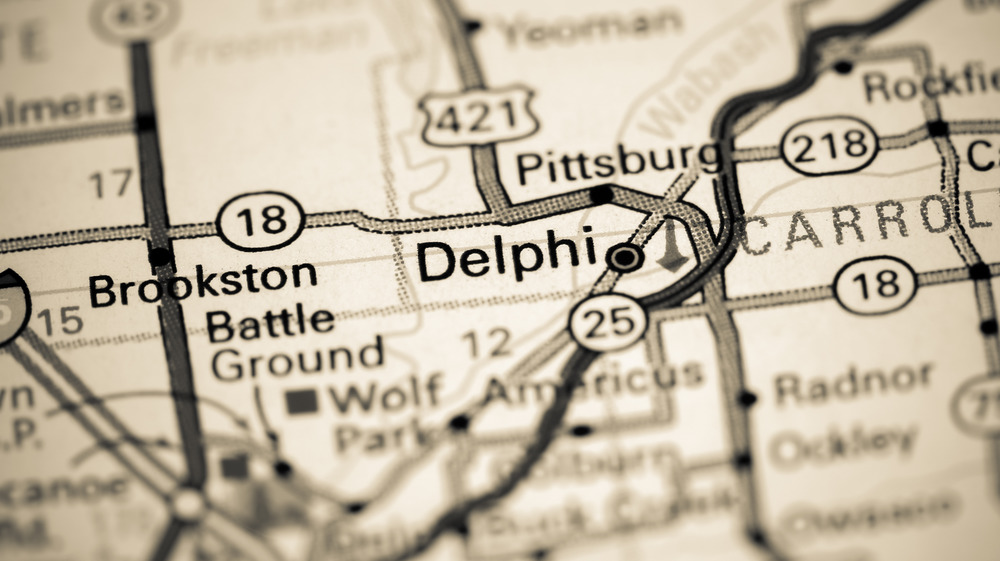 Shutterstock
In 2019, alongside the release of the updated video, audio, and sketches, Indiana State Police Superintendent Doug Carter gave an emotional speech regarding the status of the Delphi murders, part of it directed at the murderer himself. IndyStar reported that Carter believed the murderer to be hiding in plain sight, potentially even in the room where he was giving his speech. He spoke like he was certain that was the case, adding that they'd probably already interviewed someone they were close to.
But that's not just some heart-wrenching bit of rhetoric. ABC News goes on to say that it just makes sense. Delphi is pretty rural. They probably wouldn't have a lot of random visitors who just happen to be walking along an out-of-the-way bridge and coincidentally run into two victims. It's a lot more likely they know the area pretty intimately and were acting on that information.
It's not even a stretch to think that the killer was listening to that speech. Given the remote nature of the trail, it would've been easy for them to think they'd gotten away with their crime. Besides, serial offenders usually feel like they won't be caught while keeping up with their normal lifestyle. And it's not a far stretch to think that the killer is keeping an ear out for the investigation, keeping close to it, or maybe even taking part in that initial search for their bodies.
There was a car parked nearby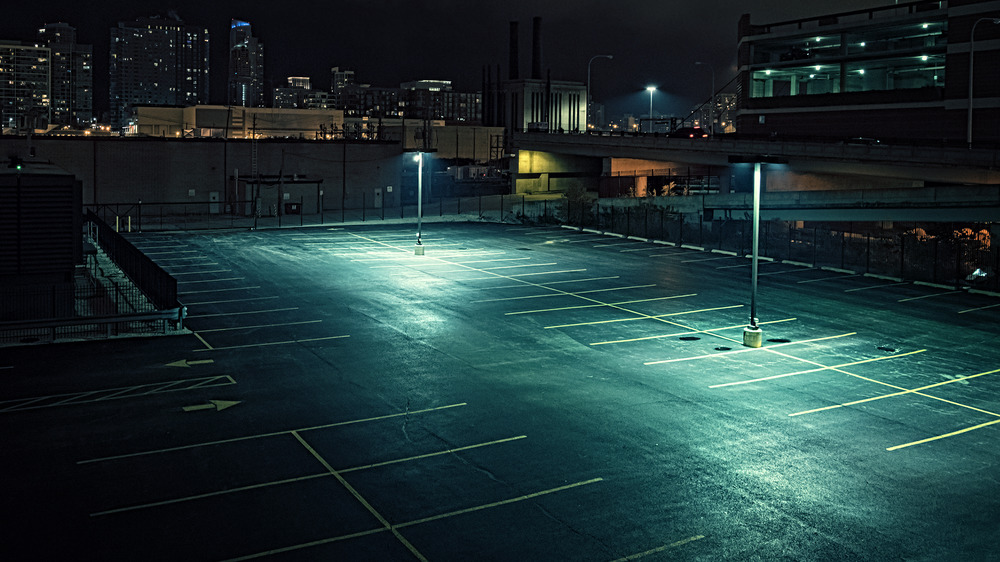 Shutterstock
Here's a little bit of information that's gotten mentioned a few times but doesn't have a whole lot of context. Apparently, officials turned their eyes to a certain car that was parked in the nearby CPS building parking lot on the day of the girls' disappearance, specifically between noon and 5 p.m., according to ABC57. The CPS building was already abandoned at the time but has since been torn down, the lot left completely empty.
Despite that pretty specific information, they were also looking for anyone who could come forward with any kind of information about the cars that were actually parked at the lot during the specific time.
But the strange thing is that there really isn't any more to go on. ABC News adds that police didn't give the reason they were looking into that information, or why this car might be important. There's basically no context. And this sudden call for information came out in 2019, two years after the murders. Maybe police didn't know about it back in 2017, or maybe changes behind the scenes have made the car more important, but it's hard to say, exactly.
Police have been tight-lipped about information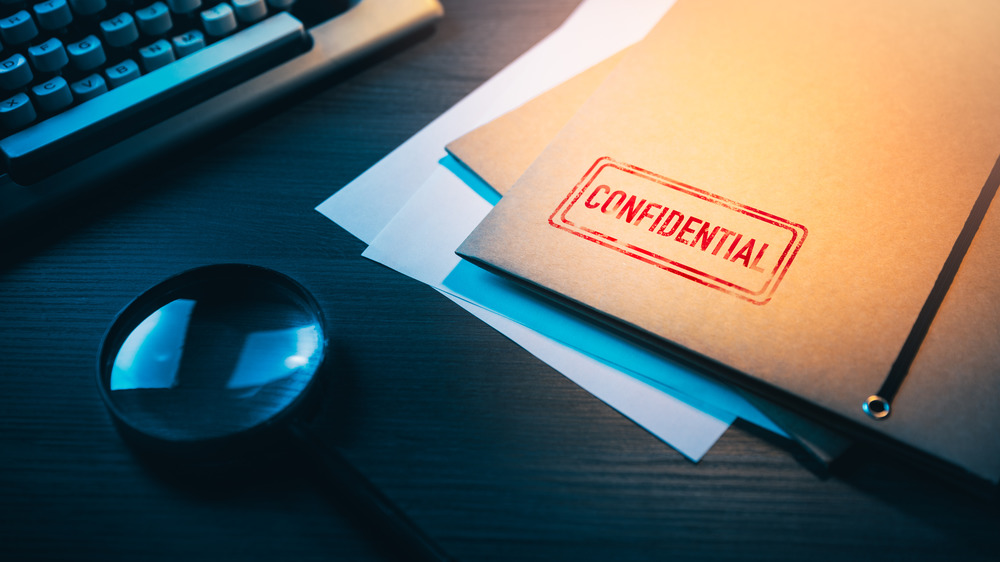 Shutterstock
Really, the public hasn't been privy to all that much information about this case from the start. Even when the girls' bodies were first found, police weren't keen on actually confirming their identities, as shown in an article by WRTV. They would only say that they suspected foul play, and that two bodies were found in the same general vicinity as the girls' last known whereabouts. (It took a day for the official confirmation to come out.)
But that's not the only thing left strangely in the dark. Autopsies were conducted on both girls but were kept completely unknown to the public until 2023. A time and cause of death are usually big parts of these kinds of crime discussions, but neither of those were initially released. The question of DNA evidence also tends to be skirted, with few answers as to whether or not any was found at the scene.
Aside from that, there's apparently a reason the released audio and video clips are so short. Libby German's phone actually has even more evidence on it, but police have only released small bits (via Northern Star).
Apparently, though, it's a common practice for police not to give out information on open cases. The bits they have given are just to locate suspects, only the killer knows further details. Making everyone aware of everything would just complicate things or potentially mess with the case eventually going to trial.
The case never went cold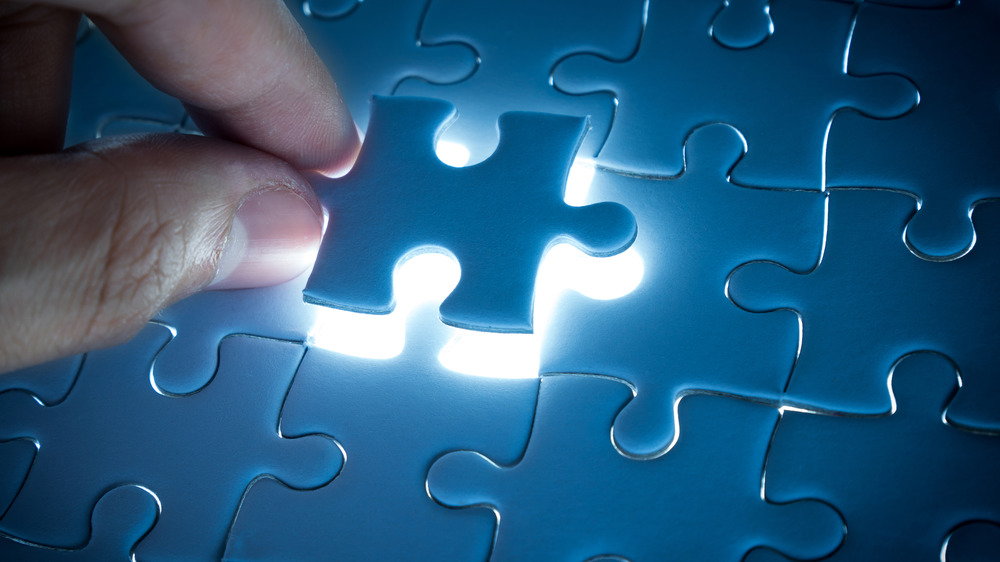 Shutterstock
It's something that the investigators have been pretty adamant about — the case was never considered cold. Three years after the girls were found, IndyStar reported that the Delphi police department had received well over 40,000 tips — thousands of potential leads that investigators are still working on. It's not something that was ever put on the backburner by any means.  In 2019, they were still getting between 10 and 12 tips every day (via A&E). By the next year, that number had dwindled, but tips were still coming in on a daily basis, even three years after the initial crime.
Basically, the policenever gave up hope. In 2019, Indiana Police Superintendent Doug Carter talked about his belief that they were so close to solving the case (via IndyStar). Someone out there had the answers they needed, and they were only "one piece away" from solving the whole thing. It's not some unsolvable jumble of information. They just needed that one thing to make it all click into place.
The murders shook the city of Delphi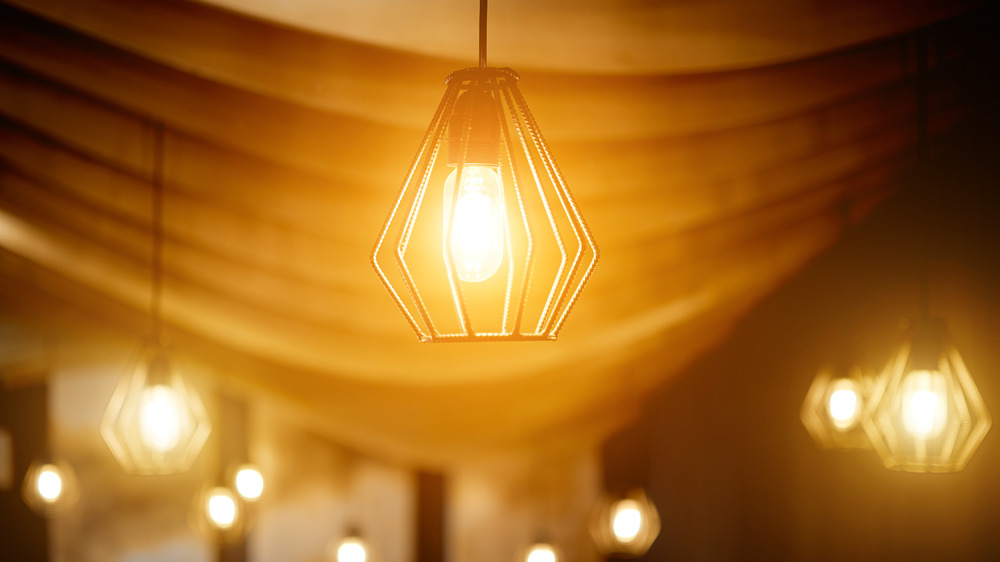 Shutterstock
The murders of Liberty German and Abigail Williams absolutely shook the small town of Delphi, and a lot of the residents have been taking part in showing their support for the girls' families and for the investigators trying to solve their murders.
Of course there are the thousands of tips that flooded into the police department, but there was also a growing reward fund to solve the case. WRTV added that local businesses and athletes even donated to that reward, raising it to well over $240,000 by early 2018. Aside from that, IndyStar mentions that donations were pooled into the Libby and Abby Softball Park Fund, set up to build a park in their memory, as both of them were avid softball players (they'd actually been getting ready for spring softball practice in the days before their murder).
But the residents of Delphi also adopted a poignant and symbolic way to remember the girls — their extended effort to "Light up Delphi." Porch lights in Delphi (and even across the nation, for a while) were replaced with orange bulbs, with local businesses donating thousands of bulbs to the cause (via WRTV). They plan to keep their orange bulbs burning until the case has finally been solved, waiting until the day they can finally turn them off.
A break in the case
Five years is a long time to wait, and both the residents and police of Delphi spent that long just hoping for any sort of clue. The townsfolk felt like they were holding their breath all that time, and on October 31, 2022, they could finally exhale. Per CNN, Delphi police announced that they had arrested and charged 50-year-old Richard M. Allen for the murders of Abigail Williams and Liberty German.
It's not a guarantee that Allen was the man on the bridge or the owner of that mysterious voice. What can be said is that Allen was a local -– he'd lived in the Delphi area for over a decade and a half, WRTV reports — and a pharmacy technician at CVS (via CNN). There was no reason to suspect him, considering his lack of a criminal record, but two and a half weeks before the big announcement, neighbors saw Allen's home searched by the police. He was then brought into custody on October 28. 
Still, for what it's worth, Allen has pleaded not guilty at initial hearings, and his actual trial is scheduled for January 2024.
Records have since been released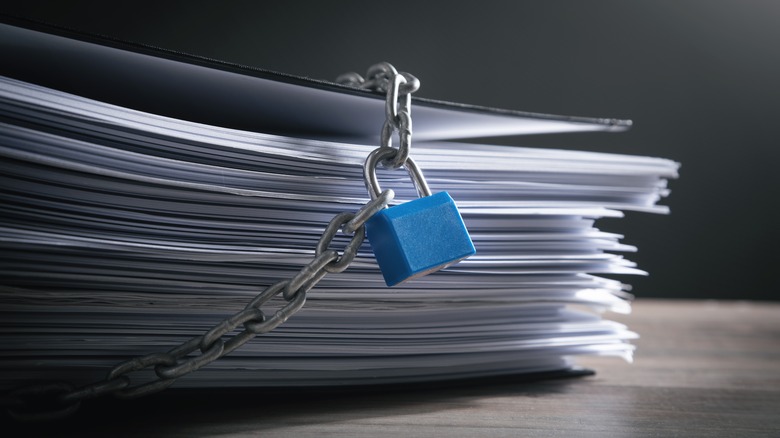 ANDRANIK HAKOBYAN/Shutterstock
When Richard Allen was first arrested as a suspect in the murders of Abby Williams and Libby German, many of the relevant documents were kept sealed, a secret from the public. So people were left to wonder exactly why investigators had closed in on Allen.
In mid-2023, though, a bunch of documents came out regarding Allen's case. Among those were records of a handful of calls to his family (namely his wife) and during those calls, he reportedly confessed to the crime — something that made his wife abruptly hang up. Beyond that, though, the new documents also included some reports on the investigations that put law enforcement on Allen's trail in the first place. There was an unspent bullet that was found at the scene of the crime, and in the extended version of the audio taken from German's phone, there's the sound of a gun being cycled. Investigators searched Allen's house and indeed found a gun — one which seemed to match the aforementioned bullet. In addition, autopsy findings were released, indicating that Williams and German were killed by a sharp object. 
Richard Allen's defense team had some interesting arguments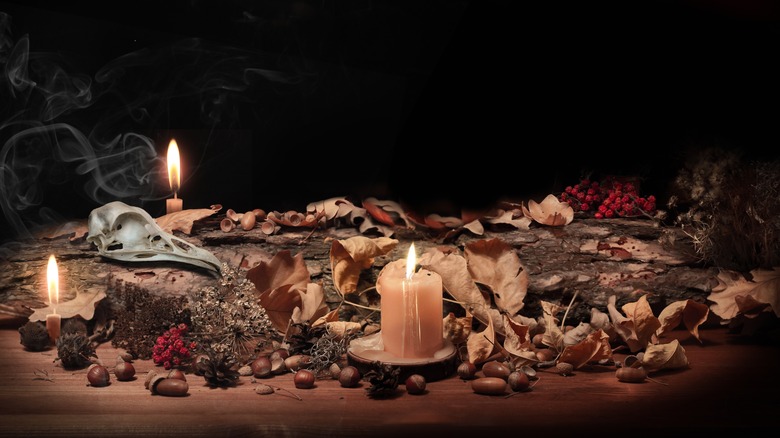 n.k.junky/Shutterstock
If you thought that this case couldn't take any more mysterious turns, then you would be incorrect. Richard Allen's trial date is set, and you'd think that confessing over a phone call would mean this whole case was solved. Regardless, Allen's defense team is scrambling for a solution. 
On one hand, they're trying to get the evidence found in the search of his house tossed, citing that the search itself was unreasonable, and that there's no way to concretely tie that evidence to the crime. But they've also taken a far weirder stance, as well, presenting a theory of their own: The girls were killed as a part of a ritual sacrifice by a white nationalist group known as the Odinists (who also worship old Norse myths, as their name implies). They claim that there are a couple branches of the group in the local area, and that strange symbols found at the scene could imply some sort of ritual. That the girls were stabbed and allegedly moved post-mortem would support their theory. Moreover, Odinist groups were apparently investigated shortly after the crime, but the angle was quickly dropped. Beyond that, Allen's attorneys also objected to the state of the prison he is held in, raising the point that some of the guards openly wear Odinist iconography.
Prosecutors aren't quite as quick to agree, though. They've responded by saying that the theory is "fanciful" at best (via NBC News) but more likely just some desperate attempt at a flashy social media headline.