How A Routine Autopsy Finally Got The Hospital Serial Killer Caught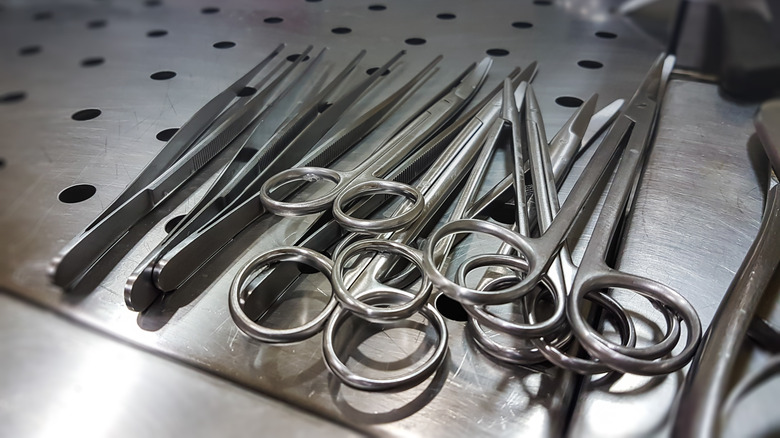 Arpatsara/Shutterstock
In 1987, Donald Harvey, a former nurses' aide was charged with 33 counts of murder (via Oxygen). The New York Times writes that he was later found guilty of murdering 37 people, a majority of which were his patients in Ohio and Kentucky. At first, no one suspected Harvey as a murderer. However, his co-workers were well aware that his patients often never made it out alive and they jokingly nicknamed Harvey "the kiss of death." Born in 1952, Harvey dropped out of school in the 9th grade and began a career as a healthcare worker at Kentucky's Marymount Hospital.
It's here that The Cincinnati Enquirer reports that Harvey began killing by "accident" in the 1970s when he gave a patient an oxygen tank that was running on empty. According to The New York Times, Harvey killed his victims by poisoning them with cyanide, arsenic, rat poison, and more. In addition, he also suffocated them with pillows or let their oxygen tanks go empty. Harvey went on to work at Cincinnati's Veterans Administration Medical Center and Drake Hospital where he continued his killing spree.
Harvey claimed (via The New York Times) that he killed because "I felt what I was doing was right."' He added, "I was putting people out of their misery." Per Fox 19, Harvey was able to get away with murder for so long because some of the patients' deaths were ruled as an accident. The NYT reported in other cases the patients were old, in poor health, and the doctors were "overworked." That was until Dr. Lee Lehman performed an autopsy on John Powell.
The victim's stomach smelled like cyanide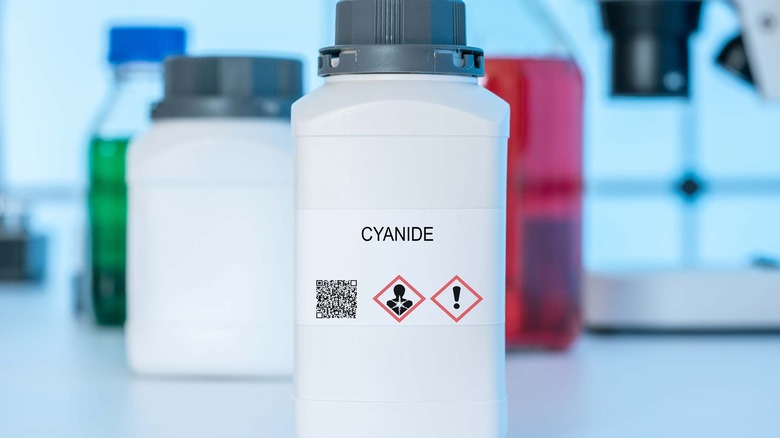 luchschenF/Shutterstock
People reports that Powell was a 44-year-old patient at Drake Hospital. According to Oxygen, Powell was in a coma after a motorcycle accident. On March 7, 1987, Harvey put cyanide in his feeding tube, killing him. Fox 19 states that Dr. Lehman was then ordered to perform an autopsy on him. As the publication explains, Dr. Lehman had years of experience under his belt. When he cut into Powell's stomach, he was overwhelmed by the smell of cyanide. The CDC compares the aroma to a "bitter almond." He subsequently contacted the police. As Lehman put it (via People), he "knew that foul play was afoot," and ruled Powell's death a homicide.
Ultimately, People writes that this was Harvey's last kill and his downfall. When Cincinnati police went to the hospital, they were quickly referred to Harvey by suspicious coworkers (via Oxygen). He then agreed to take a polygraph test. However, Harvey attempted to skip out on it, prompting the police to bring him in for questioning. It's then that he confessed to poisoning Powell. Moreover, The New York Times explains that he later admitted to killing another patient on the same day. That patient was 82-year-old Hilda Leitz. Similarly, Harvey had poisoned her by placing Detachol, an adhesive cleaner, in her gastric tube and juice.
Donald Harvey's victim count is unknown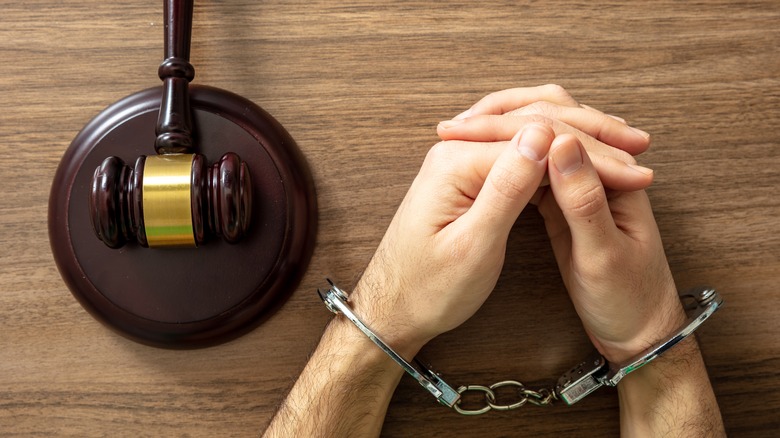 rawf8/Shutterstock
According to People, Harvey was charged with Powell's murder on April 6, 1987. At that point, he had only confessed to killing Powell. Nevertheless, Oxygen explains that local news anchor Pat Minarcin from WCPO questioned whether Harvey perhaps had killed more than he was leading on. Soon after making this statement on live TV, the station received several calls from Harvey's hospital coworkers who divulged their suspicions about him. Minarcin then went to Harvey's lawyer, Bill Whalen, with this information. It's then that Harvey admitted that he had probably killed 70 people. 
However, this number varies and it's sometimes reported that he killed anywhere from 50 to 90 individuals. People reported that he decided to confess to these murders to avoid the death penalty. In the end, Harvey was convicted of only 37 murders according to Fox 19. He received several life sentences in both Ohio and Kentucky.
Harvey was never remorseful for his crimes and would likely have continued killing if he hadn't been caught. He told The Lexington Herald-Leader, "If I'd injected him (Powell) through the veins instead I would've been all right" (via The New York Times). In 2017, Harvey, who was then 64 and incarcerated in Toledo, Ohio was beaten to death by a fellow prisoner (per USA Today).