There Was A 'Perfect Game' At The World Series And You Missed It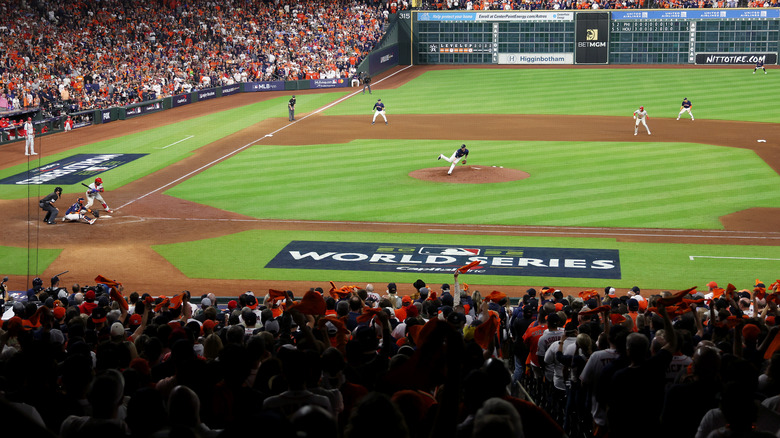 Rob Carr/Getty Images
In game 2 of the 2022 World Series, the Houston Astros won 5-2 against the Philadelphia Phillies. This was largely thanks to pitcher Framber Valdez, who said, "This was a really good game for the fans, a really good game for our team and also for me" (via NPR). ESPN reports that Valdez went 6.1 innings and gave up one run. In addition, the publication praised his curveball. Yahoo Sports! adds that he also got nine strikeouts. Prior to this victory, the Astros had lost game 1 (per the MLB). Now, the teams are tied.
However, there is another reason why game 2 will go down in history. Fox Sports notes that the umpire, Pat Hoberg, called a perfect game. This is according to a tweet from Umpire Scorecards, an online platform that is known for tracking and measuring data in order to determine the accuracy of MLB umpires. Per Fox Sports, this is the first time since their 2020 launch that they have announced a perfect game.
With that said, Hoberg's efforts have largely been praised on social media. Sports writer Kyle Glaser tweeted, "Impressive performance last night by Pat Hoberg. If we're going to criticize umpires when they do a poor job, we also have to give them credit when they do well." Needless to say, Hoberg is going above and beyond.
Pat Hoberg is known for his impressive accuracy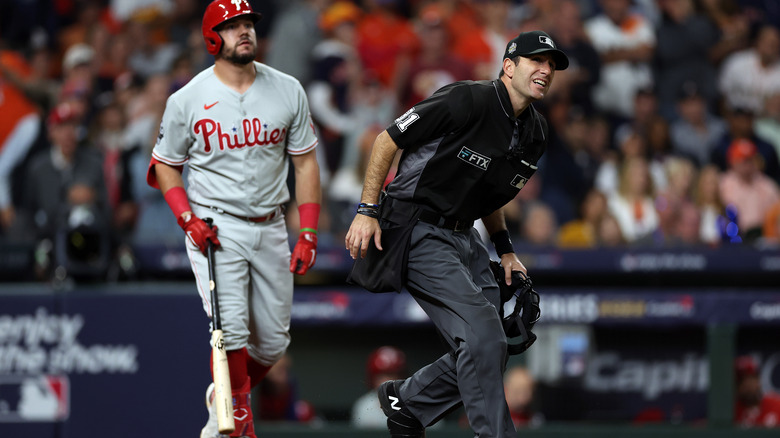 Sean M. Haffey/Getty Images
As the New York Post points out, umpires usually get a bad rap in baseball. However, the same cannot be said for Hoberg. USA Today reports that the Iowa native has a 96.4% accuracy on ball-strike calls. In 2022 alone, it's believed his accuracy is at least 95%. This is an impressive feat and fans are well aware of it. Ethan Singer, the co-founder of Umpire Scorecards, explained "He's suddenly gotten this following." He added, "He's got memes about him. People like him a lot." In fact, it's believed that Hoberg is currently the most accurate umpire in the MLB.
Per USA Today, he beats out fellow umpires Jeremie Rehak and Charlie Ramos. In regards to game 2 between the Astros and Phillies, Umpire Scorecards tweeted that Hoberg called all 129 out of 129 taken pitches correctly. In other words, the game was perfect. A tweet from Codify Baseball explained why this was so monumental. The tweet stated, "An average MLB umpire would have missed about 9 balls and strikes calls last night. Pat Hoberg missed none." According to the Umpire Scorecards website, Hoberg is in the 100th percentile in accuracy. In addition, he has a 93.5% expected accuracy rate.
Pat Hoberg almost had a 'perfect game' before the World Series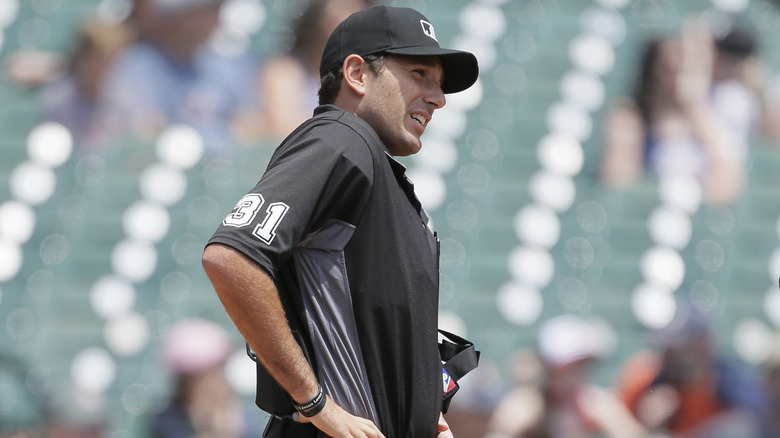 Duane Burleson/Getty Images
According to USA Today, Hoberg's triumph at the World Series comes months after he missed an opportunity to have his first perfect game during a game between the Phillies and the Colorado Rockies. In April, Umpire Scorecards tweeted that Hoberg called 122 out of 123 pitches correctly. In this case, he was 99% accurate. Hoberg's blunder came at the first pitch of the game and in the end, the Rockies won 4-1. Despite this setback, he called every other pitch in the game accurately. Moreover, fans on social media agreed with his call and applauded his abilities.
Another article from USA Today notes that his perfect game at the World Series makes for an ideal comeback. Per CBS Sports, this is the first time that Hoberg is working the World Series. The umpire opened up about the opportunity and his family's reaction in an interview with the Des Moines Register. The publication adds that Hoberg, who is 36, has been working for the MLB since 2017. Hoberg went on to say, "Getting the call is one thing." He added, "I have to go out and perform now and do it to the best of my ability and hopefully that happens and we get through the whole series."