Paul Pelosi's Alleged Attacker Had Brief Fame In Berkeley For Supporting An Unusual Cause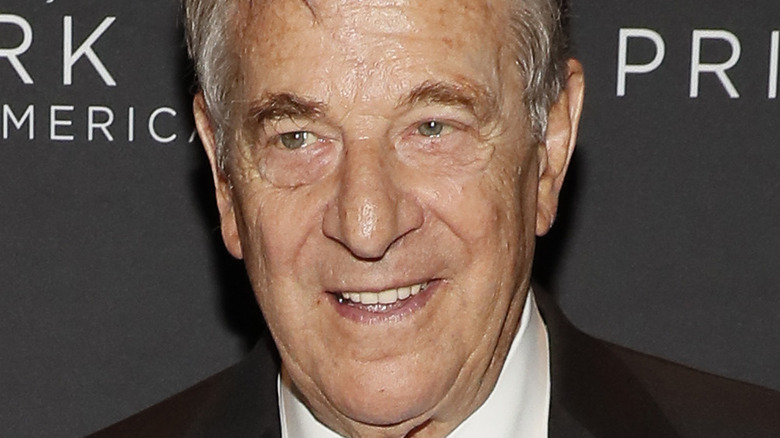 Paul Morigi/Getty Images
The New York Times writes that Paul Pelosi, husband of House Speaker Nancy Pelosi, is currently recovering at a San Francisco intensive care unit. Last week, the 82-year-old was attacked in his Pacific Heights home. CNN reports that Nancy, who was in Washington D.C. at the time of the assault, has released a statement that notes that Paul is "making steady progress on what will be a long recovery process." According to NPR, Paul called the police after finding an intruder in his room. Although the authorities arrived in the nick of time, Paul still endured horrific injuries that were caused by a hammer, including a fractured skull.
Per CBS News, the alleged attacker, David DePape, was arrested on the scene. The publication states that the 42-year-old has been charged with attempted homicide, assault with a deadly weapon, elder abuse, burglary, and much more. If convicted, he is facing 50 years in prison (via NPR). AP News states that DePape is a British Columbia native. He reportedly moved to San Francisco two decades ago to live with his girlfriend, Gypsy Taub. Another report from CNN explains that DePape's family has revealed that they have long been estranged. Moreover, Depape gained notoriety and infamy in the Bay Area for his atypical beliefs and actions.
David DePape was a pro-nudist activist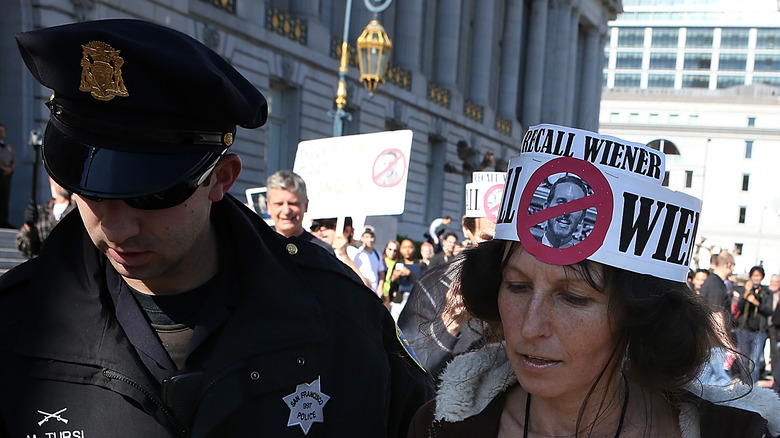 Justin Sullivan/Getty Images
According to AP News, DePape and his now ex-girlfriend Taub (pictured above) were pro-nudist activists in Berkeley, California. In fact, DePape would protest against wearing clothes in public by picketing naked. In an interview with the San Francisco Chronicle, Taub revealed that she and DePape were in a long-term relationship (per SFist). ABC Chicago adds that Depape and Taub had two children together. He also helped raise her children from previous relationships, including Taub's daughter Inti Gonzalez, who refers to DePape as her "stepfather." Although the relationship did not last, DePape was the best man at Taub's 2013 nude wedding to Jaymz Smith (per another SFist posting).
That year, CNN states, DePape was featured in an article for the San Francisco Chronicle. The publication described him as a "hemp jewelry maker." However, both Gonzalez and Taub have recently revealed that DePape has struggled with his well-being. Gonzalez stated (via The New York Times), "There is some part of him that is a good person even though he has been very consumed by darkness." She also explained, "but the monster in him was always too strong for him to be safe to be around." Taub, on the other hand, said, "He is mentally ill. He has been mentally ill for a long time" (per ABC Chicago).
David DePape has promoted conspiracy theories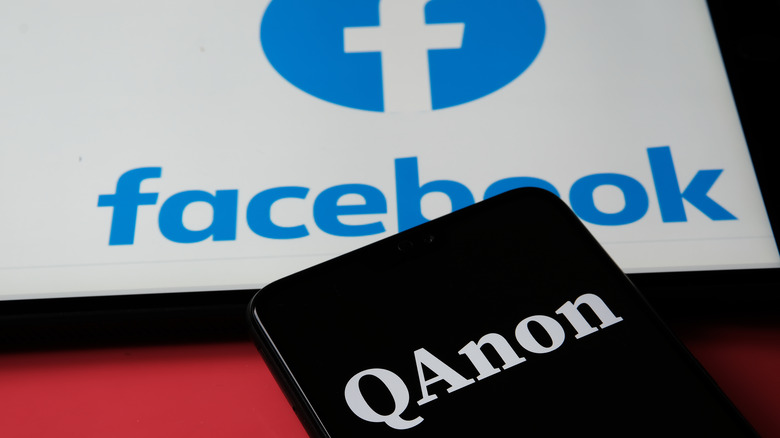 Ascannio/Shutterstock
As investigators and the world learn more about DePape, CNN reports that several of his concerning web posts have surfaced on Facebook and other sites. According to CBS News, DePape wrote about conspiracy theories and antisemitism online. His conspiracy theories involved COVID vaccines, and the 2020 election, among other things. DePape wrote that journalists who didn't think the election was rigged "should be dragged straight out into the street and shot." Moreover, DePape believed that the Jews had financially aided Hitler's rise to power. CNN notes that he posted blog entries that referenced QAnon theories. Per the Anti-Defamation League, QAnon is known for its extremist beliefs and for promoting hate speech.
The Guardian states that DePape also wrote about the "ruling class," the government, aliens, and more. AP News writes that his former girlfriend, Taub, was interested in some of these topics while the pair still lived together. The publication explains that Taub had a show called "Uncensored 9/11" on public access TV. Here, Taub would talk about conspiracy theories while in the nude. Nevertheless, friends and family told CNN that they have known that something was off with DePape. Laura Hayes, who worked with DePape, said that he told her that "he talks to angels and there will be a hard time coming." Another person familiar with him divulged that DePape was "out of touch with reality" (via CBS).