How Magic Johnson Felt About Karl Malone Not Wanting Him In The NBA After The HIV Diagnosis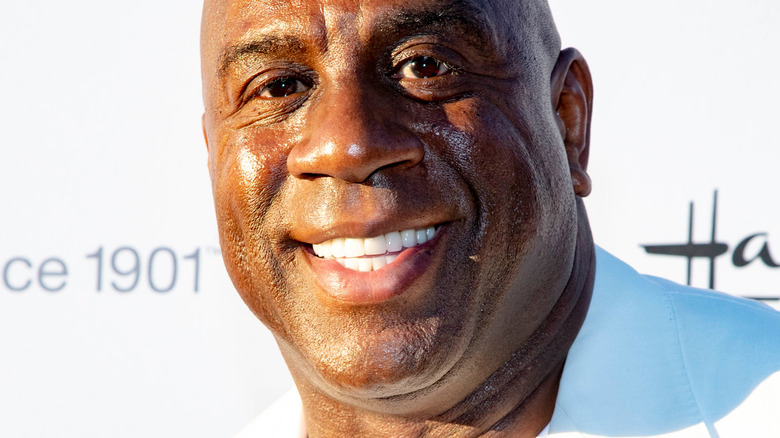 Eugene Powers/Shutterstock
As NPR explains, Los Angeles Lakers star point guard Earvin "Magic" Johnson retired from basketball in 1991 after the five-time NBA champion was diagnosed with HIV, the virus that sometimes causes AIDS. While there's no cure, if caught early, HIV is now highly treatable, per the Centers for Disease Control and Prevention. Due in part to those developments, Johnson is today HIV-undetectable, according to CBS News. When Johnson opened up about his health condition in the early '90s, though, there were fewer health care options for patients with HIV and many misconceptions about how the HIV virus was transmitted.
Some thought, for example, simply posting up against an HIV-positive player on the basketball court could put another player at risk of infection and an AIDS diagnosis, which was at that time often fatal (via the CDC). After Johnson's retirement, he did return to NBA action not long after — first in the 1992 All-Star game, then as head coach of the Lakers in the 1993-94 season, and then briefly as a player in LA's 1995-96 campaign (via History).
Johnson had always been among the most popular players in the NBA, and the LA fan base, where Johnson had played for 13 seasons, was eager to see him return to the game. Not all NBA players felt the same way, however. In 2022, Johnson revealed to Shannon Sharpe on the "Club Shay Shay" podcast, in an interview posted on YouTube, that one player who pushed back on Johnson's return was Utah Jazz power forward Karl Malone.
The Jazz and the Lakers battled many times in the postseason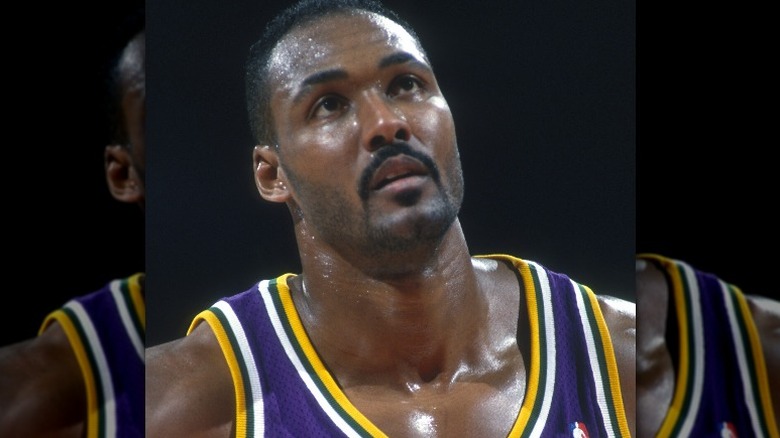 Focus On Sport/Getty Images
According to the official NBA website, Karl "The Mailman" Malone entered the NBA in 1984. He played for Utah for 18 years and later joined the Lakers for a single season. Though he never won a championship, Malone is a hall-of-fame NBA player with many basketball accomplishments to his credit. One reason Malone never collected a ring was that his team always had to match up against Magic Johnson and the Lakers in the playoffs. In total, the Jazz and the Lakers, including eras with Malone and Johnson on their roster, met 31 times in the postseason, and the Lakers beat Utah in every series, save the 1998 Western Conference Finals when Johnson was not on the team, according to Land of Basketball.
NBA records aside, Johnson and Malone were also teammates on the 1992 Olympic "Dream Team," one year after Johnson went public with his HIV diagnosis and retired from the NBA. As Johnson went on to relate to Sharpe on the "Club Shay Shay" podcast, after that Olympic appearance, the NBA was eager to see Magic return, but Johnson was reluctant at that point to un-retire. He was especially concerned about how other players might respond. "I didn't want to damage the league," Johnson said. "If they are going to look at me like that, then I don't want to come back. We had some work to do, so I started educating everybody about the disease and everything" (via YouTube).
Malone expressed dismay about Johnson's return for the `92 All-Star game
Karl Malone's reported displeasure at the prospect of an HIV-positive Magic Johnson returning to NBA play first showed up in the press in 1992, the year Johnson played in the All-Star game. At that time, it was widely reported that NBA players welcomed Johnson back, but when he was asked, Malone referred to the nicks and cuts he often received as a player. "Look at this, scabs and cuts all over me," Malone said (via The New York Times). "I get these every night, every game." Because of those minor injuries, Malone felt he'd be at risk posting up against Johnson should he return. Said Malone, "[A]nd you can't tell me there's one guy in the N.B.A. who hasn't thought about it."
As the Times noted in 1992, Malone was certainly not the only NBA player at the time who voiced similar concerns about playing with Johnson. But as Johnson explained to Shannon Sharpe on his podcast, the relationship he shared with Malone, particularly in light of their 1992 Olympic gold medal-winning appearance, made Malone's comments particularly hurtful. "The same people that used to give you the dab and a love hug, they weren't there," Johnson said, adding, "Especially Karl Malone, he came out publicly with it. I just played with you on the 'Dream Team' and practiced with you every single day, and now you don't want to play against me. You could have just said that to me" (via YouTube).