Why The Crazy Horse Monument Hasn't Been Finished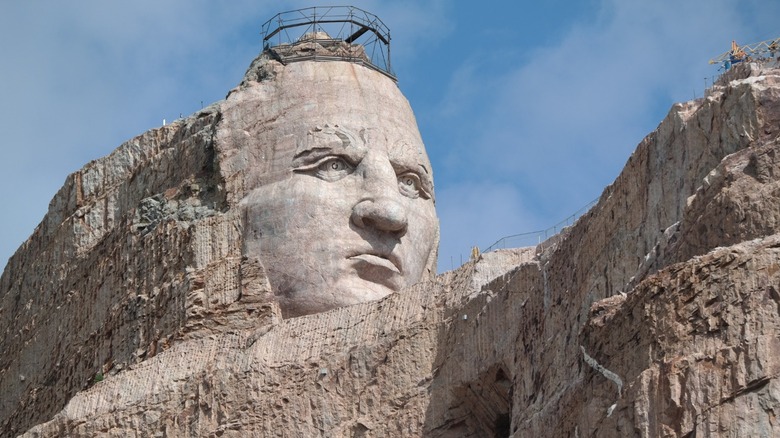 Glenn Perreira/Shutterstock
All over the globe there are monuments that have been erected throughout history that pay homage to important people, places, and moments in our cultures. These monuments can take various forms, including statues, sculptures, plaques, pillars, towers, and buildings. From the Easter Island Moai to the Great Pyramids of Giza to the Eiffel Tower, there are many tributes across the world that honor various aspects of the human story.
In the United States there are several recognizable monuments that celebrate significant parts of the country's history. The Statue of Liberty, the Lincoln Memorial, and Mount Rushmore are just a few that are recognized the world over. However, what should be one of America's most famous monuments is not as widely recognized, and that's largely because it isn't complete. The story behind The Crazy Horse monument is over 70 years long, and is still going for various reasons including weather, funding, and debate over whether the monument is a good idea or not (per Business Insider).
Who Was Crazy Horse?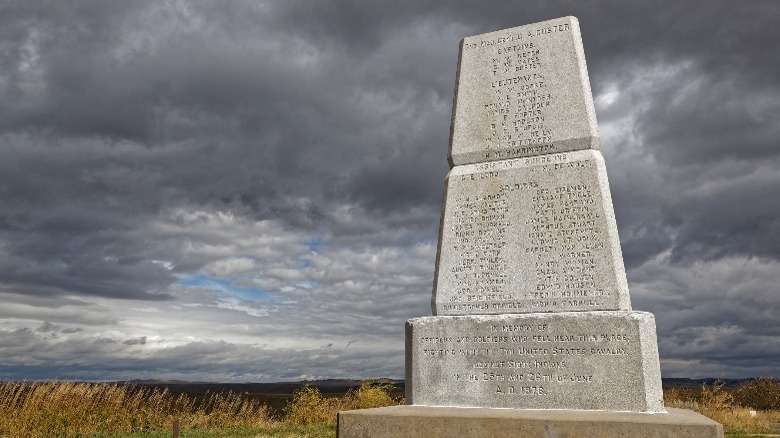 Pierre Jean Durieu/Shutterstock
Native Americans have had a complicated and oftentimes brutal relationship with the U.S. government. During the 19th century many Native American tribes were clashing with the American military, after gold was discovered along the Bozeman Trail (per History). The Sioux were led by a man named Crazy Horse, who did battle with the likes of General William Tecumseh Sherman, and General George Custer.
He and his fellow Sioux warriors defeated Custer at the Battle of Little Bighorn, one of the most significant battles in U.S. history. Though he was a part of many significant skirmishes and was a revered leader of his people, Crazy Horse was ultimately forced to surrender to American forces. Following his surrender, he died while in government custody on September 6, 1887.
Crazy Horse was remembered and honored by his people because of his courage, leadership, and tenacity of spirit, according to History. However, it was not until nearly a century later that a plan was devised to pay tribute to the brave Sioux warrior.
The Crazy Horse Monument Is Still Being Constructed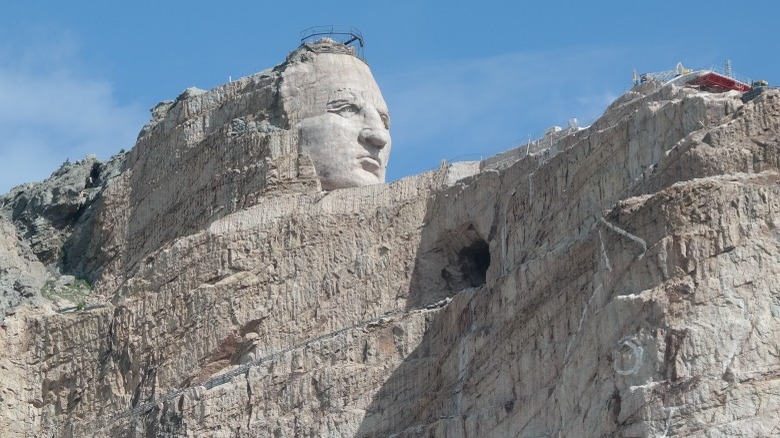 Glenn Perreira/Shutterstock
According to All That's Interesting, Lakota Chief Henry Standing Bear wrote to Polish-American architect Korczak Ziolkowski in 1939. He asked him to create a monument honoring the legacy of Crazy Horse, as he wanted "the white man to know that the red man has heroes too." Ziolkowski agreed and created an idea for an incredible portrait of Crazy Horse to be carved out of the side of a granite mountain in the Black Hills of South Dakota (per Business Insider).
When construction initially started in 1948, Ziolkowski estimated that it would take about 30 years to complete what would become the world's largest monument. Turns out he grossly underestimated how much time this project would take. It has now been more than 7 decades and the monument is nowhere near finished.
There are multiple things that have caused delays in completing this masterpiece. Carving it out of the side of a mountain poses many challenges, including having the proper equipment and challenging weather patterns (per Business Insider). Additionally, funding has continuously been an issue. 
There is also still some controversy that exists over whether or not this is the best way to honor Crazy Horse and the Native American community, while others see it as a celebration of a Native American hero. There is still no deadline for when the monument will be complete, though the hand, arm, shoulder, hairline, and top of the horse's head are supposed to be finished in the next 15 years.