The Gruesome Nazi Murder Of All Quiet On The Western Front Author's Sister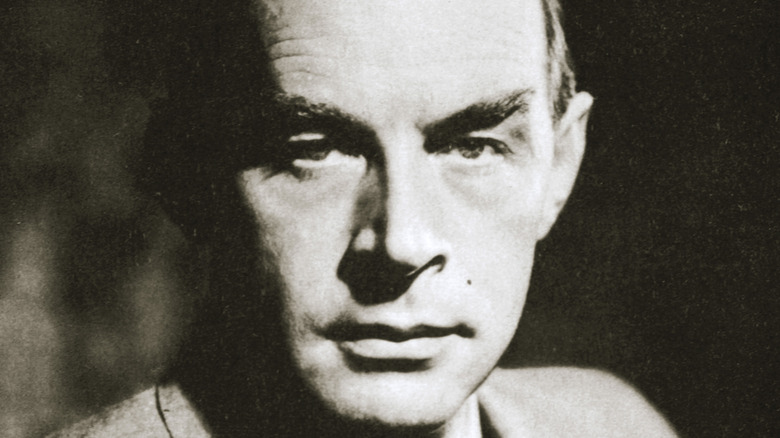 Heritage Images/Getty Images
Elfriede Scholz was a 40-year-old high-fashion dressmaker living in Dresden, Germany, when the Nazis arrested her September 1943 and charged her with "defeatist talk," which carried a death sentence upon conviction, according to the 2013 book "The Last Romantic: A Life of Erich Maria Remarque," by Hilton Tims. But her real crime was being related to the most hated author in Nazi Germany, Erich Maria Remarque.
Scholz was the writer's younger sister and even though she hadn't seen him in 13 years, because the Nazis couldn't get their hands on the famed author of "All Quiet on the Western Front," she would have to do. Court President Roland Freisler, the judge in the case, said as much after Scholz's show trial in the Nazi People's Court, which dealt with political "crimes," per the Jewish Virtual Library. "Your brother is unfortunately beyond our reach — you, however, will not escape us," he told Scholz, who remained composed throughout the ordeal, according to War History Online and "The Last Romantic."
Erich Maria Remarque escaped the Nazis
While his sister awaited her death sentence, Erich Maria Remarque was living it up in Hollywood, having a string of affairs with such glamour queens as Marlene Dietrich (whom he'd earlier met in France), Greta Garbo, and Hedy Lamarr, among others, according to Smithsonian. "All Quiet on the Western Front" became an instant international bestseller when it came out in 1929. The novel is told in first person, based on Remarque's personal experiences in the German infantry in World War I. Its antiwar message and portrayal of German soldiers didn't sit well with Adolph Hitler and the Nazi's head propagandist, Joseph Goebbels.
Universal Pictures' film version of the novel that came out in 1930 further enraged Goebbels who, along with his Brownshirt thugs, disrupted the showing of the film in Berlin, with stink bombs, itching powder, and mice they released into the theater, per Smithsonian. They also beat some moviegoers. When the Nazis took power in 1933, they made it a crime to own a copy of "All Quiet on the Western Front" and made plans to murder Remarque, who barely escaped Germany with his life, per War History Online.
A gruesome execution and a bill for services rendered 
Elfriede Scholz, her head shaved, awaited her death sentence after two pleas for clemency had been rejected by the Nazis. Her alleged crime had been to tell her landlady and one of her young customers she didn't believe the Nazi propaganda about Germany's "final victory" and that their soldiers were nothing but "beasts for the slaughter," according to The German Resistance Memorial Center. On December 16, 1943, that day finally arrived. The Nazis beheaded her by guillotine, according to War History Online. After Remarque escaped the Nazis, he lived in Switzerland before immigrating to the U.S. in 1939, per Smithsonian.
Back in Germany, his family suffered horribly. His other sister, Erna, and her family lost their home in an Allied bombing raid; his stepmother died by suicide: and his brother-in-law became a prisoner of war, according to "The Last Romantic." The Nazis sent a bill for the cost of housing, feeding, and executing Elfriede Scholz to her family, per War History Online. Remarque was apparently unaware of what his family went through, as he could not communicate with them during the war years. He later dedicated his novel "Spark of Life" to his sister Elfriede. Remarque died in 1970. "All Quiet On the Western Front" remains a seminal war novel and has most recently been remade into a film by Netflix, per IMDb. The trailer is posted on YouTube.