Where Is Rebecca Downey From Netflix's Unsolved Mysteries Now?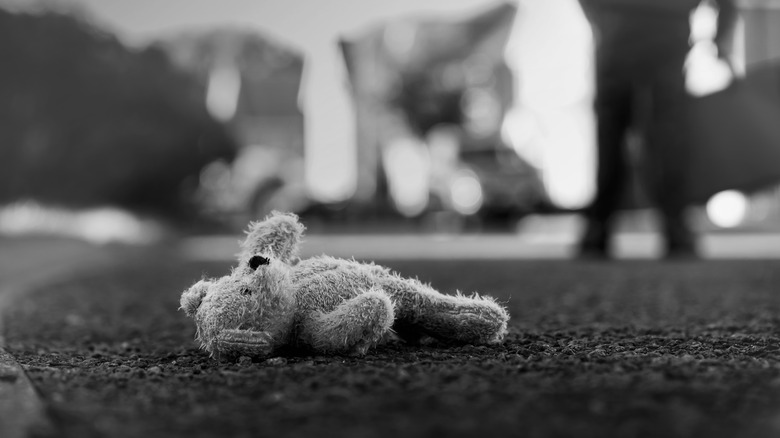 Ann in the uk/Shutterstock
The true crime genre has become a money-making machine for the entertainment industry. Streaming services like Netflix and Hulu have tons of movies and series that focus on various crimes ranging from kidnapping to murder. One of Netflix's recent popular series is the revival "Unsolved Mysteries," which features the stories of everyday folks who have suffered incredible loss but don't have any real answers.
One of the stories highlighted in the third season of the series is entitled "Abducted By A Parent." It tells the story of Rebecca Downey and her two children. What was supposed to be a quick weekend trip with their dad on the weekend resulted in the siblings disappearing in 2014 (per The Cinemaholic). Neither the children nor their father has been found in the seven years since, though the search remains ongoing. The episode documents Downey's journey of looking for her missing children and piecing together what might have happened.
Who Is Rebecca Downey?
According to The Cinemaholic, Rebecca Downey is a native of Berlin, Germany, who met Ahmed Kandil when she was in her late 20s. The two were married within a couple of years and subsequently had two children named Amina and Belel. However, the couple's relationship changed over time, and the marriage became strained. This caused Downey to end their union, and the couple separated in 2013.
Despite being separated, the couple had a shared custody agreement. As part of their agreement, Kandil picked up the children on August 28, 2014, to take them on a weekend trip. He was supposed to return with the kids on September 1. Unfortunately, none of them ever showed up. The last communication that Downey had with Kandil was over text message on August 29, allegedly confirming the return date. By September 2, Downey contacted authorities, and shortly after that, the FBI got involved. The investigation revealed that Kandil likely planned the whole thing and took off with the couple's children.
Her search continues
Despite how awful it is to have lost her children at the hands of their father, Rebecca Downey remains hopeful as she continues to search for answers about her children's whereabouts (per The Cinemaholic). With that hope in mind, Downey began journaling everything she wanted to tell them while they were apart. FBI Agent Stacey Sullivan said (via Cinemaholic), "So, it's important for me, also, for them to know that their mother never gave up and that they can have communication again with her and rebuild that relationship that was taken from them."
Though she is always looking for them, Downey has not put her life on hold. Over the years, Downey has managed to complete her Doctor in Medicine (MD) and medical residency as an Anesthesiologist. As of June 2020, she lived in Atlanta, Georgia, and is the Regional President of Clinical Services for the Southeast Region with North American Partners in Anesthesia. According to Radio Times, the FBI is seeking Ahmed Kandil due to suspicion of abducting his children. Though they have tracked down multiple leads, Kandil and his children have yet to be found.