Where Is Levi Strauss Buried?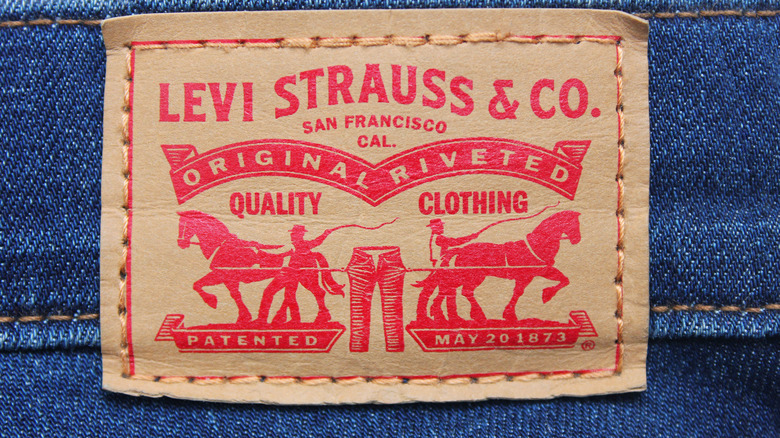 onajourney/Shutterstock
Chances are, you are someone you know owns or has owned a pair of Levi jeans. As PBS explains, the timeless pants are synonymous with both style and resilience. Per Biography, consumers can thank Levis Strauss for this revolutionary article of clothing. Although he did not invent blue jeans on his own, they perhaps would have never hit the market without Strauss' involvement.
Born into a Jewish family from Bavaria in 1829, Strauss immigrated to the United States when he was 18 years old. He first settled in New York City where he worked in the dry goods business with his older brothers.
By 1853, Strauss' biography states, he had moved to San Francisco. It seems that the excitement of the Gold Rush got to Strauss, and with good reason. Once on the West Coast, he established his own dry goods business, and it flourished. PBS writes that Strauss' brothers from New York ensured he was always well stocked with new products. Strauss then sold his items to various stores in California, and Levi Strauss & Co. was born. According to Biography, Strauss quickly gained notoriety in San Francisco. The businessman was known for being charitable and helping those in need. Then in 1872, Strauss received a letter from a customer, and it changed his life forever.
How Levis Strauss' blue jeans came to be
Strauss' biography reports that Jacob Davis was a Reno-based tailor who purchased cloth from Strauss. In 1870, PBS writes, Davis created a new type of pants that was specifically made for heavy-duty work. Davis used metal rivets in the pocket corners to ensure his pants were long-lasting. Unlike Strauss, Davis had little money to patent his new invention. For reasons that are unclear, he decided to write to Strauss and tell him of his pants and his dilemma. Davis also asked Strauss to become his business partner. Strauss agreed and in 1873, the pair received a patent for the now iconic blue jeans.
According to PBS, Davis moved to San Francisco and Levi Strauss & Co. began to manufacture the pants. Biography reports that Strauss continued to work at his company even as he aged. However, Strauss' biography writes that he eventually brought on his four nephews, Jacob, Sigmund, Louis, and Abraham Stern, to help. In late September 1902, Strauss began to feel sick. Even so, an article from The San Francisco Call states, his doctors were in awe of Strauss' physical and mental health. The publication adds that his doctors believed that this was nothing but a minor illness.
Levi Strauss' final resting place is in Colma, California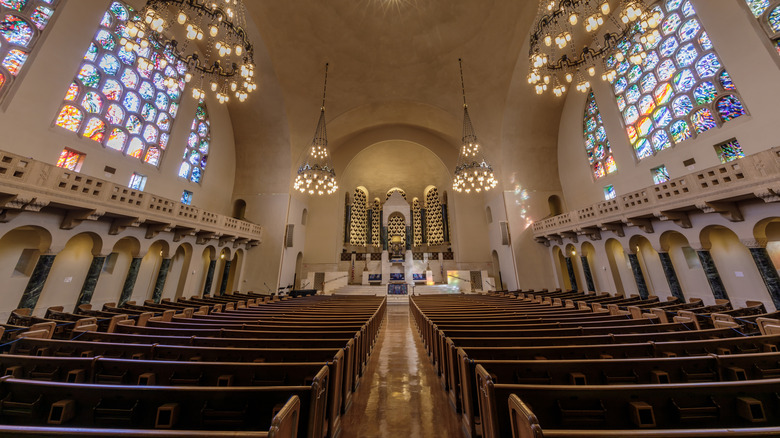 yhelfman/Shutterstock
Per The San Francisco Call, Strauss was suffering from liver congestion. Nevertheless, he eventually felt better and had dinner with his family on September 26 (via Strauss' biography). The San Francisco Call states that Strauss seemed to be doing well and enjoyed himself that evening. He went to bed, where a nurse heard him moan. The nurse asked if he was okay and Strauss replied that he was "as comfortable as I can under the circumstances." According to Biography, Levis Strauss died that night at the age of 73. PBS reports that he bequeathed his beloved company to his four nephews.
Strauss' biography notes that he also left a large part of his $6 million estate to charity, including to the Emanu-El Sisterhood, a Jewish organization. According to Find a Grave, Strauss was buried at the Home of Peace Cemetery in Colma, California. More specifically, Strauss can be found at the Emanu-El Mausoleum. The Congregation Emanu-El writes that the Home of Peace cemetery was designed for Northern California's Jewish population. In fact, Strauss had long been involved in this synagogue (above) (per The Jewish News of Northern California).
As explained by The New York Times, Colma is near San Francisco and is known for being the final resting place for the city's dead. KQED explains that by the late 1800s, San Francisco's cemeteries simply got too overcrowded and burials were prohibited. The cemeteries were then moved to Colma, where the dead now outnumber the living.