Why Some People Think This Las Vegas Icon Was Murdered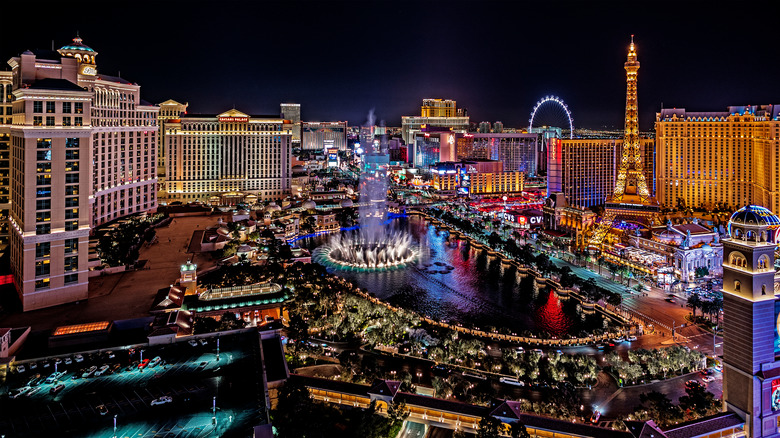 randy andy/Shutterstock
Las Vegas is notorious for the ever-changing cast of colorful characters that have inhabited its neon-lit streets throughout its history, but James "Buffalo Jim" Barrier may have had them all beat. Born in 1953 in Cleveland, Ohio, he first visited Las Vegas while on vacation with his parents, took an immediate liking to the city, and vowed to return someday and live there, per the Las Vegas Weekly. He dropped out of school at 13 and became an auto mechanic and salesperson, moving from city to city throughout the Midwest. He grew his wild, thick, brown hair into a long mane, which became part of his signature, larger-than-life look. 
He arrived back in Vegas in 1971 and reportedly immediately received 13 traffic tickets, going on to rack up a series of minor infractions and receive the nickname "Jailhouse Jim." Barrier's more famous nickname was bestowed upon him in 1975 when he was stopped in a downtown Vegas casino by a drunk man in a 10 gallon hat who reportedly intoned, "One time, when I was a young man, I got drunk, and I had sexual relations with a buffalo. You know, you just might be my son."
"Buffalo Jim" became an infamous Las Vegas legend, roaring through the town on a motorcycle, drinking, doing drugs, fighting, womanizing, and partying. He continued working as a mechanic, opening his Allstate Auto and Marine Electric shop in 1977, and began promoting local professional wrestling, according to All That's Interesting.
Barrier had an ongoing feud with a fellow Vegas local
Despite his taste for debauchery, "Buffalo Jim" Barrier was also known for his kindness, generosity, and many friends. He did, however, have one significant enemy. As reported by Newsweek, Rick Rizzolo, owner of the Crazy Horse Too strip club, and Barrier had fought for many years, often taking one another to court due to disagreements about the placement of Barrier's auto repair shop and parking spaces in relation to Rizzolo's expansion plans. In 2002, Barrier claimed Rizzolo was responsible for several cars at his shop getting vandalized and filed a complaint against him. Four years later, Barrier worked with the FBI in their investigation of the Crazy Horse Too for tax evasion; authorities also suspected Rizzolo's club of having links to organized crime. Rizzolo ended up being sentenced to a year and a day of prison time in 2007. 
On the morning of April 6, 2008, Barrier was found dead in a Motel 6 on Boulder Highway, Las Vegas, at the age of 55. His pants were around his ankles and an empty bottle of Valium lay nearby. An autopsy found cocaine in his system and a coroner declared that to be a contributing factor in his death from dilated cardiomyopathy, or inflamed heart muscles, ruling the death accidental. However, Barrier's family believes he was actually murdered and points to several suspicious factors surrounding his death. According to the Las Vegas Sun, authorities investigating the death of "Buffalo Jim" Barrier spoke with an unidentified woman who had been with him in the Motel 6 room the night before his death. 
Many found the death suspicious
The unidentified woman told the police that she had had "a social relationship" with Barrier for a decade and that he'd appeared to have had a seizure before she left the room. Las Vegas Weekly spoke with Barrier's daughters, who told Joshua Longobardy, a reporter and friend of their father, that Barrier had received several anonymous letters warning him that the Rizzolo family was plotting to have him murdered. Rick Rizzolo was released from prison the day before Barrier died. 
Longobardy wrote that Barrier had called him on Friday, April 4, and told him he'd received a phone call from someone claiming to be a "hitman." When Longobardy asked him to be careful, Barrier replied that he thought if the Rizzolos were going to attempt to kill him they'd do it "through a woman" or by drugging him. Barrier's daughters, Jerrica and Elise, told Longobardy they suspected something was very wrong when they were called to the Motel 6 to identify their father's body, with Jerrica noting, "everything about what I saw just didn't feel right." Police told Longobardy that they found no evidence of foul play in the hotel room and thus hadn't contacted homicide detectives. The coroner's investigator also reported they'd found nothing suspicious regarding Barrier's death. Per Newsweek, no fingerprints or DNA were taken from the scene.
The Netflix television show "Unsolved Mysteries" has devoted an episode to "Buffalo Jim" Barrier in its third season. The episode began streaming in October 2022.