The Relationship Between Michael Cohen And Jerry Falwell Jr Featured In Hulu's God Forbid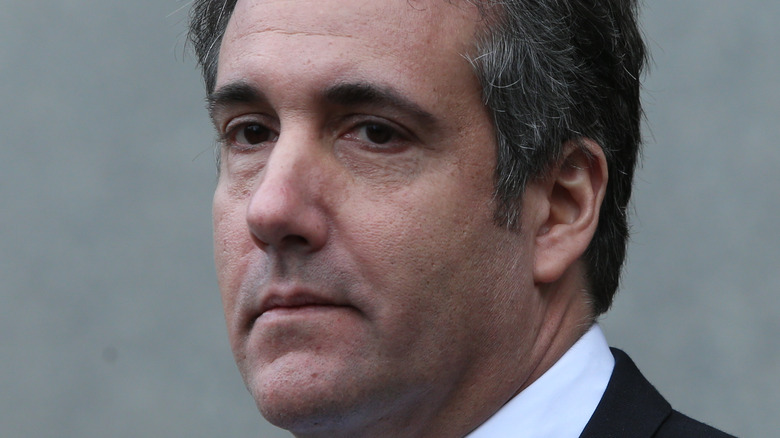 a katz/Shutterstock
In 2018, a lawsuit was brought against Jerry Falwell Jr., then-president of evangelical Liberty University and the son of conservative televangelist Jerry Falwell, as Axios reports. The litigation was brought by a former business associate of Falwell Jr. and Giancarlo Granda, both of whom the lawsuit alleged treated their third partner unfairly, as the Hulu documentary, "God Forbid: The Sex Scandal that Brought down a Dynasty" explains. (A trailer is posted on YouTube.) The case against Falwell Jr. and Granda was settled in 2019 for an undisclosed amount.
Also revealed in that lawsuit, though, was that Granda's stake in the business in question was allegedly given to him by Falwell Jr. and his wife, Becki Falwell, to cover up a years-long sexual relationship between Becki and Granda, which Falwell Jr. also allegedly took part in. In 2016, Falwell Jr. backed then-candidate Donald Trump's run for president, according to Buzzfeed News. And as Hulu viewers learn, if not for the intervention of former Trump lawyer Michael Cohen (pictured), Falwell Jr.'s sex scandal could have been uncovered much sooner.
Falwell Jr. denies any involvement in Granda and Becki Falwell's affair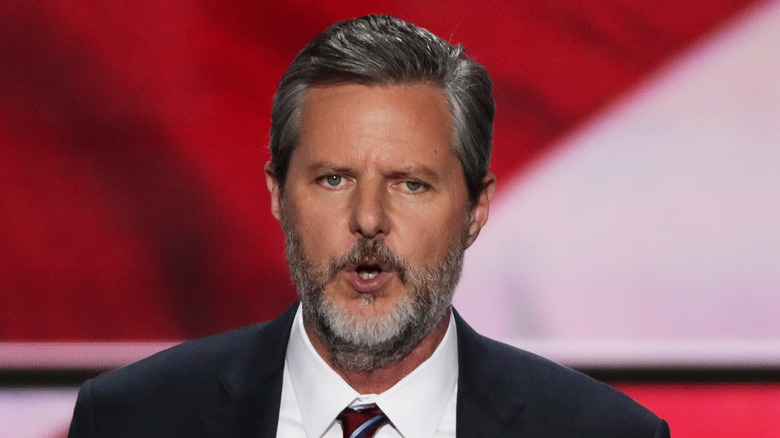 Alex Wong/Getty Images
As Axios goes on to note, Falwell Jr. denied his alleged involvement in the sexual relationship between Granda, then a Miami pool boy, and Becki Falwell. That version of events is at odds with Granda's own accounting of what happened, included in Hulu's documentary. Per Reuters, Falwell Jr. allegedly took photos and video footage of his wife and Granda engaged in sex acts. The Falwells have acknowledged the sexual relationship between Becki Falwell and Granda, but deny Falwell Jr.'s involvement, per the Miami Herald.
What the Falwells claim, instead, is that Granda blackmailed them. Falwell Jr. has since stepped down as president of Liberty University. In 2015, evidence of the Falwell affair in the form of photographs was nearly leaked to the media, as former Trump lawyer Michael Cohen revealed in his 2020 book "Disloyal: A Memoir" (via Reuters). Because of Cohen's involvement the story was not published. In 2018, Cohen was sentenced to three years in prison for "tax evasion, making false statements to a federally insured bank, and campaign finance violations," according to The United States Department of Justice.
Did Falwell Jr. return Cohen's favor with a 2016 endorsement of Trump?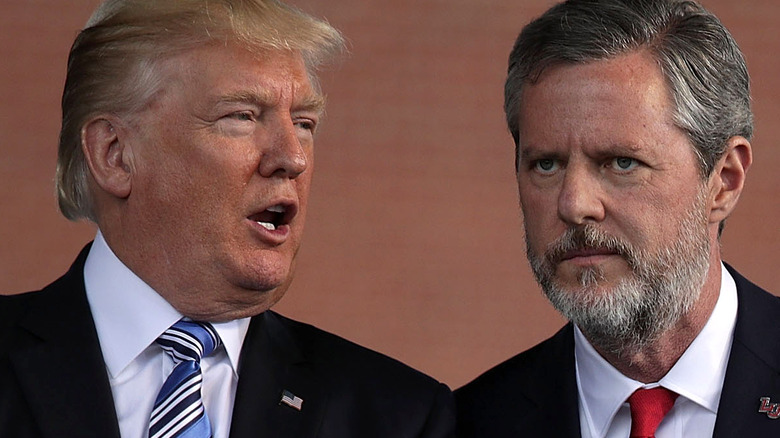 Alex Wong/Getty Images
According to Reuters, Cohen explains in his book that in 2015 he orchestrated the so-called "catch and kill" operation to suppress the Falwell Jr. sex scandal in return for a future favor from Falwell Jr. to benefit Trump. Cohen doesn't specifically say, though, that Falwell Jr.'s 2016 endorsement of Trump was received quid pro quo. Nonetheless, Falwell Jr.'s backing of Trump was powerful among the evangelical community. Speaking to Reuters, Falwell Jr. said, "It was no quid pro quo ... There was no me supporting Trump because of whatever Michael was doing."
Cohen and Falwell Jr. did had a relationship dating to 2012, and Falwell Jr. was known to visit Cohen's New York offices on several occasions, according to Buzzfeed News. In his book, Cohen writes (via Reuters), "In good time, I would call in this favor, not for me, but for the Boss," meaning Trump, "at a crucial moment on his journey to the presidency." Cohen also describes the Falwells as more than friends and more like family. According to Axios, Granda went public with his allegations against the Falwell family in part to prevent Falwell Jr. from endorsing Trump once more in 2020.