The Tragic Death Of NASCAR's Coy Gibbs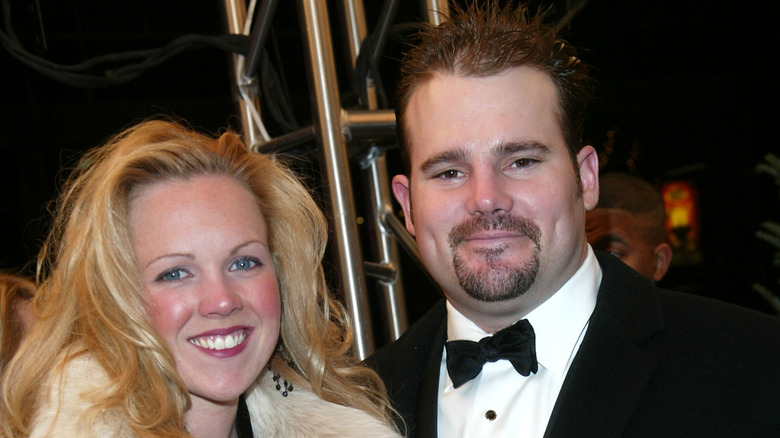 Evan Agostini/Getty Images
Coy Gibbs, vice chairman of the NASCAR team Joe Gibbs Racing, has died at the age of 49 (via NASCAR). Joe Gibbs Racing revealed this news with a tweet that read, "It is with great sorrow that Joe Gibbs Racing confirms that Coy Gibbs (co-owner) went to be with the Lord in his sleep last night. The family appreciates all the thoughts and prayers and asks for privacy at this time." According to The New York Times, Coy's father is Joe Gibbs, a former NFL coach for Washington's football team. In 1992, Joe founded Joe Gibbs Racing and brought his family into the business (per NASCAR Hall of Fame).
CNN reports that Coy was a football star at Stanford University. Upon graduating from the prestigious institution with a degree in history, he began to work for his father's team alongside his older brother J.D. Gibbs. Tragically, J.D. also died at the age of 49 back in 2019. Furthermore, Coy was once a racecar driver for Joe Gibbs Racing. From 2002 to 2003, he participated in 39 NASCAR Xfinity Series races (via Fox Sports).
Beyond his NASCAR career, Fox News states that Coy was an assistant coach for the Washington Redskins from 2004-2007. However, Coy returned to NASCAR in 2015 when his brother J.D. 's health declined due to a neurological disease.
Coy's death occurred after Ty Gibbs' big win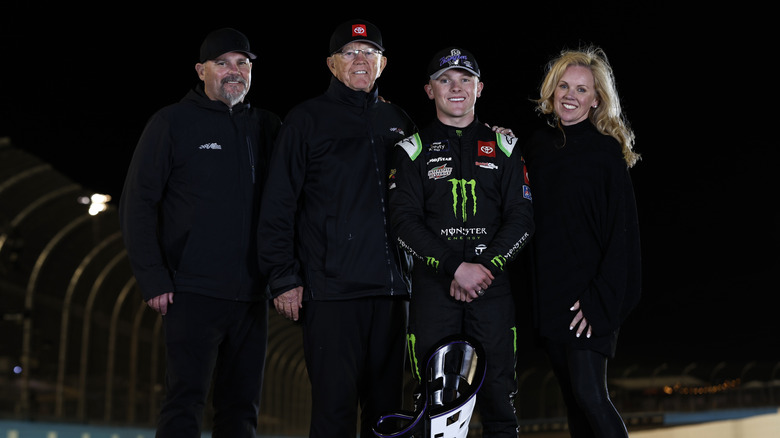 Meg Oliphant/Getty Images
CNN explains that only hours before Coy's death was announced, his son, Ty Gibbs, won the NASCAR Xfinity Series championship race. Ty, who is only 20, made his NASCAR debut in 2021 (per Fox Sports). However, the young driver recently came under fire for his questionable actions on the race track. AZcentral reports that in late October, Ty crashed into his fellow teammate, Brandon Jones, in order to win the Xfinity Series semifinal in Martinsville. Following this incident, Ty told the media that he was regretful about what he had done and that he had apologized to Jones. Per AP News, his grandfather, Joe Gibbs, noted that Ty would be disciplined for this.
Despite this backlash, Ty went on to win the NASCAR Xfinity Series championship race (per NBC Sports). With this victory, Coy spoke to the media about his son and said, "I think he's got skills and he's determined. It definitely made me proud. I think it made my wife — we were both proud, just because he just hammered down and did his job. If he wants to do this for a living, he's going to learn how to do that." Per Fox News, he also went on to say, "I think he's just doubled down and did his job after making a huge mistake last week. It was fun to watch." Soon after, Coy Gibbs died. 
Ty Gibbs pulled out of an important race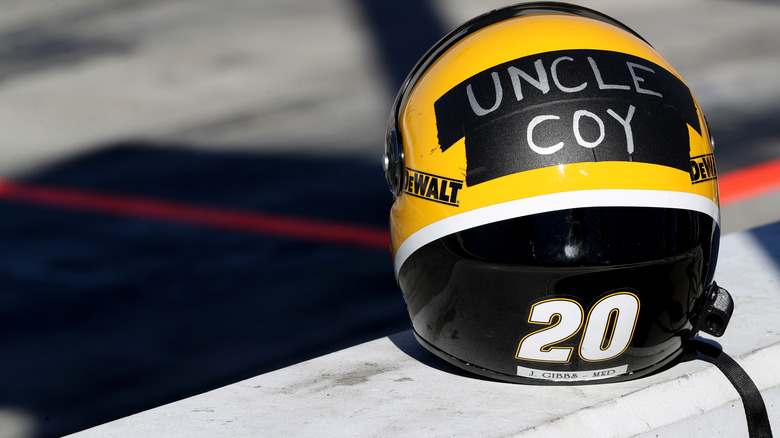 Meg Oliphant/Getty Images
As a result of Coy's unexpected death, Ty dropped out of the NASCAR Cup Series Championship in Avondale, Arizona (per CNN). As the news of his death had not been made public yet, Ty, who drives for the 23XI team, cited "a family emergency" as his reason for doing so. ESPN reported that driver Daniel Hemric stepped in as Ty's replacement for the season finale. When Coy's death was announced, Denny Hamlin, a driver for Joe Gibbs Racing, tweeted, "Today we will do what we don't want to do, but we we will unite as a family and race for the name on our chest."
Kyle Busch, who is also a driver for Joe Gibbs Racing (per NBC Sports), tweeted, "Words can't describe this day. Today was already going to be tough enough but it's even more gut wrenching now. Heartbroken." CNN reports that Jim France, NASCAR chairman, and CEO, released a statement that read, "We are heartbroken by the tragic loss of Coy Gibbs. On behalf of the France Family and all of NASCAR, I extend my deepest condolences to Joe, Pat, Heather, the Gibbs family and everyone at Joe Gibbs Racing on the loss of Coy, a true friend and racer." According to Fox Sports, Coy Gibbs is also survived by his four children: Ty, Elle, Case, and Jett.