This Was The First Woman To Get A Bachelor's Degree In The US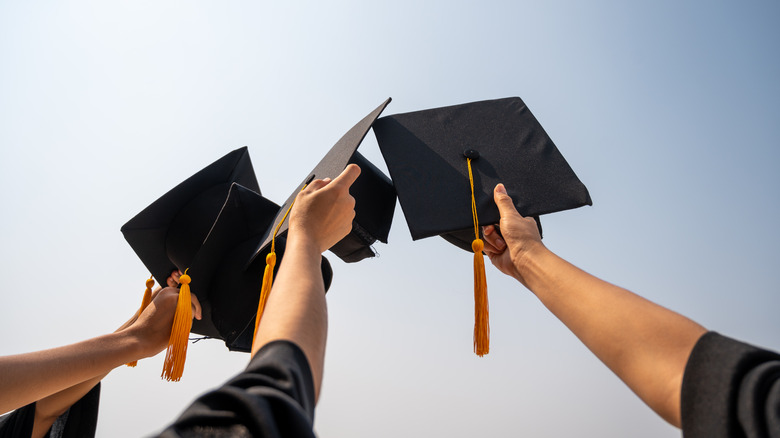 Nirat.pix/Shutterstock
These days, great efforts are being made to interest teen and preteen girls in science and science-adjacent fields. As the American Association of University Women reports, women make up a small percentage (28%) of the workforce in the science and engineering workplace. Still, that's a far cry from how things were as recently as a century ago. There was a time in history when women had absolutely no place in academia. For example, Mary Ward, the first person killed in an automobile accident, was a self-funded amateur scientist (her family had money) who struggled to be taken seriously by the male-dominated scientific community of her day.
However, back in 1840, according to Wesleyan College, a group of 11 women received their bachelor's degrees, the first class of women to earn that honor, from the first college in the country authorized to bestow it to women. The first alphabetically on the list of graduates was Catherine Brewer who is credited as being the first woman in the United States to receive a bachelor's degree.
The Complicated History Of Educating Women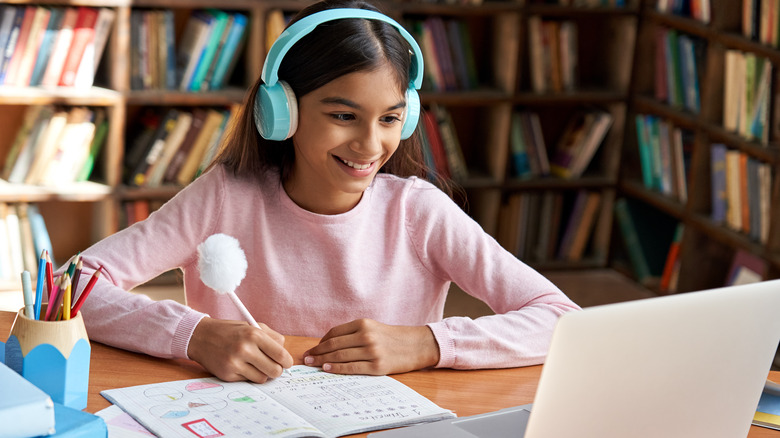 Ground Picture/Shutterstock
The history of women and girls in education is complicated. Over the centuries, religion, culture, the needs of the day, and a host of other factors have played a role in the education of women and girls. As Local Histories reports, there were times in ancient history when women were doctors or scribes; the ancient Egyptians even had a goddess of reading, writing, and arithmetic.
Moving towards the American West and the 1800s, it was rare for a girl to learn much beyond the basics, if she learned anything at all, particularly if she was from a poor family. Wealthy women and girls had tutors, but once they reached a certain age, there was little to no chance of them joining their male peers in a college classroom, according to Bustle.
Over in the U.K., in the 1700s a group of education-minded women were derisively called the "Blue Stockings," after the blue socks they wore. They tried to forge a way for women in the male-dominated industry, and within a century, universities across the ocean were accepting women. American universities also started getting in on the game at around this time, admitting women in the first half of the 19th century.
Wesleyan Leads The Way
In 1835, according to Georgia Historical Society, a group of prominent businessmen in Macon, Georgia, spurned on by the Second Great Awakening (a Protestant religious movement tied to progressive ideals), decided to build a university specifically for women. A few short years later, Wesleyan, being the first university in the United States chartered to give degrees to women, announced its first graduating class and, according to the college's website, first on the list alphabetically was Catherine Brewer. Strictly by way of her place in the line, she became the first woman to earn a bachelor's degree in the United States.
Decades later, she was invited to address the graduating class of 1888, during which she uttered a bit of prose that would come to be known as the Benson Charge (having by this time married and taken on the surname Benson): "Members of the graduating class, demands will be made upon you which were not made upon us. Your training, if you are true to it, will amply qualify you to meet those demands. No wiser blessing could I wish for you than that you may be true to every God-appointed work."