What Jimi Hendrix And Neil Young Had To Do To Get To Woodstock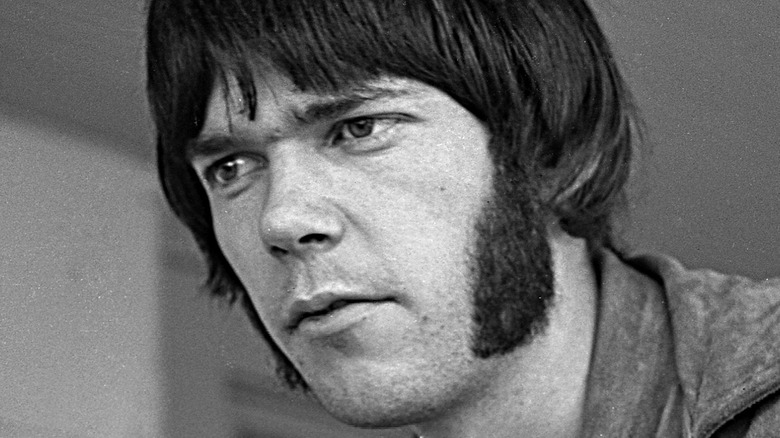 Michael Ochs Archives/Getty Images
The Woodstock Rock Festival — known officially in 1969 as the Woodstock Music & Art Fair and billed as "An Aquarian Exposition in White Lake, N.Y.: 3 Days of Peace & Music" — was both an utter disaster and also one of the defining moments of the decade, and that says a lot about the nature of the 1960s American counterculture.
As noted by Jimi Hendrix biographer Charles R. Cross, the festival, organized by a young and enthusiastic group of amateurs, soon turned into chaos, with hundreds of thousands of unexpected arrivals and continuous bad weather pouring pressure on the almost nonexistent security and infrastructure, while copious amounts of acid led to countless instances of young people requiring medical attention.
Though billed as a three-day affair, Woodstock was so chaotic that the weekend festivities ran over into the following Monday morning, when multitudes of young Americans had dwindled to a fraction of the crowd that slept in the mud and stayed for days enjoying sets by iconic '60s acts like Jefferson Airplane and Joan Baez. Those who stuck it out were treated to two of the most historic performances of all time: a set by Crosby, Stills, Nash, & Young, and a closing act performed by Jimi Hendrix and the latest incarnation of his band. However, it was nearly the case that neither Hendrix nor Neil Young made it to the festival at all. Here's how they got there.
Hotwiring their way to Woodstock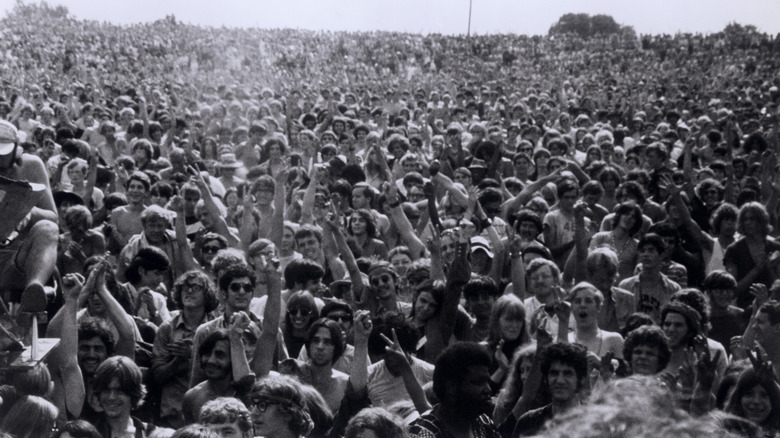 United Archives/Getty Images
Though both Neil Young and Jimi Hendrix are today considered leading figures of the 1960s counterculture, the two musicians were going through a tumultuous time artistically, despite their top billing at the Woodstock Rock Festival.
Young had been making waves as a solo performer, but in 1969 was looking to branch out into more collaborative efforts. His 1969 album "Everybody Knows this is Nowhere" is credited to "Neil Young & Crazy Horse," while by the time Woodstock rolled around he had officially joined Crosby, Stills, & Nash to form Crosby, Stills, Nash, & Young. Hendrix was similarly in flux. After two and a half years of touring with bassist Noel Redding and drummer Mitch Mitchell as "The Jimi Hendrix Experience," and recording three classic albums in the process, Hendrix's band fractured following Redding abruptly quitting the group (via Ultimate Classic Rock). And amid the turmoil of trying to gel with new musicians, both Hendrix and Young found themselves hampered in their attempts to get to Woodstock, with news reports already chronicling the chaos as 800,000 people descended upon the festival site, according to Charles R. Cross' "Roomful of Mirrors: A Biography of Jimi Hendrix."
Hendrix and Young were stuck at a nearby airport, where bad weather meant they were unable to helicopter into Woodstock as intended. Instead, legendary roadie Gerry Stickells bagged a truck to get the two groups to the festival, though manager Elliot Roberts claims Young himself hotwired the truck, and Hendrix rode on the hood. Young later said: "Stealing a pickup truck with Jimi Hendrix is one of the high points of my life" (per Cross)
Hendrix and Young at Woodstock
By the time they arrived at the legendary festival, both musicians had contended with hours and hours of chaos, delays, and stereotypical hippie hijinks. And though both were dealing with problems beyond their control, Neil Young and Jimi Hendrix had the persistence and talent to see the famous festival through to its conclusion. 
Young took to the stage alongside the newly-formed Crosby, Stills & Nash, though as the Observer notes, the musician was frustrated by the festival. He took umbrage with the fact that other performers seemed to be playing for the cameras, rather than the crowds, and refused to be filmed. Nevertheless, he was there, and completed his set, though he later described Woodstock as a "b******* gig."
Shortly after, Hendrix took to the stage, where, after he and his band were introduced as "The Jimi Hendrix Experience," the legendary guitarist stepped to the microphone and corrected the MC, christening the band "Gypsy, Sun, and Rainbows," and later "Band of Gypsys," the name under which Hendrix's last music would be recorded before his untimely death the following year (via Cross). The show was ramshackle, with Hendrix struggling to find the groove with his new group of musicians. However, he did have a treat up his sleeve for the tired mass of acid-wired hippies that remained: his iconic performance of "The Star-Spangled Banner," complete with distortion of war-torn effects that is now remembered as Woodstock's most celebrated moment.