Jimi Hendrix's Tragic Real-Life Story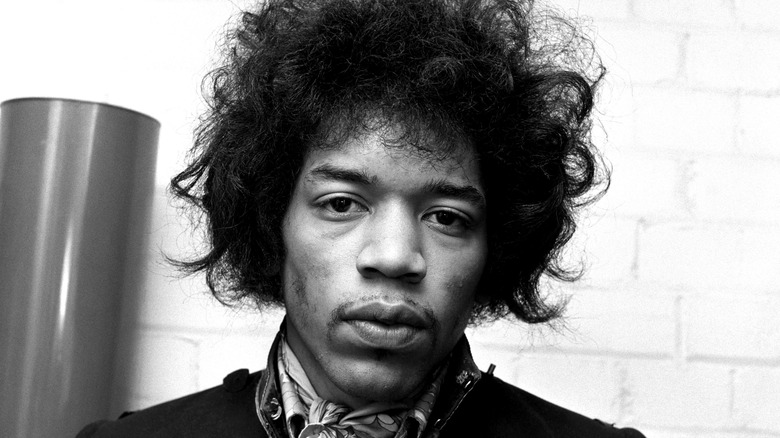 Avalon/Getty Images
Ask anybody what they associate with Jimi Hendrix and they'll all tell you the same kind of things. They'll mention velvet jackets and Woodstock and LSD. At some point, they'll probably use the word "guitarist," possibly preceded by the words "history's greatest." Yes, Hendrix — being the rock 'n' roll icon that he is — facilitated a certain image that, thanks in part to the brevity of his life, has endured without alteration or blemish since his death.
What's less well-known about Hendrix are the many hardships he endured, both in youth and adulthood. The charisma of his stage persona and the iconic wail of his guitar masked a life of parental abuse, alcoholism, drug abuse, violence, and disillusion. Beyond the music he was a troubled man who eventually succumbed to his demons. From the beginning to the end (which itself came far too soon), this is the tragic and dramatic story of Jimi Hendrix, perhaps the 20th century's greatest musician.
Jimi Hendrix had an absent father
YouTube
Jimi Hendrix was born Johnny Allen Hendrix in Seattle during World War II. His father, Al Hendrix, had married his mother Lucille the same year and was drafted into the army only three days after their marriage; Lucille was still pregnant at the time. Al, who was assigned to guard airfields for the U.S. Air Force, requested leave to visit his wife during or after the birth of his son, but because his unit was stationed too far from Seattle, he was refused. A day later, the elder Hendrix was confined to the stockade to prevent him from going AWOL. He was detained for over a month without charge or trial.
Johnny, meanwhile, was cared for by his maternal grandmother, Clarice. Lucille became increasingly difficult for Al to contact, and the young Johnny was sent off to a number of different women. Al finally returned from the service in 1945 and met his 3-year-old son for the first time. Worried that "Johnny Allen" was the name of a man with whom Lucille had been unfaithful, Al changed his son's name to "James Marshall."
How Jimi Hendrix sheltered from his parents' battles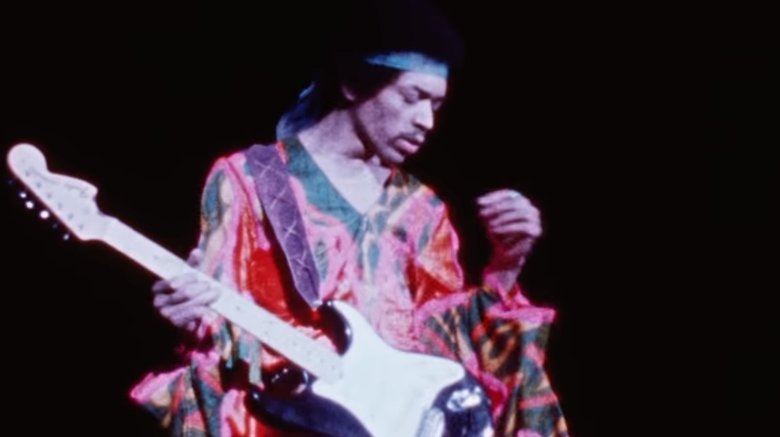 YouTube
Al and Lucille's marriage was not a happy one. Al had previously attempted to file for divorce during his time at war, but agreed to give the marriage a shot after returning to the United States in 1945. The two parents fought frequently — often spurred on by day-long drinking binges and parties — at the expense of James and his younger brother Leon. According to Leon, Al never became violent with Lucille, but Lucille herself "possessed a fiery temper when she was drinking" and would never hesitate to attack him with anything that came to hand if she were angry.
James and Leon would soon learn to recognize an oncoming bout between their parents and would hide in a closet waiting for the fighting to end. Eventually, Lucille moved out, and in 1951 Al pushed for divorce and took full custody of his children. Shortly after this, the third and youngest Hendrix brother — Joe — was placed into foster care. The brothers would not be reunited for years.
A spark of music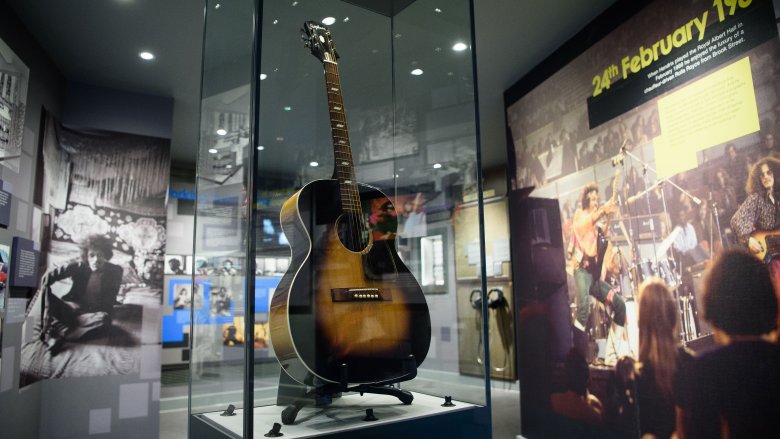 Getty Images
Jimi's fascination with music began early in his life. As a grade-schooler, he began carrying around a broomstick to mimic a guitar. According to his father, he would sit at the end of his bed, strumming the broom as if he were playing it. Eventually, though, he found a real instrument to play: a battered ukulele with only one string that he discovered in a pile of junk while helping his dad at work, cleaning someone's house. Jimi learned to play music by ear with just the one string, successfully managing to play along to the songs he listened to and loved — such as Elvis Presley's "Hound Dog."
At the age of 15, Hendrix finally purchased his first acoustic guitar. This instrument, however, was right-handed — despite Hendrix preferring to play with his left. Undeterred, Hendrix simply decided to play the guitar upside-down, a quirk he retained throughout the rest of his career.
How Lucille's death affected Jimi Hendrix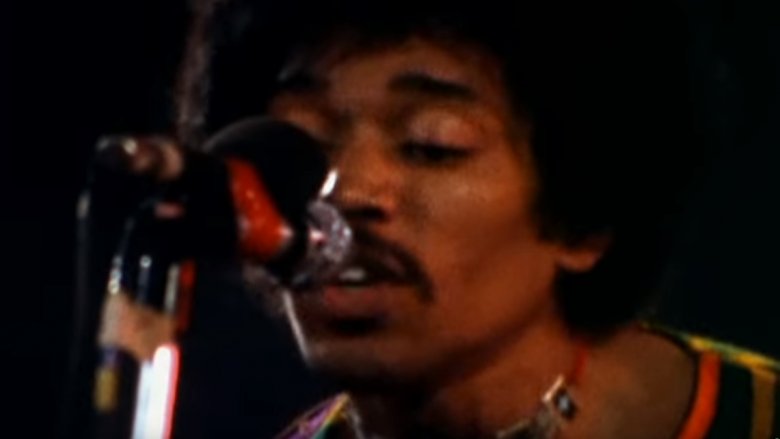 Getty Images
In 1958 — the same year Hendrix bought his first guitar — Lucille died. She had been found unconscious in an alley outside a bar, taken to the hospital, and died a few hours later after her spleen ruptured. The specific cause of the deadly trauma wasn't clarified, but Lucille's health had been in decline for months due to cirrhosis of the liver, a condition caused by her abuse of alcohol. The two Hendrix brothers were devastated by their mother's death, a shock that was only compounded by their father's refusal to allow them to attend her funeral. Neither Leon nor Jimi would ever forgive him.
In the months and years that followed, Hendrix became obsessed with the guitar, using it to process the grief of his mother's death. He taught himself to play the music of his blues heroes, began to skip school to hang out with musicians, and eventually found his self-esteem for the first time in his life.
Uneasy beginnings for Jimi Hendrix
Hendrix began his career as a musician by acting as a "hired hand" for a number of other bands. His first gig was in the basement of a Seattle synagogue, but it didn't last long: His stage antics led him to be fired before the show was even over. Soon, he joined his first band, The Velvetones. But Hendrix's acoustic guitar proved unsuitable and struggled to be heard over the group's sound. In 1959, Al Hendrix finally gave in and bought his son his first electric guitar: a white Supro Ozark.
The Velvetones played — without pay — for a few months before evolving into The Rocking Teens. This band, in turn, became The Rocking Kings, and then Thomas and the Tom Cats. Hendrix's burgeoning musical career was soon cut short, however, when he was arrested for joyriding in 1961 at 18 years old. Given the choice between prison and the U.S. Army, he chose the latter and was sent off to basic training.
At the mercy of the Screaming Eagles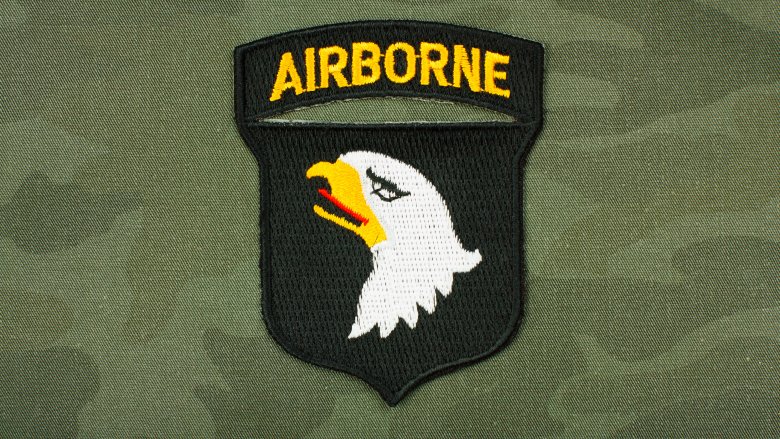 Shutterstock
Jimi Hendrix completed his eight weeks of basic training at Fort Ord, in California. After that, he joined the 101st Airborne Division and was sent to a base in Kentucky. Hendrix, naturally, was something of a rebel during his time in the armed forces. More than anything, though, he gained a reputation for his obsession with the guitar. Hendrix's father had sent him his Silvertone Danelectro guitar by request. This irked his peers and superiors, many of whom complained about Hendrix playing through the night. They struck back at Hendrix by bullying him both physically and verbally and frequently stealing the guitar, keeping it hidden until he begged for it back.
Only months into his service, Jimi Hendrix's platoon sergeant filed an official report chiding Hendrix for his lack of interest in the Army. He suggested that Private Hendrix be discharged. A year later, his commanding officer finally decided to be rid of him. Hendrix was granted an honorable discharge and left the Army for good.
Jimi Hendrix had big fights with Little Richard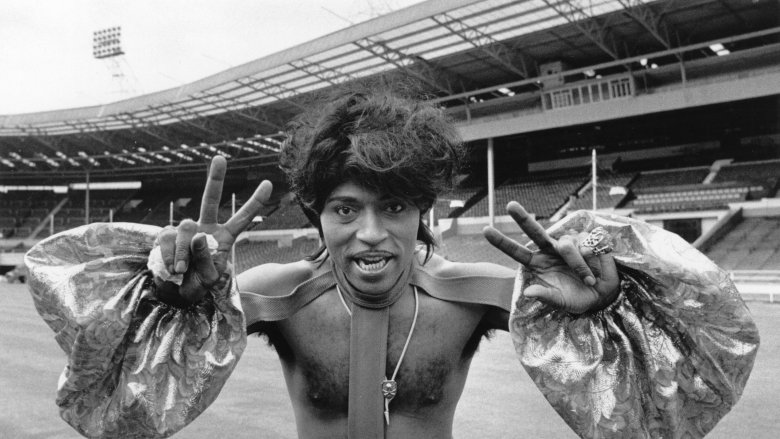 Getty Images
After returning to civilian life, Jimi Hendrix spent some time working as a backing musician for some of the era's biggest stars, including Wilson Pickett and Sam Cooke. In the early '60s, he moved to Harlem and joined The Upsetters — the backing group for the legendary singer Little Richard. Although he was sidelined in the band, Hendrix's natural flamboyance couldn't help but shine through. Richard and Hendrix clashed frequently, over not only his on-stage antics but also because, according to Richard's brother Robert Penniman, Hendrix "was always late for the bus and flirting with all the girls and stuff like that."
Finally, in 1965, Hendrix was fired from the band. Little Richard's loss was Jimi Hendrix's gain, however — By 1966, Hendrix had been discovered and signed by producer Chas Chandler. The Jimi Hendrix Experience was born only a few weeks later. Jimi Hendrix was about to become a rock icon.
Drugs, booze and beatings
Jimi Hendrix's name has forever been associated with the drug counterculture in the United States, and for good reason — he experimented with LSD, cannabis, hashish, and a number of other drugs during the heyday of his career. Much like his parents, he was also a drinker. The hedonism of life at the top of the rock 'n' roll game led to plenty of opportunities to indulge for Hendrix, but it wasn't just Hendrix who suffered from the demons that had destroyed his family — the women in his life felt their presence, too.
According to Eric Burdon, a friend of Hendrix, "One minute he's on stage singing about the mass of underdogs in America and the next he's kicking the hell out of some poor chick in a back alley." Tales of Hendrix's domestic violence against girlfriends and lovers are rife, and many of them blame the booze. One friend, Herbie Worthington, claimed that after drinking, Jimi Hendrix "simply turned into a bastard."
The decline of Jimi Hendrix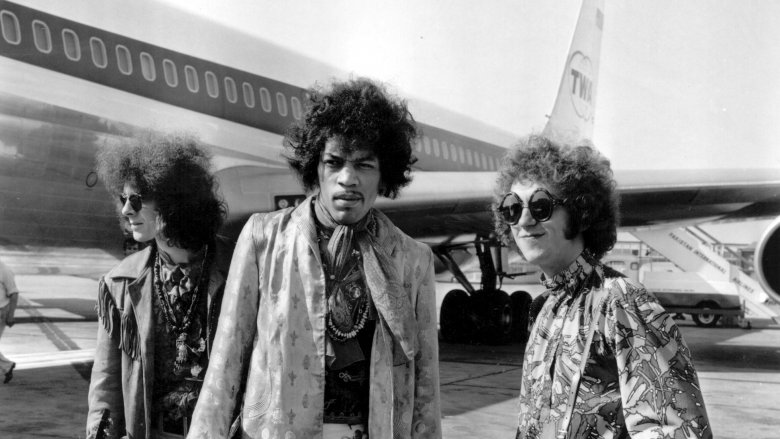 Getty Images
Fame began to take its toll on Jimi Hendrix. He was already facing problems in New York, where he had managed to aggravate a number of gangsters who were associated with his manager. He attempted to find solace with a tour of Europe, telling a journalist that "New York's killing me at the moment." He found no respite across the Atlantic, however. Weary and disillusioned, he stated at a show in Denmark on the European tour that "I've been dead a long time."
Things finally came to a head at a festival in Germany, when Jimi Hendrix refused to perform out of fear of being electrocuted on the wet stage. When he finally showed up on stage — inebriated — it was to a chorus of boos and jeers from the crowd. By the time he fled the event, the Hells Angels (who were providing security) had set the stage on fire, shot a roadie, and attacked his tour manager. The show would be his last.
Jimi Hendrix died in London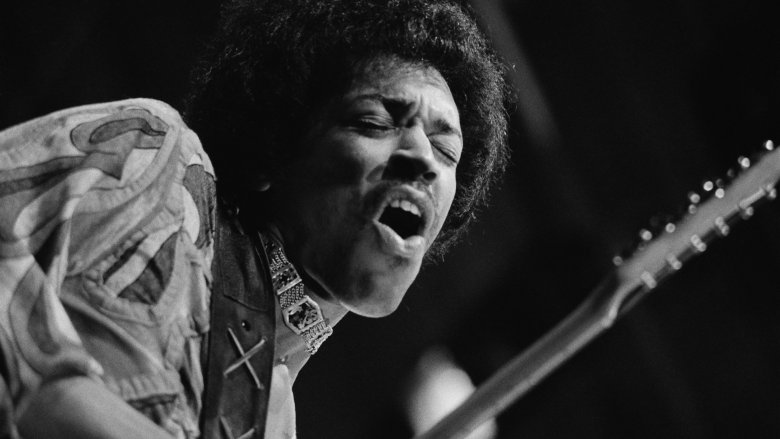 Getty Images
On the night of September 17, 1970, Jimi Hendrix had spent the evening partying with a cadre of friends before heading home with his girlfriend, Monika Dannemann. The two of them spent the rest of the night together drinking red wine. At some point, Hendrix took some of Dannemann's sleeping pills — nine full tablets, or 20 times the recommended dose. The next morning, Dannemann found him unresponsive and covered in his own vomit. He was declared dead on the scene, his death ruled as the result of asphyxiation.
A number of conspiracy theories have since sprung up around his death: that Hendrix died after improper care by the ambulance crew, that Danneman herself killed him, that he had taken his own life, and even that he was murdered by his own manager. No solid evidence has ever come to light in support of these theories.
Jimi Hendrix was buried in Seattle after a private ceremony.