Kentavious Caldwell-Pope, The NBA Player Who Played Games With An Ankle Monitor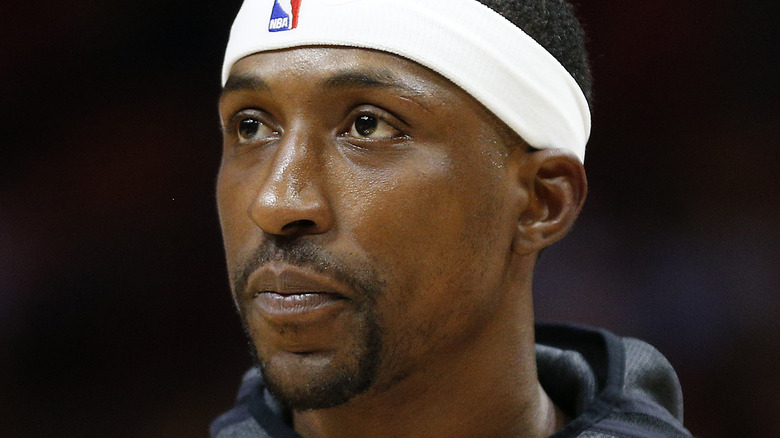 Michael Reaves/Getty Images
The 2013 NBA Draft isn't one of those fondly remembered drafts in terms of overall star power. Yes, the Milwaukee Bucks eventually struck gold at No. 15 when they took a flyer on an athletic prospect from Greece named Giannis Antetokounmpo, and Victor Oladipo (No. 2) and C.J. McCollum (No. 10) have also enjoyed a lot of success in the pros. However, the 2013 draft also gave us first overall pick Anthony Bennett, who is widely considered among the biggest draft busts in NBA history, as well as would-be journeymen Alex Len, Nerlens Noel, and Ben McLemore, who were respectively picked fifth, sixth, and seventh and didn't quite live up to their draft billing. The guy who was selected at No. 8, Kentavious Caldwell-Pope, has yet to emerge as a star as one would expect from the average top-10 draft pick, but all things considered, he's one of the few true successes of the 2013 draft.
Just to reiterate, Caldwell-Pope's career averages of 11.6 points, 3.2 rebounds, and 1.7 assists as of this writing don't scream superstardom. But while he's much closer to consummate role player than the second coming of Kobe Bryant, he did win a championship with the Los Angeles Lakers and is arguably best remembered for his time with the Purple and Gold. On the other hand, his time with the Lakers wasn't all smooth sailing, as there was one point in the 2017-18 season where, due to some legal problems, KCP had to play a few games while wearing an ankle monitor.
Caldwell-Pope had to wear the monitor after he violated the terms of his probation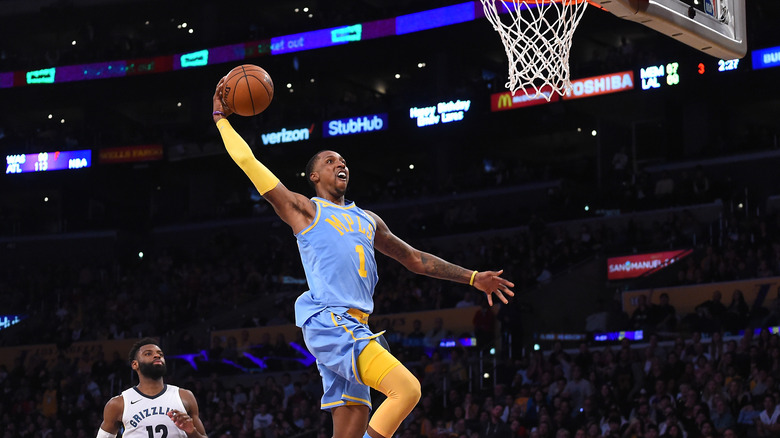 Jayne Kamin-oncea/Getty Images
A few days before Christmas 2017, early into his first season with the Los Angeles Lakers, Kentavious Caldwell-Pope was found to have violated the terms of his probation from earlier in the year. As documented by the Los Angeles Times, Caldwell-Pope, then playing for the Detroit Pistons, was originally placed on probation after being arrested on suspicion of driving under the influence on March 29 and had missed multiple court-mandated drug and alcohol screenings. On December 13, he pleaded guilty to these violations, and as a result, he was sentenced to 25 days in jail. He was, however, allowed to leave the Seal Beach Police Department Detention Center in California for Lakers games and practices, but not permitted to leave the state to play certain road games during his sentence.
Another important stipulation of Caldwell-Pope's work-release program was that he wear a GPS monitor on his ankle whenever he would leave the detention center. While photos of KCP wearing the ankle monitor in action are quite rare, such images did make the rounds on social media, showing the young shooting guard with a bracelet on his ankle as he played Lakers games. He was also required to undergo Breathalyzer tests after games and practices as part of the program.
Thankfully, Caldwell-Pope successfully completed the program, and it was a good thing he did, as violations of any of the terms would have resulted in a 93-day jail sentence — and obviously no basketball in the meantime for the former Georgia Bulldogs star.
He remains a productive NBA player to this day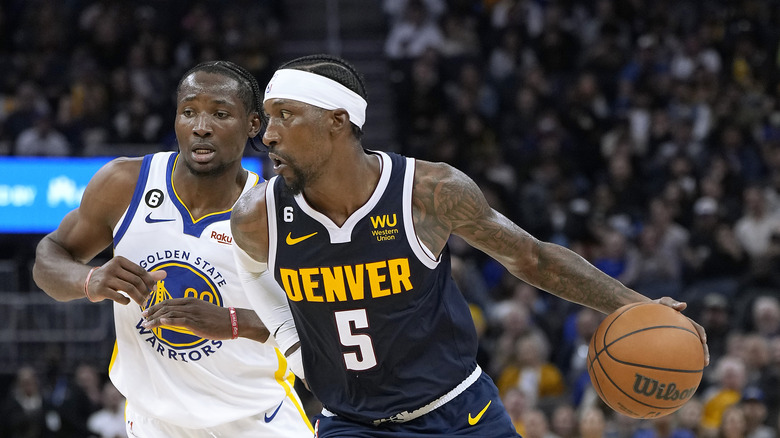 Thearon W. Henderson/Getty Images
Having to wear an ankle monitor during games was an awkward, yet necessary inconvenience for Kentavious Caldwell-Pope. However, he showed remorse when asked to comment about his legal issues back in December 2017, shortly before his sentence. "It has been very disappointing to me as well, as far as my teammates, I feel like I let them down as well my coaches, the organization," Caldwell-Pope told journalist Bill Oram. "I just have to deal with this legal situation that came with it."
Almost three years later, Caldwell-Pope was still playing a key role on the court for the Los Angeles Lakers, supplying outside shooting and backcourt defense as the team won the 2019-20 NBA championship. While he wasn't a big scorer by any means, the support he provided to superstars LeBron James and Anthony Davis was invaluable, and he scored some crucial buckets in Game 4 of the Finals series versus the Miami Heat, giving Los Angeles a comfortable 3-1 lead after that pivotal game.
Since then, Caldwell-Pope has moved on to other teams, having suited up for the Washington Wizards in the 2021-22 season and moved to the Denver Nuggets ahead of the 2022-23 season. His numbers remain decent, but more importantly, it would seem that he's stayed out of off-court trouble since his 2017 brush with the law.