The Mystery Of Why South Korea's Former President Has To Give Up His North Korean Dogs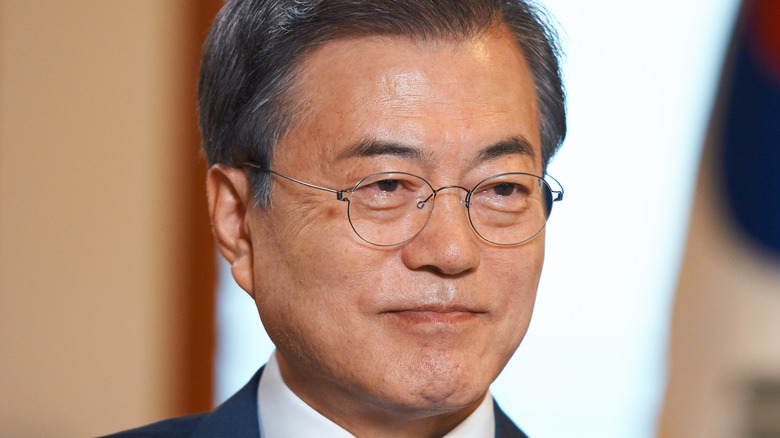 Truba7113/Shutterstock
In the U.S., the topic of presidential pets — whether or not the first family has any or what kinds of pets they have — frequently makes the news. In the U.K., after the death of Queen Elizabeth II, attention turned to what might become of the monarch's beloved corgis. As BBC News reports, in November 2022, the status of two political pets also made headlines in South Korea. This time, those pets — two Pungsan dogs, a breed common in the Koreas, named Gomi and Songgang — were a gift to South Korean ex-President Moon Jae-in (pictured), who left office earlier in 2022.
After Moon's administration ended, those two dogs, legally classified as the property of the South Korean state, went to live with Moon at his private residence, based on Reuters reporting. But now, because of who might foot the bill for their puppy chow — among other aspects of their doggy upkeep — those two animals may now officially be "return to sender."
Moon Jae-in turned the dogs over to the South Korean government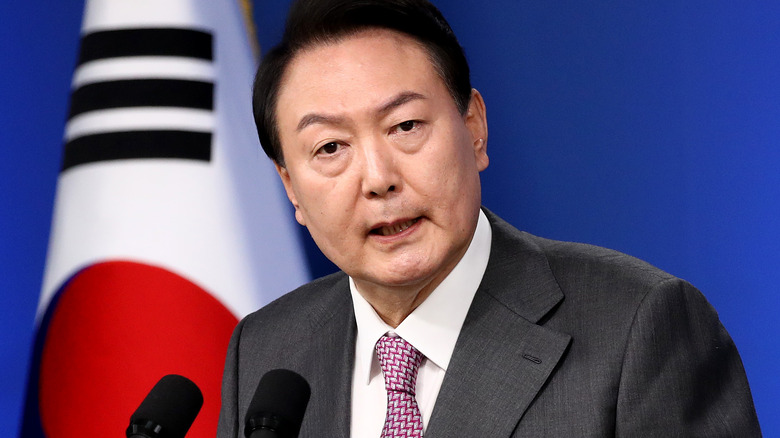 Chung Sung-jun/Getty Images
When Moon Jae-in left office, the former South Korean president and the Presidential Archives and the Ministry of Interior reportedly reached an agreement. In that arrangement, the dogs — gifted to then President Moon at a regional summit in 2018 — would remain property of the Korean state, but Moon would be given a monthly allowance of roughly $1,800 American dollars to pay for their care, as CNN reports. With alleged pushback from the administration of Yoon Suk-yeol (pictured) on that financial arrangement, Moon has now returned the dogs to the South Korean government. 
After doing so, Moon's office released a statement (via CNN). "Unlike the Presidential Archives and the Ministry of Interior, Presidential Office seems to be against leaving care of the Pungsan dogs to former President Moon. Looking at recent media reports the Presidential Office has no good will for a simple resolution of this issue," the statement read. "Are they hoping to leave the blame to Moon? Or because they feel responsible for these pet animals? We are flabbergasted to see malice of the current administration that is on display at a petty issue as this."
The dogs were gifts from North Korean leader Kim Jong-Un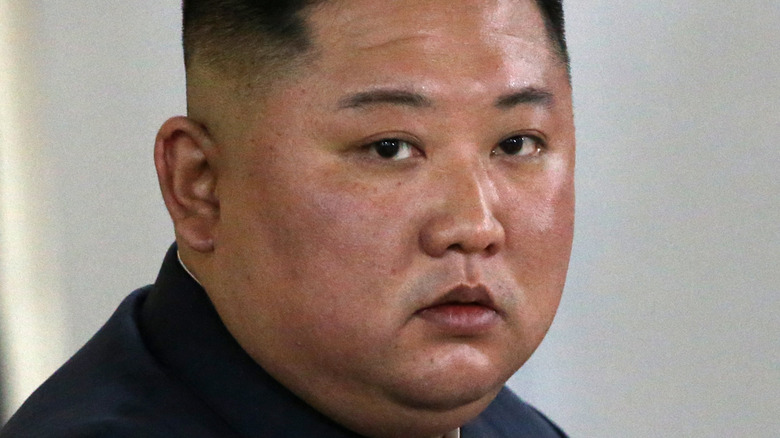 Mikhail Svetlov/Getty Images
The two dogs at the center of the political pet-care dispute were gifted to Moon Jae-in by North Korean leader Kim Jong-un (pictured) at a 2018 summit between the two Korean politicians, as Reuters goes on to report. As CNN explains, Korean politics has a long history of using dogs as peace offerings in similar circumstances, and there's no clear indication that the current pet controversy is politically motivated. On the implication that current South Korean President Yoon Suk-yeol simply doesn't like animals, he reportedly has four dogs and three cats, so that's likely not the case. The Yoon administration has also denied any involvement in walking back the pet-care agreement.
In a statement, Yoon's office said (via CNN), "It is not true that former President Moon Jae-in tried to come up with a basis for raising the Pungsan dogs but the presidential office objected." Regardless of how things work out, former President Moon said he would be fine with it. A statement from the former president's office read (via Reuters): "[W]e can be cool about it, as such an entrustment is based on the goodwill of both sides ... though ending it is regretful given they are companion animals he grew attached to." Negotiations over what might ultimately become of Gomi and Songgang are ongoing.