What Will Happen To Queen Elizabeth's Corgis Following Her Death?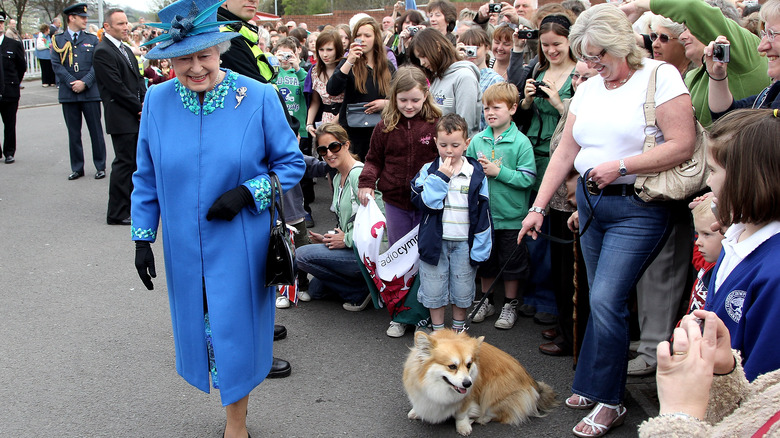 Chris Jackson/Getty Images
Queen Elizabeth II is synonymous with her corgis. Many have wondered who will care for her beloved dogs in the days following her death. The living members of the royal canine pack include two young corgis named Muick (pictured above) and Sandy; Candy, an elderly dorgi (a dachshund and corgi mix); and Lissy, a cocker spaniel.
During a surprise visit to mourners queueing to pay respects to the queen, Prince William had to assure the crowds of the dogs' wellbeing. He said, "They'll be looked after very well. Spoiled rotten, I'm sure" (via Hello!). The queen adored and cared for the over 30 dogs she owned during her lifetime, says Vox. According to Time Out, the queen even personally changed the sheets in their sleeping baskets. Royal chefs oversaw the dogs' diet and meals.
Nothing in the queen's life was left untouched by her status as sovereign, including her dogs. The cute and rambunctious canines served a purpose. Often, the queen used their cheerful and lively presence to soften diplomatic interactions and warm up what could be stiff or uncomfortable moments, as Vox notes. The queen received her first corgi, Susan, as a gift from her father in 1944 (via Hello!). Her bond with Susan was so strong that she snuck the dog with her on her honeymoon in 1947. Many of her corgis were Susan's descendants. So what happens with the queen's remaining corgis after her death?
The corgis will join Prince Andrew and Sarah, Duchess of York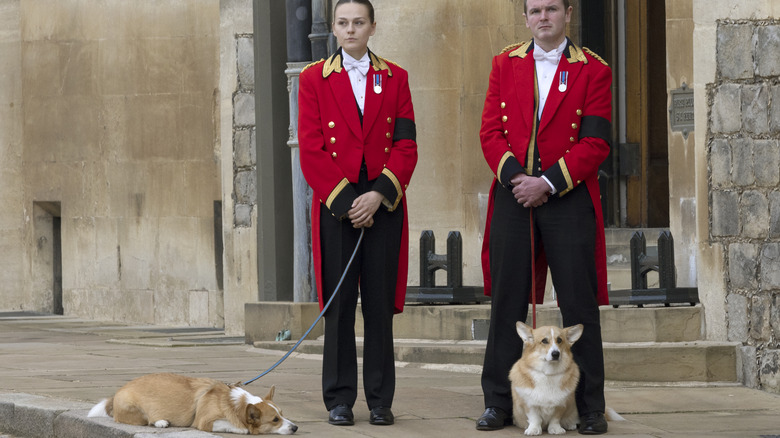 Jonathan Buckmaster - WPA Pool/Getty Images
The queen swore off acquiring new dogs in her later years, but her corgi puppies were a welcome change. When Prince Philip was hospitalized in 2021, the queen received two corgi puppies, Fergus and Muick, to lift her spirits, per the Daily Mail. Sadly, Fergus died of a heart condition not too long after. Prince Andrew and his daughters gave her a new puppy, Sandy, to provide some comfort after her husband's death.
Muick and Sandy will return to Prince Andrew and his ex-wife Sarah, Duchess of York, and live on their estate, Royal Lodge, in Windsor, according to People. Per the outlet, Sarah often walked her dogs with the queen. In this way, the transition to Prince Andrew's residence ensures continuity for the corgis. Echo reports rumors that the dorgi Candy, once owned by Princess Margaret, will also join the corgi puppies. Lissy, the four-year-old and award-winning cocker spaniel is the queen's most recent acquisition, says Hello! Though nothing has been confirmed, Echo writes that Lissy still lives with her trainer Ian Openshaw and may remain there.
Sandy and Muick joined those bidding farewell to the queen on the day of her funeral in the Windsor Palace quadrangle (via The Guardian). In the past, animals have outranked even heads of state at royal funerals, as with Edward VII. His fox terrier named Caesar preceded many important figures at the king's funeral procession.