A KKK Rally Prevented Michael Jordan From Becoming Teammates With His Future NBA Rival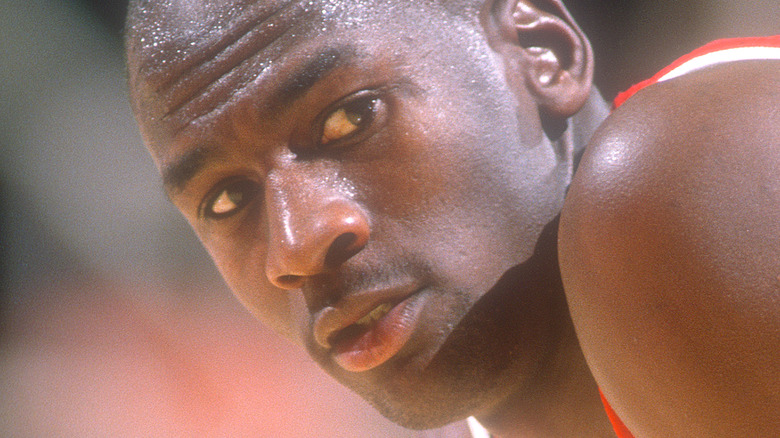 Mitchell Layton/Getty Images
When it comes to naming the greatest basketball players of all time, it's widely accepted that Michael Jordan is the king. As Britannica explains, he's arguably the most famous and most influential person to ever play the game. He got his start as a rising college freshman, who very quickly made a name for himself after winning the 1982 national championship basketball game. He also won Olympic gold medals in 1984 and 1992 games. Jordan is best known for his legendary performance with the Chicago Bulls. From 1991 to 1998, Jordan and the Bulls absolutely dominated the game, winning six National Basketball Association (NBA) championships.
Jordan has also taken part professionally in other sports. As MLB states, Jordan had a somewhat mixed baseball career, never living up to his basketball stardom, though still earning the respect of teammates and journalists. And though it seems as if the basketball star was always unstoppable, there was an incident involving the Ku Klux Klan and his future NBA rival Patrick Ewing that changed both of their fates forever (via Yahoo! Sports). 
Who is Patrick Ewing?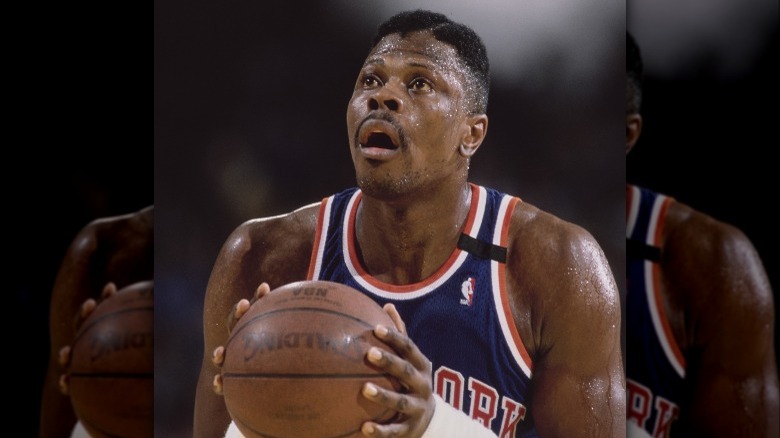 Mike Powell/Getty Images
In those days, Michael Jordan wasn't the only basketball player to dominate the courts. Jamaican-born Patrick Ewing (above) was actually his NBA rival for a while. According to Britannica, Ewing was something of a late bloomer, relatively speaking, getting into basketball during his time in high school. This delay didn't seem to throw him off, however, as he tore up the basketball courts, becoming an effective collegiate player when he was at Georgetown University. He took his team to national championships three times and a 1984 national title. 
But perhaps most notably of Ewing's career, he would go on to be an intense rival with basketball friend Michael Jordan during their time in the NBA. As Insider states, Ewing even refused to watch the Michael Jordan documentary "The Last Dance," saying he saw Jordan's dominance on the court and didn't need to relive it. "... I don't need to watch it ... I know he's great," he said on "The Dan Patrick Show" (posted on YouTube).
How the KKK prevented Michael Jordan and Patrick Ewing from becoming teammates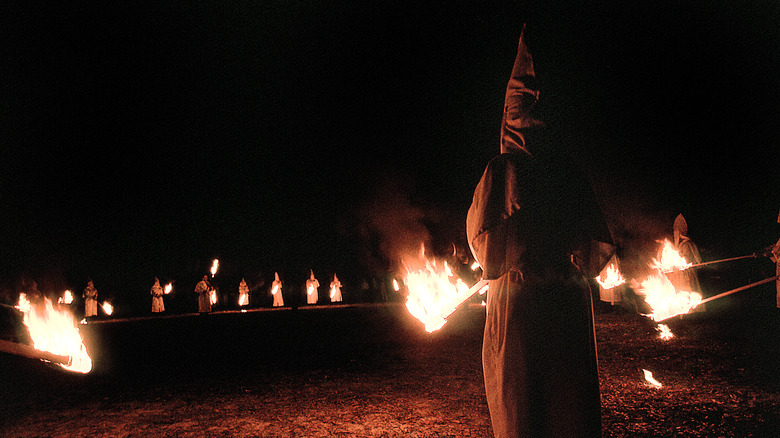 Jon Rehg/Shutterstock
Despite the fact that Ewing and Jordan were fierce rivals with each other, they were actually almost collegiate teammates. According to Yahoo! News, Ewing almost attended the University of North Carolina instead of Georgetown. Ewing recounted the story in an interview on "The Dan Patrick Show," remembering how he was visiting North Carolina while deciding which school to attend. The Ku Klux Klan was in town staging a rally. The Klan, formed after the Civil War, is a group of domestic terrorists dedicated to suppressing the rights of Black Americans through intimidation and violence (per National Geographic). Their presence dissuaded Ewing entirely from attending the school. "North Carolina was a very good school, but when I went down there, they put me in that Carolina Inn and there was a big Ku Klux Klan rally in North Carolina when I was there," Ewing said. "And I was like, 'You know what? I'm not coming down here. I'm staying my butt back in Boston.'"
Despite this very justified reaction, it was only part of Ewing's reasoning, and he might not have gone to the University of North Carolina anyway. As CBS Sports states, Georgetown was Ewing's first choice, which Dean Smith, Ewing's coach at the time, recommended to him. Regardless, it's interesting to wonder how the future of basketball could have looked if both Ewing and Jordan were on the same team. Not even the Ku Klux Klan could dissuade Ewing from his love of basketball.