Controversy Is Swirling Around Cory Palka, The Former Bodyguard For Les Moonves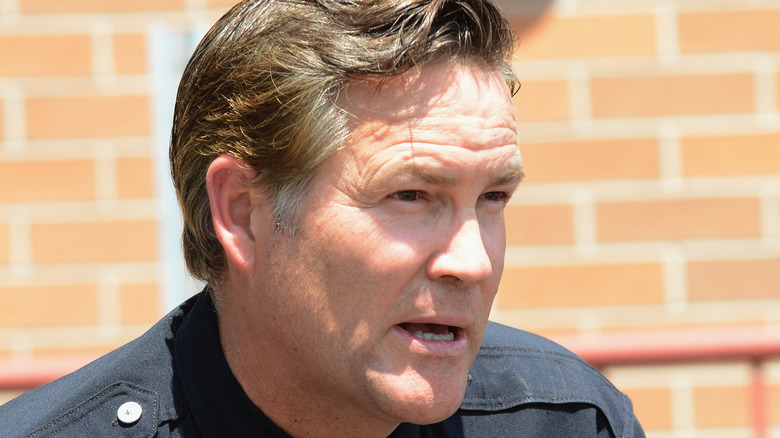 Albert L. Ortega/Getty Images
In terms of incredibly powerful and influential media executives, Leslie Moonves was high on the list. Moonves used to be the CEO of the CBS Corporation and helmed that media empire for close to 20 years. However, a string of sexual assault allegations came out against him back in 2018, leading Moonves to step down from the position completely. According to The New Yorker, Moonves was not given any severance payment after his departure. Severance pay is basically a sum of money employees and employers receive after having their jobs terminated. 
The news sent ripples across the country and reopened #MeToo discussions about sexual harassment in the media industry. Moonves wasn't the only person to receive controversy, however. His former bodyguard, Cory Palka, did, too. As the Los Angeles Times (L.A. Times) states, Palka served as Moonves's bodyguard for years. When Moonves stepped down, Palka took his side, saying (via L.A. Times), "I will always stand with, by and pledge my allegiance to you." What's even more frightening is that Palka apparently sent confidential information about the sexual assault claims to CBS directly. 
What's the lowdown on the Leslie Moonves case?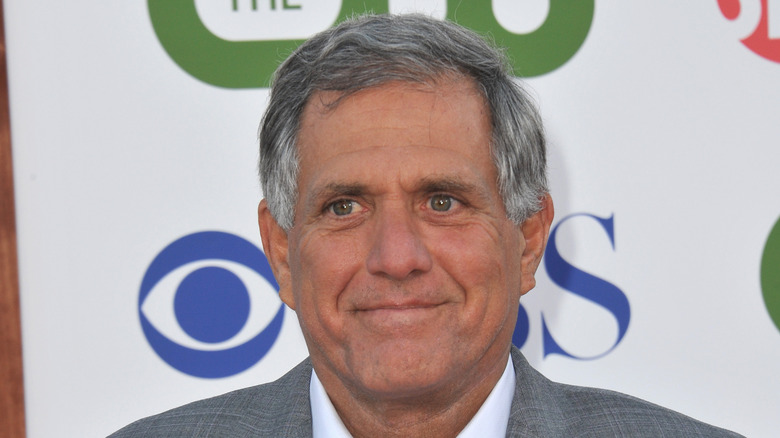 Featureflash Photo Agency/Shutterstock
Recently, the Leslie Moonves case came to a conclusion. According to PBS, it was announced on November 2, 2022, that a settlement of $30.5 million was decided by the court in the Moonves case on charges of insider trading and sexual assault concealment. Moonves worked with Los Angeles Police Department (LAPD) to help conceal allegations levied towards him. Allegedly, the CBS executive was able to sell millions of dollars of company stock before Moonves's accusers came forward publicly. 
As The Guardian states, Moonves and CBS misled investors and conspired against sexual harassment victims in hopes of downplaying the controversy. As of now, multiple women have outed Moonves for harassment; all accusations have been vehemently denied by Moonves. One woman reported that Moonves assaulted her when she worked with him in the 1980s. Several other accusations corroborate with reports of toxic work environments as well as numerous other harassment incidents. 
Cory Palka's involvement with the Leslie Moonves allegations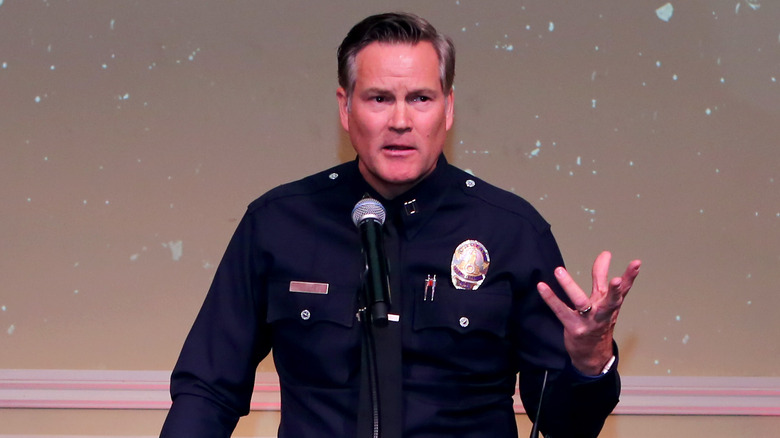 Tasia Wells/Getty Images
Cory Palka is a retired LAPD police captain and served at the department's Hollywood station. According to the Los Angeles Times, Palka allegedly shielded Moonves from attacks on his person, conspiring against both allegations of insider trading, sexual assault, and creating a high-profile coverup extending back a few years. Palka was no stranger to rubbing shoulders with celebrities, having been seen with many stars such as Seth MacFarlane and Jack Black. The Hollywood Chamber of Commerce even gave him the honor of "Hero of Hollywood" once. 
As stated by The New York Times (NYT), Palka gave Moonves a flood of information regarding reports filed against him. Palka also left a voicemail for Ian Metrose, who ran special events for CBS, about the allegations, outright exposing his direct involvement (per the L.A. Times). A"Somebody walked in the station about a couple hours ago and made allegations against your boss regarding a sexual assault," part of the voicemail said (per the NYT). "It's confidential, as you know, but call me, and I can give you some of the details and let you know what the allegation is before it goes to the media or gets out." Currently, Palka is facing intense scrutiny for his involvement, though only time will tell where this will lead next.