This Was The First Person To Graduate From Harvard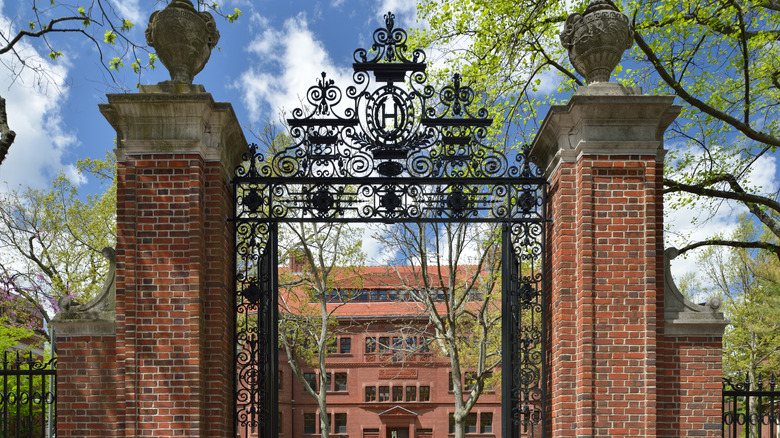 Jorge Salcedo/Shutterstock
Harvard University is one of the most famous institutions of higher learning in the world. Founded as a college in Cambridge, Massachusetts on September 8, 1636 by a vote by the Great and General Court of the Massachusetts Bay Colony, per the university's official website, it was the first college founded in what would become the United States. Three years later, the school was named for John Harvard, who was its first benefactor via donation of half of his estate as well as his personal library of over 400 books. 
According to Harvard, the first commencement ceremony took place in 1642 with nine graduates. It notes that until 1773, Harvard conferred degrees not by alphabetical order but "according to the rank their families held in society." The first man to receive his degree was Benjamin Woodbridge. Born in England, he immigrated to what would eventually be the United States in 1634, settling in Newbury, Massachusetts. He began his education at Magdalen College of the University of Oxford, England, but chose to finish it in Cambridge.
Benjamin Woodbridge attended college in England before his time at Harvard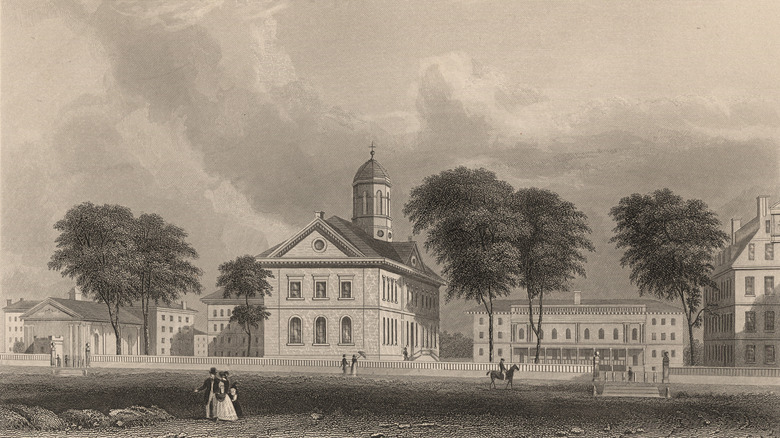 Hulton Archive/Getty Images
According to Ralph Tracy Hale's article "The First Harvard Graduate," published in the Harvard Illustrated Magazine in 1900, the nine graduates were "young men of good hope" who, after being given a quiz and replying with "answers and Disputations in Logicall, Ethicall, Physicall, and Metaphysicall Questions" were awarded "Batchelour" degrees, shorted to "A.B," as well as a Book of Arts, an open invitation to deliver lectures "upon any of the Arts," and the ongoing right to use the Harvard library. 
Benjamin Woodbridge was 20 at the time of his graduation. Born to the Reverend John Woodbridge and his wife Sarah Parker, a "virtuous" woman whose father was a theologian. Benjamin's brother John, with whom he came to Massachusetts, was a graduate of Oxford, married to a daughter of Governor Thomas Dudley, and "a man of considerable importance in the colony" who served as a preacher in Andover, Massachusetts.
Hale notes that Woodbridge had already studied at Magdalen College and quotes former Harvard librarian John Langdon Sibley regarding Woodbridge who opined "possibly he was merely examined for a degree or performed a part at Commencement without being a resident at the College." If this were the case, the real first graduate of Harvard would be George Downing, who per Britannica was later appointed England's envoy to Holland by King Charles II, followed by secretary of the treasury commission. He is also the namesake of London's Downing Street, home of the Prime Minister's residence and offices. 
Woodbridge returned to England and lived the rest of his life there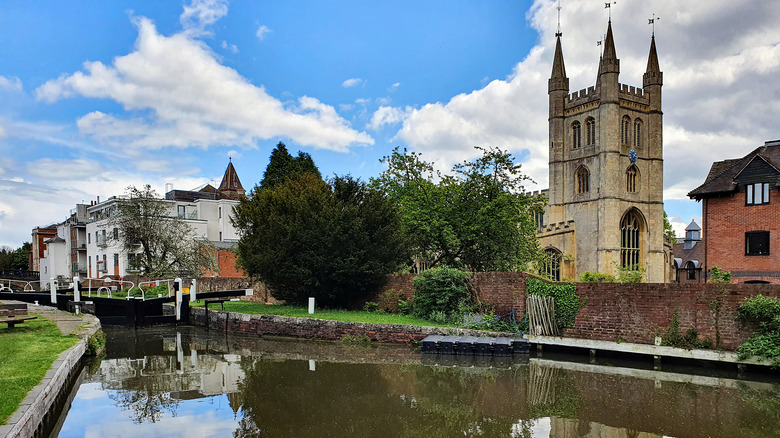 Dave Smith 1965/Shutterstock
Per Harvard Illustrated Magazine, Benjamin Woodbridge returned to England along with his brother and went back to Oxford University's Magdalen College, where he earned a Master of Arts degree and became a preacher. He also wrote poetry as well as several prose publications, one of which, "Confutation of That Antinomian Error That Justification Is Before Faith," was reportedly the second book to be published by a Harvard graduate. A copy of his second book, "The Method of Grace in the Justification of Sinners. Being a Reply to a Book written by Mr. William Eyre of Salisbury," is as of this writing for sale via Auger Down Books for $1,500. 
There is no record of Woodbridge ever marrying or having children. He died November 1, 1684; the location of his grave is unknown, but his burial followed a funeral at St. Nicholas Church in Newbury, England (shown above.) Ralph Tracy Hale quoted someone only referred to as Calamy as having said of Woodbridge, "His learning was very considerable, and he was a charming preacher, having a most commanding voice and air."