Why The White House Was Once Nearly Condemned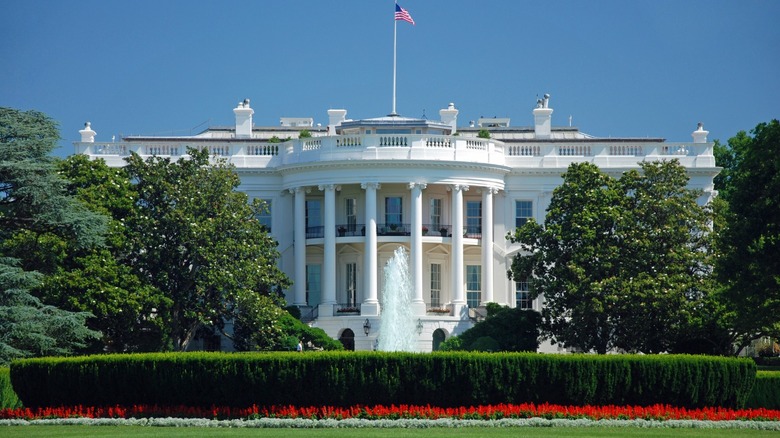 Vacclav/Getty
The White House is easily one of the most recognizable landmarks in the United States. It is also one of the most well-known buildings in the entire world. Today the all-white structure with its large windows and Greek-style columns is home to the President and First Family of the United States of America. It has been home to every American president, with the exception of George Washington (per The White House).
Though it was burned down during the War of 1812 and then rebuilt, The White House has stood as a symbol of power and freedom for over two centuries. While the building we see today is an absolutely stunning piece of living history, this was not always the case. By the 1950s, The White House was in dire need of some upgrades. Actually, upgrades may be a bit of an understatement, as the historic building had fallen into horrible disrepair.
Long history of neglect
If you expect any building that is erected to stand the test of time, the structure must be properly maintained. This is particularly true for a building that is centuries old. However, the American government failed to do this on multiple occasions, thus allowing The White House to deteriorate. According to The White House Historical Association, by the 1940s, The White House was "falling down."
To be fair, there were multiple renovations performed on The White House over various administrations. They just didn't appear to hold up all that well. After being rebuilt by 1817, The White House underwent some changes in 1881, giving it more of a Victorian look (per Architectural Digest). In 1902, the West Wing was added, and in 1942 the East Wing was constructed reportedly to conceal a secret underground bunker. Despite those renovations, the actual structure of the building hadn't really been tended to properly. So by the late 1940s, something needed to be done.
President Harry Truman To The Rescue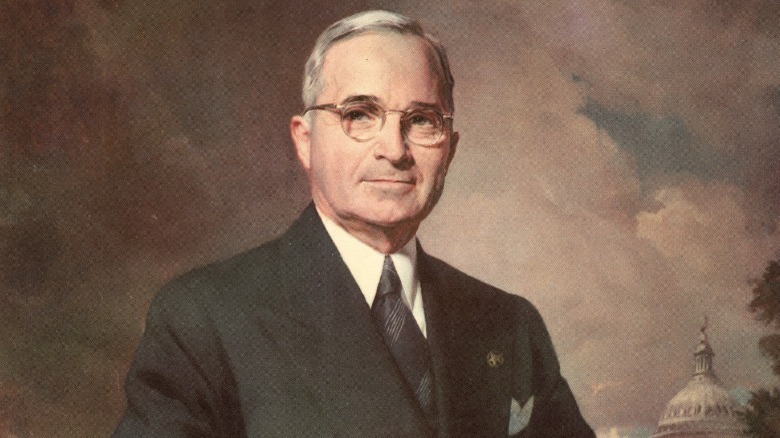 Hulton Archive/Getty
According to The White House Historical Society, when President Truman moved into The White House for his first term, it became abundantly clear that the place was run down. He wrote letters to his wife of abnormal drafts in the building, as well as popping and creaking noises all over the place. He even allegedly joked that the structure might have been haunted by past presidents.
With the building structurally unsound and reportedly on the verge of collapse, President Truman called in a team of engineers to fix up the place (per The White House Historical Association). Truman demanded that the work go deeper than superficial fixes and get down to the foundation. Because of this, Truman and his family moved out while the work took place. The workmen essentially gutted the entire building and either repurposed or replaced nearly everything. Much of what was done during Truman's renovation is still visible in The White House today.