The Song Robert Plant Wrote That Expressed The Broken Relationship With Led Zeppelin
Bruce Alan Bennett/Shutterstock
By the time Led Zeppelin began working on new material in the spring of 1978, the groundbreaking British rock group was tearing apart at the seams. It had been nine months since lead singer Robert Plant had canceled the rest of their American tour following the tragic death of his son Karac, just five years old, from a stomach virus in July 1977, according to "From a Whisper to a Scream: The Complete Guide to the Music of Led Zeppelin" and Ultimate Classic Rock.
Plant had distanced himself from the band while he mourned his son and considered quitting, but their drummer, John Bonham, convinced him to stay and begin work on the album "In Through the Out Door." "I didn't want to leave my family," Plant recalled in "From a Whisper to a Scream." "And I didn't know if it was worth it. John came over and told me all the reasons it was worth it... He was the only one who hugged me and helped me at all." But three weeks into rehearsals, little had been achieved.
The band's differing lifestyles caused a rift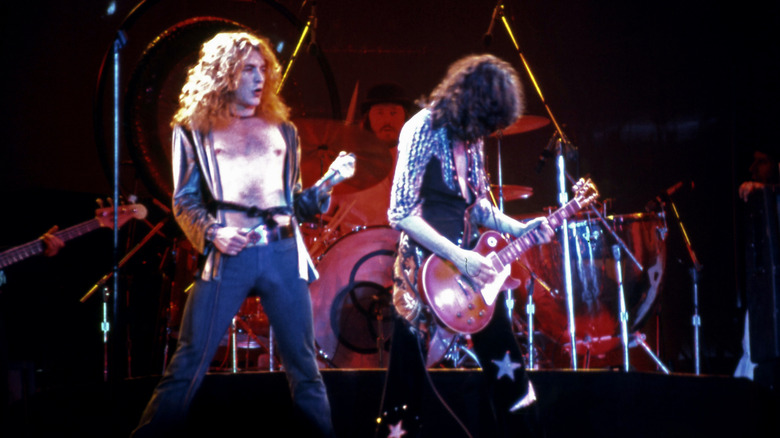 Bruce Alan Bennett/Shutterstock
John Bonham had convinced Robert Plant to get back to songwriting, but during their time at Clearwell Castle in Gloucestershire, England, it was Plant and the band's bassist (and multi-instrumentalist), John Paul Jones, doing the heavy lifting, according to Far Out Magazine. During rehearsals, the band got work done on a song, "Carouselambra," that encapsulated the singer's feelings about his bandmates, lead guitarist Jimmy Page, and Bonham, whose hard-partying ways were causing a deep rift, per "From a Whisper to a Scream" and Far Out Magazine.
This would continue into the album's recording in November and December 1978 at Polar Studios in Stockholm, Sweden, where the band split into two camps, with Plant and Jones arriving on time and working through the day and Page and Bonham rolling in late and recording their parts late into the night, per "Led Zeppelin: The Complete UK Vinyl Discography." Jones chalked this up to Page and Bonham dealing with drug and alcohol issues while he and Plant were in the "clean camp," according to the book.
If you or anyone you know needs help with addiction issues, help is available. Visit the Substance Abuse and Mental Health Services Administration website or contact SAMHSA's National Helpline at 1-800-662-HELP (4357).
Robert Plant's dense lyrics were a message to his bandmates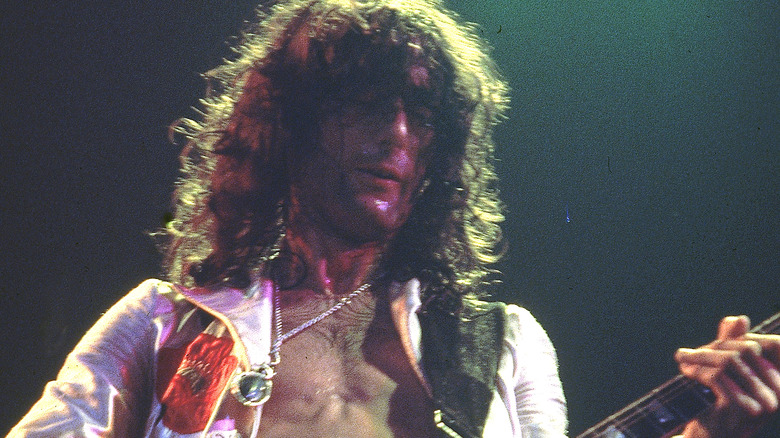 Bruce Alan Bennett/Shutterstock
Among the lyrics in "Carouselambra," which clocks in at 10 minutes and 28 seconds, making it one of Led Zeppelin's longest songs, are several lines that speak to Robert Plant's feelings about Bonham and especially Page at the time. While Plant, known to mine mysticism and mythology for lyrical inspiration, cloaks the words in a layer of poetic fancy, a close reading drives his point home. "And powerless the fabled sat, too smug to lift a hand/Toward the foe that threatened from the deep/Who cares to dry the cheeks of those who saddened stand/Adrift upon a sea of futile speech?" Further on, Plant asks, "Where was your word, where did you go? Where was your helping, where was your bow, bow?" (per Genius).
Plant later said the song was about the breakdown of the band and that the person, or people, it was directed to would one day realize this and think, "My God! Was it really like that?" per "Led Zeppelin: All the Albums, All the Songs, Expanded Edition" and "Led Zeppelin: The Complete Guide To Their Music." Unfortunately, "In Through the Out Door" would be the band's last studio album together. 13 months after the album's release, John Bonham, known as Bonzo, asphyxiated in his sleep after a heavy bout of drinking and died at age 32, per Express. The band broke up shortly thereafter.