The Powerful Statement Annie Lennox Made Using Her Wardrobe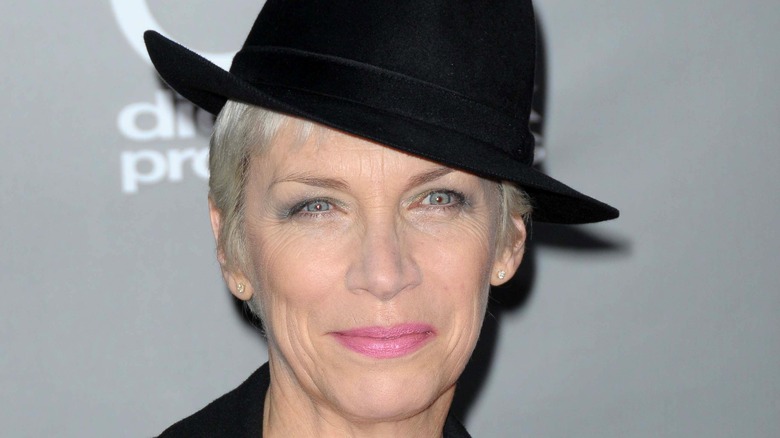 s_bukley/Shutterstock
Annie Lennox has been a powerful figure in the music world for more than 40 years. According to AllMusic, she was born on December 25, 1954 in Aberdeen, Scotland, and learned music from a young age, starting with flute and piano. Lennox was talented enough to win a scholarship to London's Royal Academy of Music, but academic life wasn't for her, so she made a living working and singing around London's live music scene in the 1970s. It was during this time that she met fellow musician Dave Stewart, and the two eventually joined the band the Tourists, with whom they scored several hits in the U.K. The band didn't last much longer though, prompting Lennox and Stewart to start their own band, the Eurythmics. The band became a major success off their hit song "Sweet Dreams (Are Made of This)." The Eurythmics released a number of other popular songs throughout the 1980s, including "Who's That Girl," "Love Is a Stranger," and "Here Comes the Rain Again."
The Eurythmics broke up in the early 1990s, as Lennox decided to focus on becoming a mother and cultivating a solo career, as reported by AllMusic. While Lennox didn't quite reach the same amount of popularity she had in the previous decade, she was still able to establish herself as a legitimate musical artist with more mature hit songs, including those from her 1992 debut album, "Diva," which was nominated for three Grammys.
Annie Lennox's hard-hitting outfit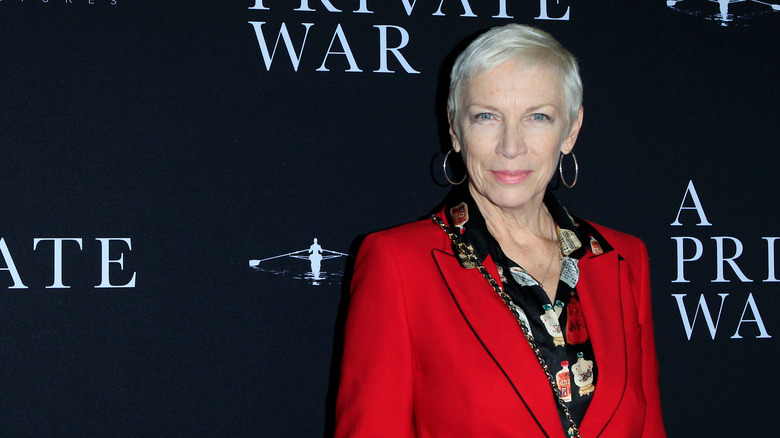 Kathy Hutchins/Shutterstock
Annie Lennox has more than proven herself as a musical talent, conveying deeper ideas in her music than many other popular artists. However, it's not just through her songs that she has imparted powerful messages; as someone with a unique approach to fashion, she has also used her appearance to share her outlook.
The 1980s was a colorful time for pop star stylings, but Lennox bucked the trend at the time that leaned towards superficial gaudiness, and opted for something more akin to men's business suits, most notably in the music video for the Eurythmics' biggest hit, "Sweet Dreams (Are Made of This)" (on YouTube). Lennox told Grazia U.K. (via the Huffington Post), "I wanted to wear a suit to show that I am equal to a man, not that I was wanted to be one, or that I was gay — which is what it was interpreted as ... but there you go." While there was no shortage of popular female musical artists in the 1980s, that doesn't mean that women didn't face various forms of inequality at the time, and so Lennox's fashion choice was a deliberate statement about her worth in an industry that so frequently objectifies females.
Annie Lennox's views on fashion and style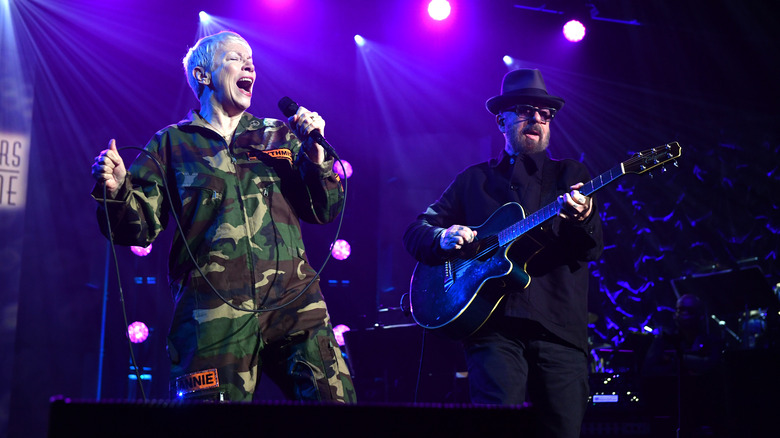 L. Busacca/Getty Images
Someone as unique as Lennox would have an underlying philosophy about fashion that differs from the status quo. She eventually moved on from the menswear-inspired wardrobes that typified her persona in the 1980s, but she only continued to develop her singular style as her career evolved. Lennox told Fashion Network in 2009, ahead of that year's semi-annual Fashion Week, "I never endorse anybody. I don't want to be a clothes horse for a designer. That's not who I am. I'm not a model. I'm an artist, and so I don't want to be owned by some label."
For Lennox, her outward appearance had less to do with looking nice for the public eye, and more about expressing who she is as a creator, letting her muse dictate her wardrobe rather than the season's latest fashions. In Interview Magazine (2014), the singer and songwriter stated, "fashion is temporary; fashion is a race ... Style is something else. It's not quantifiable. Fashion is about selling. Fashion is about what's in. Style is independent of that; style is individual." In a culture that too often celebrates what's on the outside, figures like Lennox remind us that it's what's on the inside that really counts.