Red Hot Chili Peppers: How Under The Bridge Almost Never Happened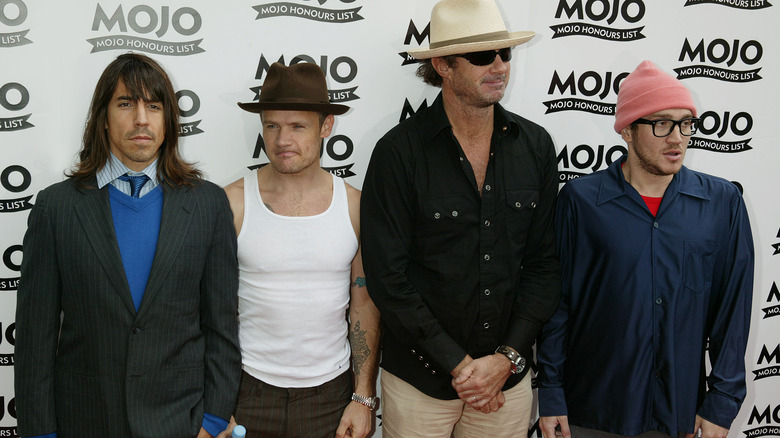 Jo Hale/Getty Images
By the time the 1990s started, it was almost a miracle that the Red Hot Chili Peppers were still pushing forward. The group's founding guitarist, Hillel Slovak, died of a heroin overdose in 1988, and lead singer Anthony Kiedis was no stranger to substance abuse either. It didn't help that band members came and went around Kiedis and bassist Flea; for instance, would-be Pearl Jam member Jack Irons and Dead Kennedys alumnus D.H. Peligro banged the skins for the Peppers before Chad Smith became their drummer — as he has been for the past three-plus decades.
That's why it was incredibly satisfying for many RHCP fans when their 1991 album, "Blood Sugar Sex Magik," became a breakout hit for the Los Angeles-based act. Leading the way on that album was the uncharacteristic ballad "Under the Bridge," which Kiedis wrote in part about his cocaine and heroin addiction but also about the feeling of loneliness that overcame him whenever he'd be shooting up underneath the song's titular structure (via Ultimate Guitar). It became the Peppers' biggest hit (and their first of three Top 10 hits on the pop charts), but if not for how someone close to the group persuaded a reluctant Kiedis to record it, "Under the Bridge" probably would have never existed in the legendary band's discography.
If you or anyone you know needs help with addiction issues, help is available. Visit the Substance Abuse and Mental Health Services Administration website or contact SAMHSA's National Helpline at 1-800-662-HELP (4357).
Anthony Kiedis credits Rick Rubin for convincing him to push forward with the song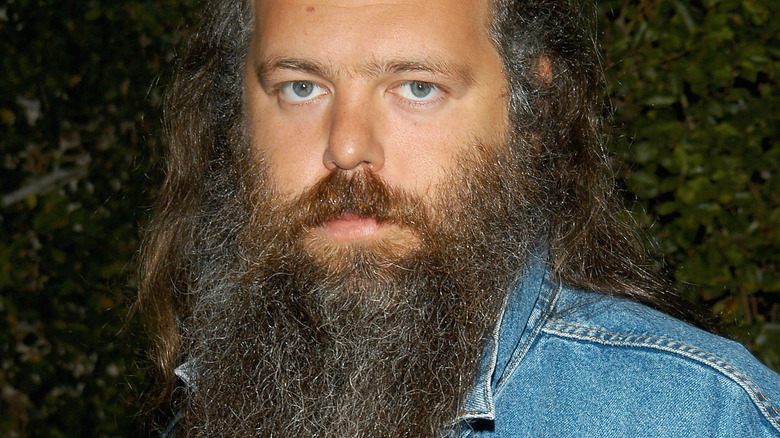 Stephen Shugerman/Getty Images
During his October 2022 appearance on "The Joe Rogan Experience," Red Hot Chili Peppers frontman Anthony Kiedis discussed the genesis of "Under the Bridge," among other topics. According to Kiedis, producer Rick Rubin (pictured above) played a pivotal role in convincing him to include the reflective, mellow track on "Blood Sugar Sex Magik."
As Kiedis recalled to Rogan, Rubin would often ask him and his bandmates to show off the songs they were working on, and a lot of these tunes were on-brand for the Peppers — "sexy songs" and "heavy, funky songs" that had some potential. One day, after Rubin asked Kiedis if he had anything else to contribute, the singer said that he'd written a poem that had a melody but didn't quite fit the Peppers' brand. That, however, didn't deter the producer. "'Well, let me hear it,'" Kiedis said, quoting Rubin. "I was like, 'it's kinda embarrassing, it's a little sentimental.'"
Kiedis went on to explain that as a producer, Rubin felt that there were no hard, fast rules and that he believed the Red Hot Chili Peppers could impress listeners with a song that nobody expects from them. "So I sang him 'Under the Bridge,' and he was like, 'that's your best song.' I was like, 'eh, it's just a poem,'" Kiedis said, adding that Rubin insisted he sing the song for his bandmates to hear. "So without Rick's push for the counterintuitive, sensitive-guy song, we might have never had a chance to write that."
Under the Bridge was the ultimate sleeper hit for RHCP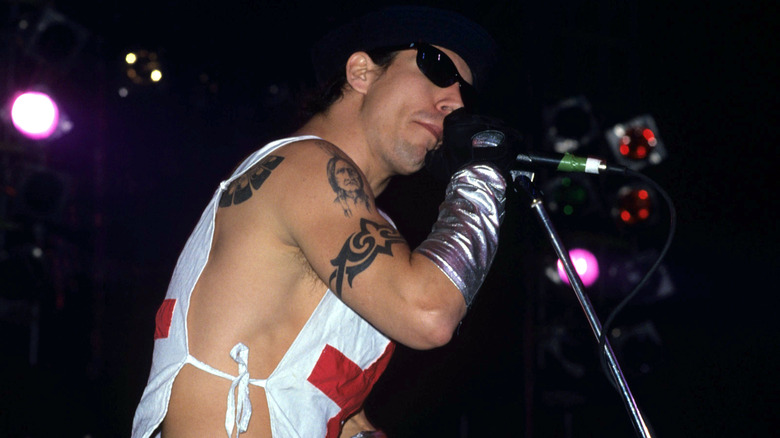 Brian Rasic/Getty Images
Prior to "Under the Bridge," the Red Hot Chili Peppers hadn't even sniffed the upper half of the Billboard Hot 100; another single from "Blood Sugar Sex Magik," the up-tempo and undeniably catchy "Give it Away," debuted on the pop charts toward the end of 1991 but would only peak at No. 73 in August 1992. By that time, though, "Under the Bridge" had long established itself as a mega-hit. Debuting in April of that year, the song peaked at No. 2 on June 6, only being kept off the top spot by the (barely) teenaged hip-hop duo Kris Kross' "Jump." And to think that Anthony Kiedis merely considered "Under the Bridge" a poem — not really a song, as he insisted to Joe Rogan — that was too mellow and sensitive for an otherwise funky, sometimes heavy band.
Aside from being the song that introduced the Peppers to mainstream audiences and made them more than just a niche act, it also got a successful cover from British girl group All Saints, whose R&B-infused version of the tune was a No. 1 hit on the U.K. charts in 1998. Kiedis, however, allegedly wasn't a fan of the cover and its sanitized, drug reference-free lyrics, as he's been quoted as saying, "They looked so pretty and clean, it looked like they didn't know what they were singing about."