Why Mickey Mouse Has Appeared On Election Ballots Since The Great Depression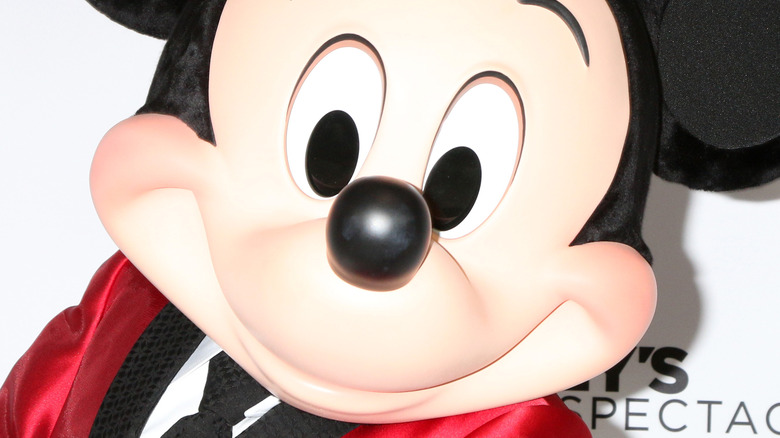 Kathy Hutchins/Shutterstock
Perhaps because they really like the candidate (what's not to like about Mickey Mouse?), or more than likely because they don't like the other choices on the ballot, Mickey Mouse is often a write-in candidate for public office. Let's face it: The famous Disney mouse has better name recognition around the globe than most other candidates. He's been on the ballot since Great Depression (1929-1939), according to The American Prospect.
Mickey Mouse was created in 1928, though the actual day of his birth was changed several times, according to The Walt Disney Family Museum blog. That means he was a fresh-faced, young candidate at just a year old when he made his first foray into politics. And over the decades since, he has shown up as a write-in candidate in elections for office across the country up and down the ballot. One Georgia election supervisor told The American Prospect in 2012 that Mickey always gets votes, adding, "If he doesn't get votes in our election, it's a bad election."
Mickey Mouse heavily favored among write-ins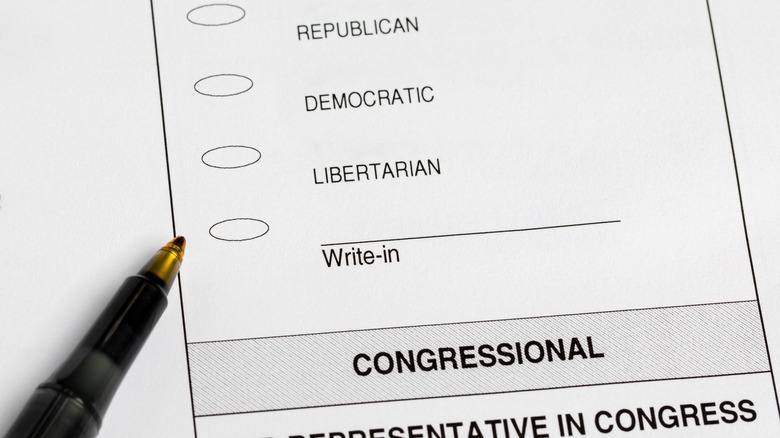 Jj Gouin/Getty Images
Mickey Mouse is always the top write-in on the ballot, according to The American Prospect. He was a write-in for the 1932 Governor's race in New York. Mickey got one vote, tied with gangster Al Capone. And in the presidential race of 1972 between incumbent Richard Nixon and Senator George McGovern, Mickey Mouse received some of the 234 write-in votes in New York City. One election did seem to challenge his top write-in status. In the 1960 congressional race in Georgia's 5th district, Mickey Mouse's write-in totals were mightily surpassed by the gorilla Willie B., who received 390 votes, according to The American Prospect.
At the national level, write-in candidates typically get less than 1% of the vote, according to KGW8, the NBC TV affiliate in Portland, Oregon, but the practice of voters not checking one of the printed choices, and writing in their own, is becoming more popular. Since 1984, there's been a more than five-fold increase (via KGW8).
Other popular write-in candidates
Kevin Dietsch/Getty Images
Other notable write-in candidates are Donald Duck, Jesus, Joe the Plumber, Willie Nelson, your mother, Harry Potter, E.T., Joey Buttafuoco, Jon Stewart, and Jack Daniels, according to The American Prospect. One 2008 voter in Sheboygan County, Wisconsin, wrote in Jeffrey Dahmer for coroner. While many of the choices are clearly in jest, according to the KGW8, experts believe the increase in write-in votes may indicate some voters simply don't trust political institutions as much as they did before.
Laws about write-in candidates vary. In eight states, there's not even a place on the ballot for someone to write in their choice. In 32 other states, in order for a write-in candidate's votes to be counted, the candidate first has to file with the state (via The Washington Post). But write-in candidates have won elections. One famous instance happened in 2010. Alaska Senator Lisa Murkowski (above) had lost her primary. After urging Alaskans to write in her name in the general election, she won by 10,000 votes (via Reuters), the first U.S. Senator in over 50 years to win by write-in. Hang in there, Mickey. Perhaps your time will come.
The documentary "Mickey: The Story of a Mouse" streams November 18 on Disney+. The trailer is on YouTube.