What Happened To The Judge From The Casey Anthony Murder Trial?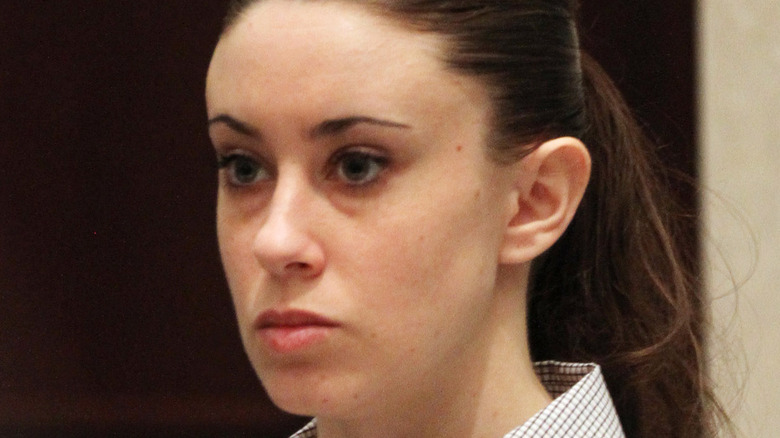 Pool/Getty Images
In July 2011, a Florida jury declared Casey Anthony — the subject of the 2022 Peacock documentary "Casey Anthony: Where the Truth Lies (via Peacock) — not guilty of the murder of her 2-year-old daughter, Caylee Anthony, according to CNN. Presiding over the high-profile trial was Belvin Perry, Jr., according to the Orlando news outlet WFTV, where in 2018, Perry, Jr. worked as a legal analyst. The not-guilty verdict in Anthony's case surprised many observers, including Perry, Jr., according to WFTV's 2018 report.
In the case, Anthony was accused of using chloroform to render her daughter Caylee unconscious, and then suffocating the child before she then disposed of her body. Anthony's defense team claimed Caylee may have drowned at her grandparents' home — Casey's parents — and Casey's mother and father covered up the accident. From the unusual evidence Perry, Jr. allowed in court, to how the former judge thinks the crime was committed, here's an update on where Judge Perry Jr. is today, according to ClickOrlando.com.
Perry, Jr. made unconventional decisions in court
As WFTV goes on to note, Judge Perry, Jr. chose to allow the odor of decomposed organic matter as evidence in the Anthony case, which was an unusual decision and a legal first. Perry, Jr., like many others, was also surprised when the not guilty verdict was read in court. Experts testified that the smell in the trunk of Anthony's car could have only come from the child's body as it began to decompose, but the jury deemed that insufficient evidence to link Anthony to the crime.
Another unconventional decision from Perry Jr. as judge in the case was to allow Anthony's defense attorneys to present their theory of what happened to Anthony's daughter in their opening statement. Recalling the case, WFTV anchor Greg Warmoth said, "When the verdict was handed down, I remember watching Chief Judge Belvin Perry taking his time to read the decision ... He, like so many, was surprised by the verdict. Perry said it felt like time stood still, and I recall that exact feeling."
Anthony may have accidentally killed her daughter, according to Perry, Jr.
In 2017, Perry Jr. told the Orlando Sentinel that he believes that Anthony may have accidentally given her daughter too much chloroform and killed her before she then disposed of her daughter's body. Evidence suggests Anthony researched online how to use chloroform as a sedative, and high levels of chloroform were also found in the trunk of Anthony's car. Speaking with the Orlando Sentinel, Perry Jr. stressed no one knows for certain how the tragic death of the child took place, except perhaps Anthony. Perry, Jr.'s chloroform theory is also just one of many such theories that exist, the judge also said.
As a judge, Perry Jr. retired in 2014, and today, he works at a private law firm, Morgan & Morgan, according to the agency's website. Looking back, Perry, Jr. hopes the Anthony trial is not what he's most remembered for. Speaking with ClickOrlando.com, Perry said, "If I could write what I wanted people to remember me by, it would not be the Casey Anthony case ... It was just by pure fate I got that case," he added. According to Perry, Jr.'s profile posted on Morgan & Morgan, he's received a number of other awards and honors and earned many other distinctions all throughout his legal career.