The Real Reason Casey Anthony Was Acquitted Of Murder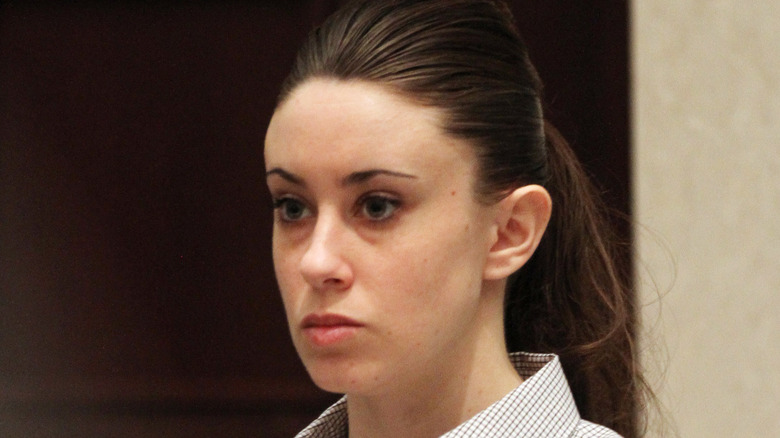 Pool/Getty Images
The true-crime genre has been big in the United States since the early 1980s, as Michigan Technological University explains, and these days, it's gotten even bigger, thanks to the popularity of podcasts and streaming. And while much of the focus is paid to serial killers, who are almost exclusively male, the odd single murder and female suspect is sometimes popular source material. One woman whose name has been associated, rightly or wrongly, with a cold-blooded murder for over a decade is Casey Anthony.
Her 2-year-old daughter, Caylee, was reported missing in July 2008, after the child's grandmother called 911. She told dispatchers that she hadn't seen her granddaughter in a month and that Anthony's car smelled like "a dead body," per Reuters. From that phone call, one of the most salacious true crime stories in recent history broke. The story would go on to include allegations of sexual abuse, possible incest, and of course, murder (per Time).
According to CNN, Anthony claimed that her daughter was with a babysitter. That later turned out to be a lie and in December of that year, Caylee's remains were found close to the Anthony home. Nearly three years later, Anthony was put on trial (via Biography). It seemed that the entire country was convinced of Anthony's guilt. However, despite Anthony giving conflicting information to investigators, as Reuters reported, a jury failed to convict her of the most serious charges against her — that of the murder of her daughter — and to this day she is a free woman.
Casey Anthony's sensational murder trial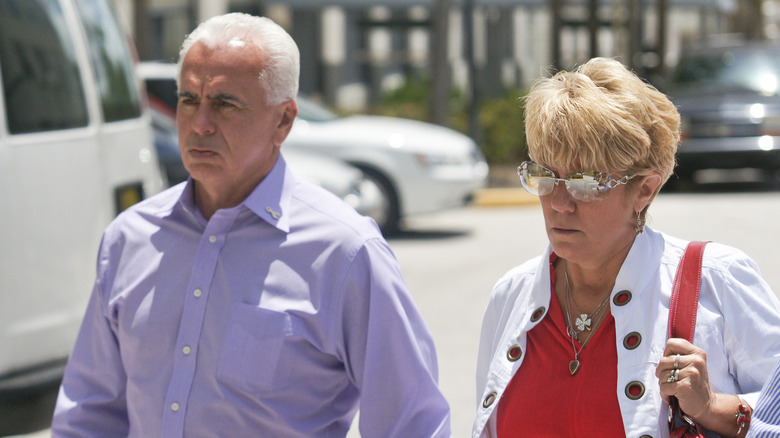 Ira Bostic/Shutterstock
According to Biography, Anthony's trial began in May 2011. Charges included first-degree murder, aggravated child abuse, aggravated manslaughter, and four counts of providing false information to law enforcement. Caylee's remains were found buried in plastic bags and she had duct tape on her face. However, it's unknown what exactly happened to Caylee; her autopsy states that she died "by undetermined means" (via In Touch Weekly). Anthony's defense claimed that Caylee had drowned in the family pool. The prosecution, on the other hand, argued that Anthony had suffocated her daughter using duct tape and chloroform. 
The evidence against Anthony was overwhelming, to say the least. Time reported that traces of chloroform were found in Anthony's car. She had Googled "neck breaking" and "how to make chloroform." If found guilty, she was facing a possible death sentence. ABC News reports that Anthony's lawyer, Jose Baez painted the real culprit as Anthony's father, George Anthony (seen above). Baez claimed that he had found Caylee's dead body in the pool and had disposed of her remains. Anthony then denied knowing what happened to her daughter because she was afraid of George, who had been sexually abusing her for years. George denied these claims.
Anthony's trial lasted six weeks. In their closing arguments, the prosecution stated that Anthony had murdered her toddler to live a life free of responsibilities (via CBS News). Her legal team argued that the prosecution had not been able to explain how Caylee died, so there was reasonable doubt that Anthony killed her daughter. On July 5, 2011, Casey Anthony was acquitted of first-degree murder (per People).
Jurors cited a lack of evidence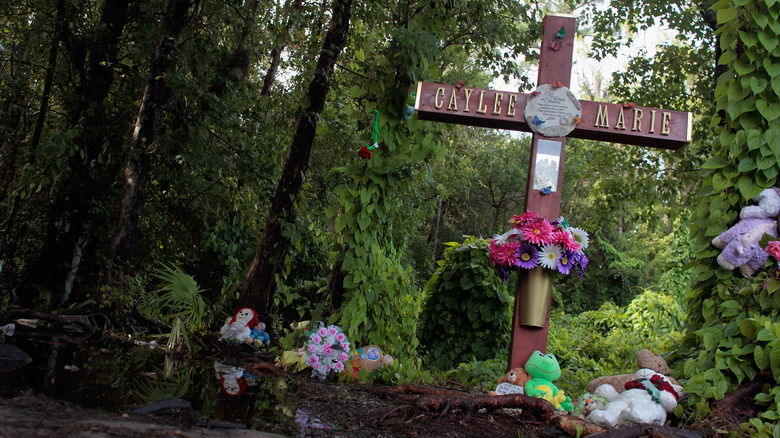 Joe Raedle/Getty Images
Although Anthony was not convicted of her daughter's murder, Time reports that she was charged with four counts of providing false information to investigators. For this, she was sentenced to four years in prison (via Biography). However, Anthony walked free; the time she had spent in jail awaiting her trial was counted towards this sentence. Nevertheless, there was no shortage of circumstantial evidence that pointed to Casey Anthony having had at least something to do with her daughter's death and disappearance -– 500 pages' worth, according to ABC News.
There was a diary entry in which she may have referred to murdering her daughter, there was duct tape found in the Anthony home that bore similarities to the duct tape found near Caylee's body, etc. But when it came to actual physical evidence, the State of Florida simply failed to provide enough to convince jurors of her guilt, as one juror, identified as Jennifer Ford said via a companion ABC News report. "If you're going to charge someone with murder, don't you have to know how they killed someone or why they might have killed someone, or have something where, when, why, how? Those are important questions. They were not answered." she said.
Ford added that she was not and is not convinced that Casey is blameless. Similarly, others noted that the evidence against Casey, despite her innocence or guilt in the court of public opinion, simply wasn't there. One anonymous juror told People, "They gave us a lot of stuff that makes us think that she probably did something wrong, but not beyond a reasonable doubt."