After Davey Moore's 1963 Death The Pope Called For An End To Boxing Entirely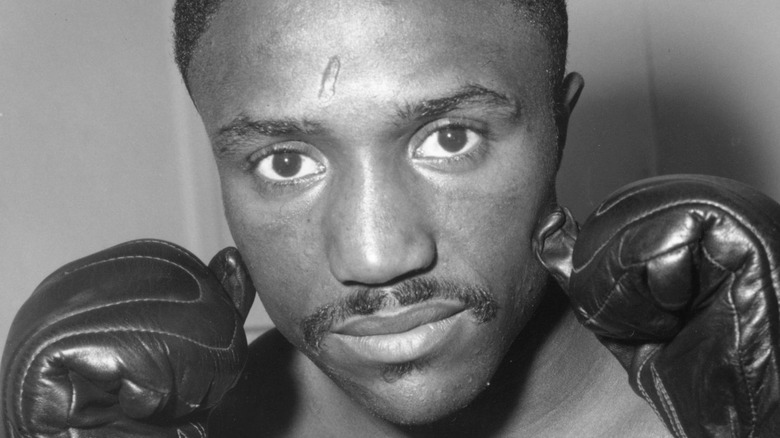 Central Press/Getty Images
When featherweight champion Davey Moore went up against fellow boxer Ultiminio "Sugar" Ramos, he lost both his title and his life (via WBUR). According to the Los Angeles Review of Books, Moore began boxing when he was a teenager. By the age of 19, he had made his way into the U.S. Olympic team and the pros. Although he was short in stature and relatively small, Moore was not someone who was taken lightly. Promoter Don Chagrin explained, "He had a great right hand and a terrific left hook. One of the things that set him apart was that he had a good jab. He would fight taller guys and out-jab them."
As for Ramos, the Los Angeles Review of Books states that he hailed from Cuba and had been a fighter for most of his life. He fled the country and ended up in Mexico City, where he continued to box. With his career on the rise, Ramos moved to the United States in the early 1960s. When the match between Moore and Ramos was announced, the excitement was unfathomable, so much so that the fight, which was held in Los Angeles, was moved to a bigger venue, Dodger Stadium. In an interview before the ill-fated match, Moore stated (via the Los Angeles Review of Books), "I'm gonna win." He added, "But I'm not Cassius Clay. I won't pick the round. I'll take any round."
The deadly fight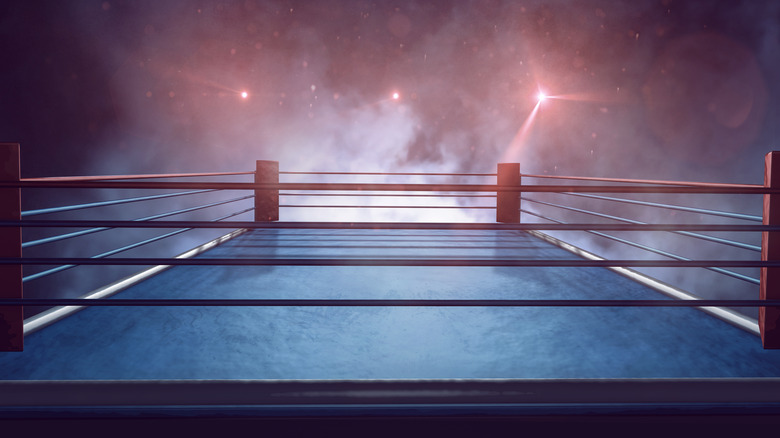 lassedesignen/Shutterstock
On March 21, 1963, Moore faced Ramos in the ring (via The Guardian). WBUR reports that this was one of the first boxing matches to be televised. That said, the Los Angeles Review of Books notes that the fight went on without a hitch — at first. But by the 10th round, it was clear that Ramos was in the lead. At one point, Ramos hit Moore so hard that Moore fell into the ring's ropes, his neck taking the brunt of this impact. Even so, Moore was able to get up and finish the round. However, Ramos won, making him the new featherweight champion.
Moore remained in the ring and gave an interview, per the Los Angeles Review of Books. He said, "It just wasn't my night." Moore added, "I can fight much better. I think I can knock him out. I just couldn't get myself together." Moore then went into his dressing room and told his entourage that his head hurt "something awful." He passed out and was rushed to White Memorial Hospital in Los Angeles. According to WBUR, Moore subsequently slipped into a coma and died three days later. Davey Moore was only 29 years old. He left behind a wife, Geraldine, and their five children.
Davey Moore was not beaten to death by 'Sugar' Ramos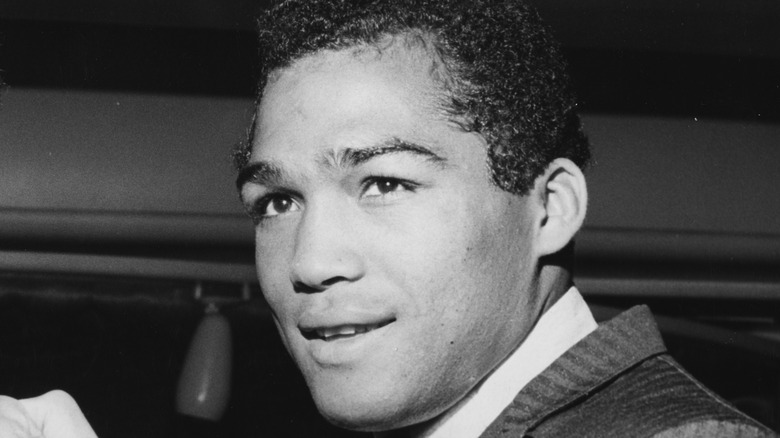 Ron Case/Getty Images
Although Ramos and his fists were quickly blamed for Moore's death, The Guardian explains that he was not truly at fault. Doctors concluded that Moore had died because of brain damage caused by his neck hitting the back of the boxing ring's steel ropes (via Los Angeles Review of Books). Time reports that this blow to the base of his skull caused his brain to swell and led to his death. An autopsy surgeon concluded that this was a "one-in-a-million accident — something that could happen on your front porch if you fell down." Despite this, controversy surrounded boxing and Moore's untimely death.
According to Time, Pope John XXIII condemned boxing — he called it "barbaric" — and noted that "fist fights are contrary to natural principles." Furthermore, politicians, like California Governor Pat Brown, joined the pope in calling for the sport to be banned. In the aftermath of Moore's death, The Guardian writes, famed musician Bob Dylan wrote and performed a song titled "Who Killed Davey Moore" (as seen on YouTube). The Los Angeles Review of Books states that Ramos (pictured above) was haunted by Moore's death for the rest of his career.
In 2013, Moore's widow, Geraldine, and Ramos came together to unveil a statue of Moore in his hometown of Springfield, Ohio (per WBUR). Geraldine noted that she had no animosity toward Ramos. She said, "You know, nobody killed him. It was a very tragic accident and nobody was to blame." Per The New York Times, "Sugar" Ramos died in 2017 at the age of 75.