UK Prime Minister Rishi Sunak Is A Huge Fan Of This Sci-Fi Franchise
Shag 7799/Shutterstock
The United Kingdom's prime minister position had a very tumultuous 2022, to say the least. According to CNBC, ex-prime minister Boris Johnson resigned from the position July 7, 2022 after a slew of controversies had diminished the support of his party. According to The Week, Liz Truss stepped in to take his place following his resignation. In a very shocking turn of events, Truss also stepped down after just a mere 45 days in office. The reasons for this are long and complicated, but a few of them can be summarized. There was enormous backlash against many of her fiscal policies, leading to a pretty low popularity rating for Truss and a staggering blow in the polls.
Soon after Truss resigned, Conservative Party leader Rishi Sunak won the race for prime minister in October. As Britannica explains, Sunak's nickname is "Dishy Rishi," and he was even crowned as "Britain's sexiest MP" back in 2020. Sunak himself experienced controversies earlier in 2022, such as his wife avoiding British taxes on overseas income. With that being said, Sunak has a few other hobbies outside of politics and even enjoys watching a popular sci-fi franchise from time to time.
Who is Rishi Sunak?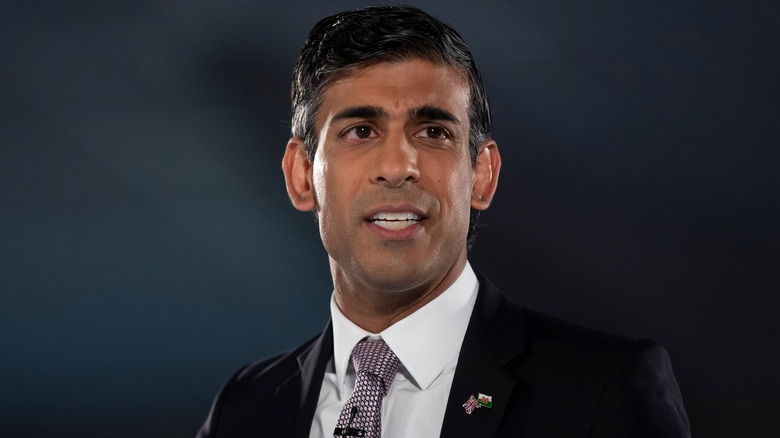 ComposedPix/Shutterstock
Rishi Sunak was born in Southampton, England on May 12, 1980. According to Britannica, Sunak is the son of a pharmacist and general practitioner. Sunak worked in his family's pharmacy as a bookkeeper, citing Margaret Thatcher's own upbringing as an influence on him. He eventually attended the very prestigious Winchester College, becoming head boy at the school, a leadership role for British school systems. Sunak took on an analyst job at Goldman Sachs after graduation at Oxford, then went on to earn an MBA at Stanford University.
As stated by the U.K. government's official website, Sunak eventually became Richmond's conservative member of parliament (MP) in 2015. He was also the parliamentary private secretary at the Department for Business, Energy, and Industrial Strategy until being elected prime minister in 2022. Sunak has two children by his wife Akshata Murthy. The couple is also said to be one of the richest in the United Kingdom, according to BBC.
Rishi Sunak is a huge Star Wars fan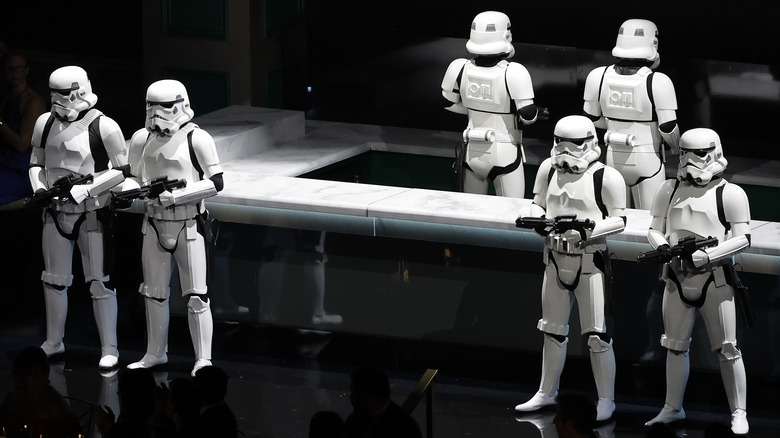 Kevin Winter/Getty Images
Some followers of the prime minister might not be aware that Rishi Sunak is also a massive "Star Wars" fan. As stated by the Guardian, Sunak aspired to be a Jedi knight when he was younger. This was revealed back in 2016 when he was speaking to Northallerton primary school children. Reportedly, the prime minister also went to see "The Rise of Skywalker" with Sajid Javid, his old treasury boss. Apparently, "The Empire Strikes Back" is his favorite movie in the "Star Wars" franchise.
According to BBC, his friend Sajid Javid is also an avid fan of the franchise, which would explain why the two went to see the film together in theaters. A photo of the two at the theaters was tweeted by Sunak that year. Both Javid and Sunak also share the same conservative politics. As Sunak's bourgeoning prime minister career looms on the horizon, he'll have his own Death Star to take care of in the form of contentious British politics.