The Real Story Behind Joni Mitchell's Song, Coyote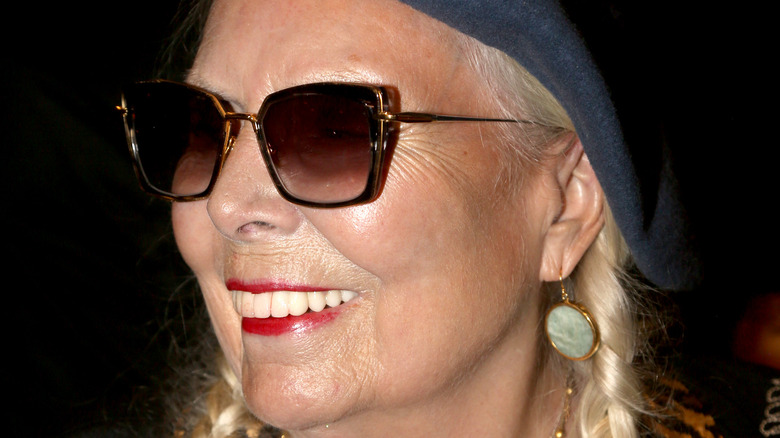 Bruce Glikas/Getty Images
Joni Mitchell is a giant in the canon of the great singer-songwriters. While she first rose to prominence in the burgeoning folk-rock music scene of the 1960s, her style grew and evolved, incorporating a wide range of other genres. Since then, Mitchell has been nominated for 17 Grammy Awards (with nine wins) and was inducted into the Rock and Roll Hall of Fame in 1997. She also became a Kennedy Center Honoree in 2021, according to Reuters.
As noted in Independent.ie, some of Mitchell's earliest signature songs weren't even recorded by her, but by other artists. However, her reputation in the music industry grew, leading to her finally releasing her own self-titled debut in 1968. A follow-up album, 1969's "Clouds," truly established her as both a songwriter and singer, winning her first Grammy, as stated in Biography. Mitchell's first few albums are typified by a sophisticated style that set her apart, if not above, her folk contemporaries. Of course, it was only a matter of time before she'd take her music in new and exciting directions.
Sam Shepard, the inspiration behind Coyote
Larry Busacca/Getty Images
By the mid-1970s, Joni Mitchell's music had become more mature as her lyrics became more personal. A great example of her growing musical development is her song "Coyote" from her 1976 album, "Hejira." The track demonstrates her foray into jazz, and features lyrics that tell of a brief but profound sexual encounter with a philanderer. In a video of Mitchell playing the song with Bob Dylan, the Byrds frontman Roger McGuinn declares that "Joni wrote this song about this tour and on this tour and for this tour." He was closer to the truth than audiences may have realized.
The tour that McGuinn mentioned was the Rolling Thunder Revue, Dylan's 1975-1976 tour that Mitchell joined. It was on this tour that she met actor and playwright Sam Shepard, as stated in Rolling Stone. According to David Yaffe's "Reckless Daughter: A Portrait of Joni Mitchell" (as quoted in Rolling Stone), Mitchell describes her attraction to him: "Sam and I had a flirtation. ... It was like we were twins ... He's multi-expressive. He's a playwright and a singer and an actor and he's good at all of them ... Everything was creating an aversion. But for me, on coke, I found him very attractive." While their time together didn't last long, it led to one of the most personal and powerful songs in Mitchell's extensive body of work.
Her most personal album to date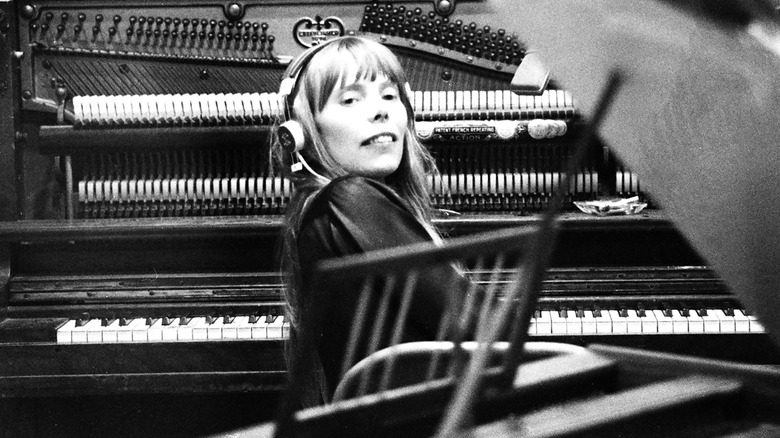 Sulfiati Magnuson/Getty Images
"Coyote" was far from the only deeply intimate song that Joni Mitchell had written; the album it came from, 1976's "Hejira," marked a distinct creative growth in her career, as well as a profundity uncommon in her music up to that point. As stated in Rolling Stone, the lyrical depth was greater than her previous outings, and is most noticeable on such tracks as "Amelia" and "Song For Sharon," as well as the aforementioned "Coyote." The addition of world-class bassist Jaco Pastorius lent the album a jazzier, more complex musicality that bolstered the more penetrating subject material.
It's an opinion that's shared by Mitchell herself who, according to Far Out Magazine, stated that, "I suppose a lot of people could have written a lot of my other songs, but I feel the songs on 'Hejira' could only have come from me." While "Coyote" shone a spotlight on her brief fling with Sam Shepard, the rest of her time on the Rolling Thunder Revue tour gave her a worldliness that proved inspirational in the songwriting process for "Hejira," which she was able to perfectly evoke with her enchanting voice and intricate instrumental arrangements.