Brian May Has Looked Up To Jimmy Page Ever Since They Attended The Same School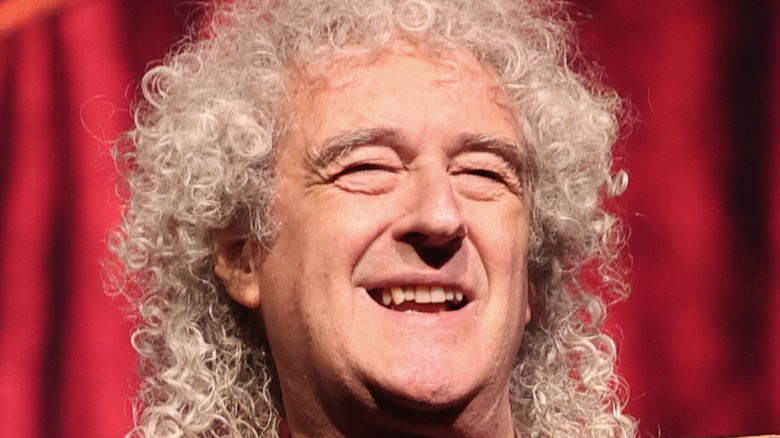 Bsr Agency/Getty Images
Few guitarists have exerted as much influence on rock 'n' roll than Brian May of Queen and Jimmy Page of Led Zeppelin. As stated in Biography, the early 1970s saw May join forces with vocalist Freddie Mercury, bassist John Deacon, and drummer Roger Taylor to form Queen, and together they scored many top hits that are still played on the radio today, including "Bohemian Rhapsody," "We Will Rock You," "We Are the Champions," "Another One Bites the Dust," and many others. While Mercury sadly passed away in 1991, May kept the band going, touring with other singers like Paul Rodgers and Adam Lambert.
According to AllMusic, Page got his start in the music industry as a session guitarist in the early 1960s, playing for such top British bands as the Who, the Kinks, the Rolling Stones, and more. While his time with the Yardbirds and the New Yardbirds didn't last long, it was only a short while before he met singer Robert Plant, bassist John Paul Jones, and drummer John Bonham to form Led Zeppelin. They'd soon go on to become one of the biggest rock bands of the 1970s, with such iconic tracks as "Immigrant Song," "Black Dog," "Kashmir," "Whole Lotta Love," and of course the immortal "Stairway to Heaven."
A lifelong admiration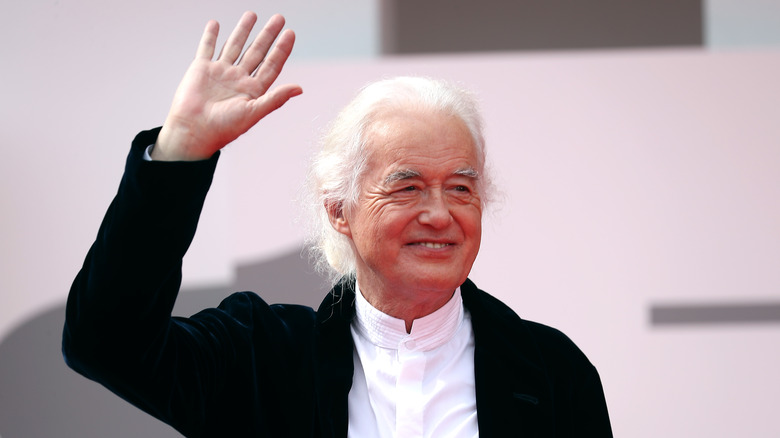 Marc Piasecki/Getty Images
Considering both Led Zeppelin and Queen came from England, you'd think there'd be some rivalry between the bands. However, that's not the case, at least according to Brian May, who's made no secret of his admiration for Jimmy Page. He told Guitar World, "To me, he's a master of invention, that's what I would say. And he's a major, major force in defining what heavy rock became as it was being born. I never get fed up of listening to those Zeppelin albums, and I never will."
However, it wasn't just Led Zeppelin's early success that made May a fan of Page; his respect for their guitarist goes all the way back to when they were kids in school together. Speaking to Guitar World, May described his formative years and his time being acquainted with Page: "He's almost my generation, but a little bit older, and we went to the same primary school, although he was, I think, two or three years above me — and that's a lot when you're small. So I always looked up to him, I gotta say, because he's kind of a local boy to me." While it may be a bit of a stretch to state that there would be no Queen without Jimmy Page, it's hard not to wonder what path May would've taken had he not had the Led Zeppelin guitarist to look up to.
A real rock 'n' roll friendship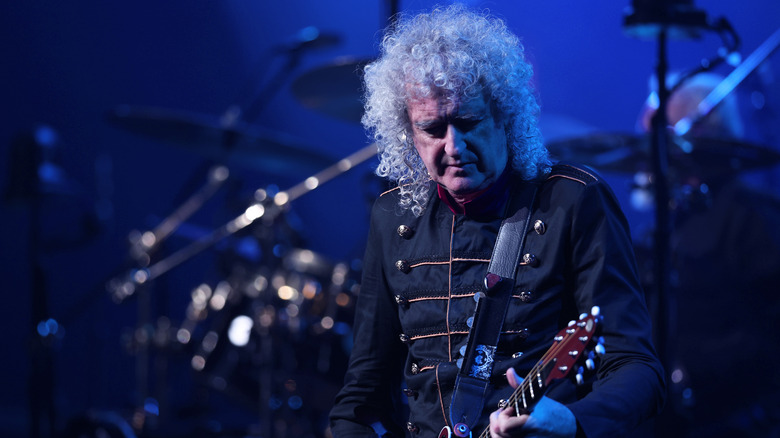 Bsr Agency/Getty Images
Considering that Jimmy Page is widely thought to be one of the greatest rock guitarists of all time, it's no wonder that he continued to exert such a motivating influence on Brian May well after they were out of school and had entered adulthood. According to Far Out Magazine, May told BBC Radio 2 in a 2019 interview, "[Led Zeppelin] played five shows at the Lyceum Ballroom in London in October 1969. ... Seeing Zeppelin, for us, was kind of exquisite torture because they were what we wanted to be."
Hopefully, May has shared his admiration for Page in person, as they've met numerous times over the years in often hilarious circumstances. For example, Page shared a humorous Instagram post describing the time he and May played for the fictional British heavy metal band, Bad News, in a delightfully Spinal Tap-esque concert in 1986: "During their set there was a guitar duel between Vim Fuego (Adrian Edmonson), Brian and myself. During my bit, my amp mysteriously cut in and out but it just added to the comedy of the send up!" And who could forget the time legendary British guitarists Page, May, Eric Clapton, and Jeff Beck met Queen Elizabeth II herself?