Why Kirk Douglas Didn't Reprise His Stage Role In The One Flew Over The Cuckoo's Nest Film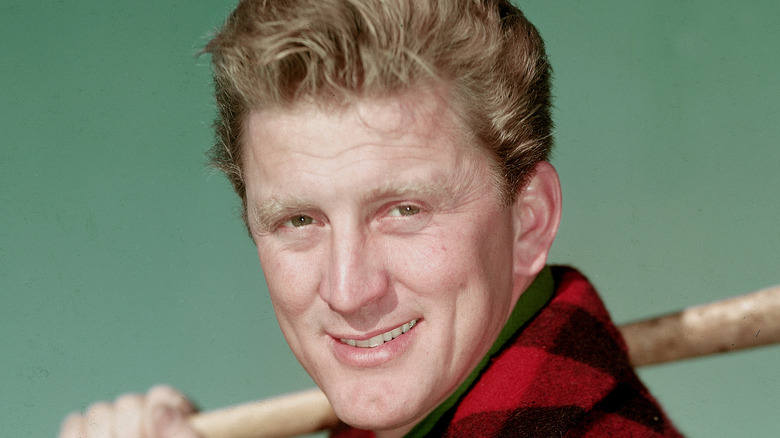 Hulton Archive/Getty Images
Kirk Douglas is one of the greatest actors of all time, having appeared in numerous classic films such as "Lust for Life," "The Bad and the Beautiful," "Spartacus," and many others. But not only did he have a successful career in front of the camera, he was also a major player behind it as well. According to History By Day, he's one of the first actors to move into the realm of producing, giving him more creative control of the films he starred in.
Considering Douglas' high status in Hollywood, it's hard to believe that he didn't star in the iconic 1975 film, "One Flew Over the Cuckoo's Nest," as he was instrumental in getting the film made and was eager to play the lead role of R.P. McMurphy, which ultimately went to Jack Nicholson. Making this twist of fate all the more confusing is the fact that, according to Showbiz Cheat Sheet, Douglas also played the main character in a stage version. So how come his wish didn't come true?
A father/son rivalry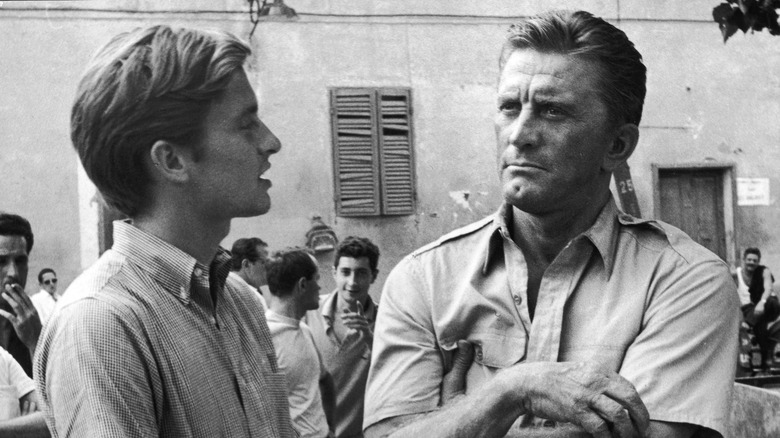 Hulton Archive/Getty Images
Kirk Douglas' son Michael has become just as successful in Hollywood as his legendary father. While the two were close even while they both worked in the film industry at the same time, it turns out there were occasional bumps in their relationship, with the making of "One Flew Over the Cuckoo's Nest" being one of them, as Michael revealed at the closing event of the Rancho Mirage Writers Festival in 2020, per Deadline. As Kirk owned the rights to the play version, Michael tried to get his father to give him the rights to produce the film, but Kirk rejected him, telling him that he'd been trying to get it turned into a movie but nobody was interested.
However, as stated in Deadline, Kirk eventually acquiesced to his son's pleas and handed the rights over to him. When Michael managed to raise funding for the film and establish himself as its producer, Kirk urged his son to cast him in the leading role, but Michael turned his father down, stating that a young actor should play R.P. McMurphy. While Kirk was proud that his son was embarking on the project, it still led to a bit of a rift between the two Douglases.
Cuckoo's Nest: the aftermath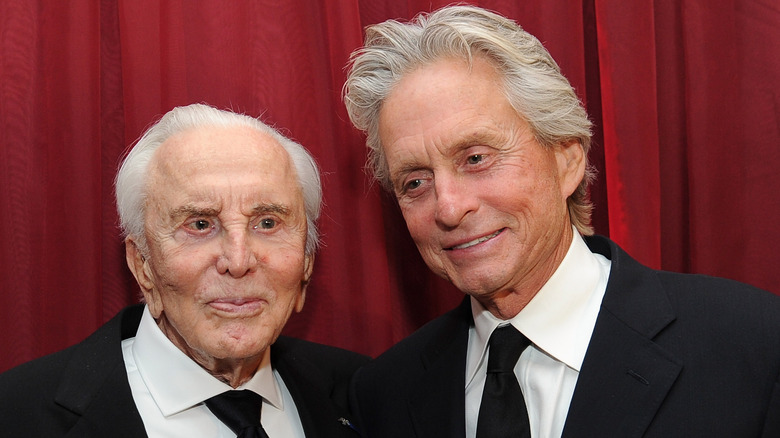 Michael Buckner/Getty Images
Kirk Douglas' frustration over not getting the lead role in a film he'd been trying to get made for years was surely exacerbated when it became a huge success; not only was it a box office hit, "One Flew Over the Cuckoo's Nest" was nominated for nine Academy Awards, winning five (including one for best picture and one for best actor in a leading role).
According to History By Day, Douglas stated in his autobiography "The Ragman's Son" that not being able to be a part of the film haunted him for years afterward. While he made considerable money for selling the rights, he admitted that he would've happily given it all back if it meant getting to play R.P. McMurphy. However, it seemed that the actor would eventually come to terms with the missed opportunity. Per History By Day, decades after the release of "One Flew Over the Cuckoo's Nest," Douglas was asked about his feelings about the film's Oscar success, to which he responded: "If Jack was lousy in it, I would have said, 'What a mistake they made!' But he got an Oscar, so maybe I would have been wrong in the part."