The Tragic Final Post Of One Of The Murdered University Of Idaho Students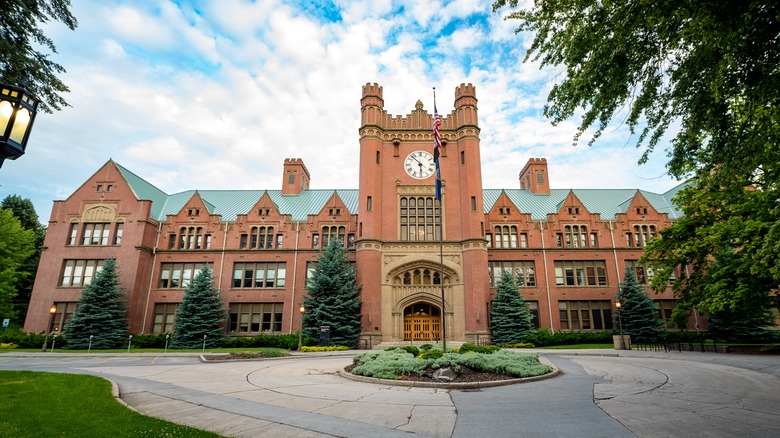 Charles Knowles/Shutterstock
The University of Idaho and the city of Moscow are on edge after the inexplicable murders of four students (via CNN). ABC Chicago writes that on November 13, 2022, Kaylee Goncalves, Madison Mogen, Ethan Chapin, and Xana Kernodle were found dead at an off-campus home. The victims, whose ages ranged from 20 to 21 years old, were stabbed to death, per The New York Times. The murders were described by the local mayor as a "crime of passion," and at the time of this publication, there are currently no suspects in the case. 
Coroner Cathy Mabbutt told The New York Times, "It's such a horrific crime." She added, "It's hard to think that somebody, whether they live here or they were here, commits something like that and is at large." CNN reports that some of the victims had defense wounds, but police said they were "likely asleep" when they were attacked. So what exactly happened on the night of the murders? The New York Times explains that Chapin and Kernodle, who were a couple, were at a party between 8 and 9 p.m. Mogen and Goncalves, on the other hand, were at a bar until 11 p.m. By 1:45 a.m., all four of the victims had returned home.
What occurred next is unknown. CNN states that eventually, another roommate placed a 911 call, leading to the discovery of the four victims. Shortly before her brutal death, Goncalves had made a post on Instagram praising her friends, including Mogen, Chapin, and Kernodle (per the New York Post).
Who were the victims of the University of Idaho killings?
On November 12, Kaylee Goncalves (seen in the yellow sweater) posted a series of photos on Instagram with Madison Mogen (seen in the white top), Ethan Chapin (center), and Xana Kernodle (pictured next to Chapin), as reported by the New York Post. The caption states: "One lucky girl to be surrounded by these ppl everyday." According to The New York Times, Goncalves was going to graduate in December and had plans to move to Austin, Texas for a job in marketing. CBS News adds that Goncalves and Mogen had been friends for years. Prior to their deaths, Goncalves had previously shared photos on Instagram with Mogen. One of these posts reads, "I wouldn't have wanted anyone else to be the main character in all my childhood stories," to which Mogen replied, "I love you more than life! My best friend forever and more."
Goncalves' mother, Kristi, told KREM that she feels like she has lost two daughters. Her sister, Alivea, notes that she has lost two sisters. Per The New York Times, Mogen was from Coeur d'Alene, Idaho. Her boyfriend, Jake Schriger, told the publication, "There's no words that I can really describe her — how amazing she was and how wonderful of a person she was." As for Chapin, he was a triplet whose siblings also attended the University of Idaho. His mother, Stacy Chapin, told The New York Times, "He was literally the life of the party. He made everybody laugh. He was just the kindest person." In an interview with Arizona's Family, Jeffrey Kernodle, Kernodle's father, said that he talked to his daughter shortly before she was murdered. He explained, "She just liked having fun. Never about materialistic things."
Questions about the murders remains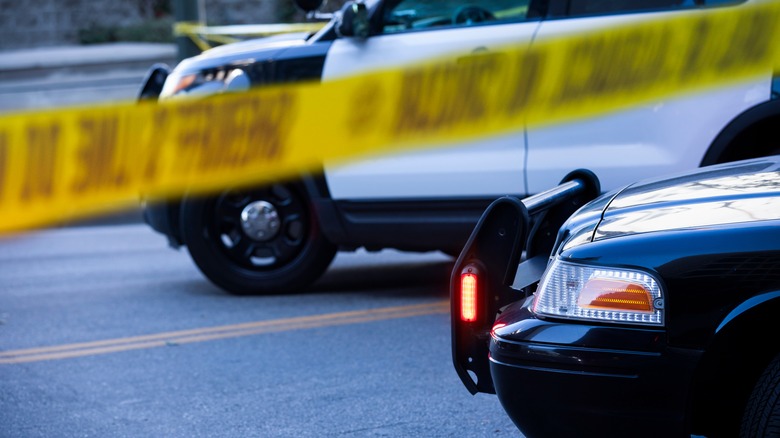 Matt Gush/Shutterstock
According to The New York Times, the University of Idaho killings marks the first murders in Moscow since 2015. Needless to say, the deaths of Kaylee Goncalves, Madison Mogen, Ethan Chapin, and Xana Kernodle have rocked this small community of 25,000. Moreover, CNN writes that fellow students and citizens are uneasy due to the fact that a suspect has not been identified or arrested. In a statement released on the Idaho Statesman, Goncalves sister, Alivea, said, "No one is in custody and that means no one is safe. Yes, we are all heartbroken. Yes, we are all grasping. But more strong than any of these feelings is anger. We are angry. You should be angry."
Moscow Police Chief James Fry added to this anxiety by stating (via CNN), "We cannot say there's no threat to the community and as we have stated, please stay vigilant, report any suspicious activity and be aware of your surroundings at all times." Per USA Today, a murder weapon has also not been found. However, Cathy Mabbutt, the Latah County coroner, told NewsNation she concluded that the victims had been stabbed to death with a "pretty large knife." Nevertheless, CNN states that it's unknown how or why the attacks on the four students occurred. As a result, the authorities have set up an email tip line for answers.
The New York Times adds that two other roommates were at home during the murders. It's unknown why they were spared from the attack. The University of Idaho states that a memorial for Goncalves, Mogen, Chapin, and Kernodle is scheduled for November 30.