Inside The 2006 Suspected Gang-Related Murder Of Mexican Singer Valentin Elizalde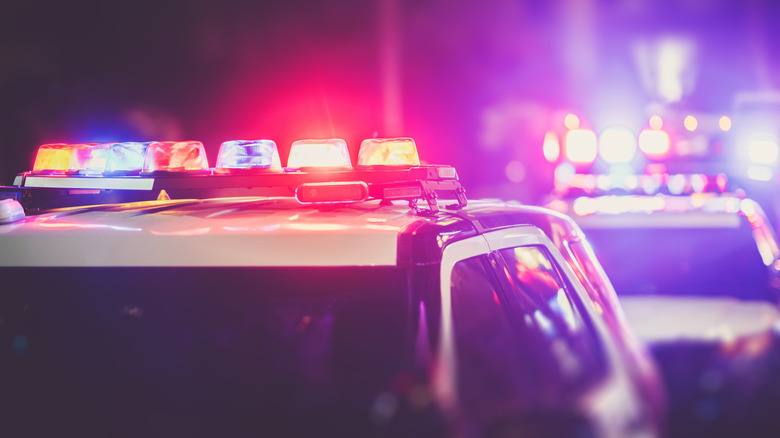 Welcomia/Getty Images
Valentin Elizalde, 27, was a rising star in the Mexican music scene when he was shot and killed in November 2006, an act that is widely believed to be gang-adjacent. His driver and manager were also both killed in the attack, writes the SFGATE. Elizalde had just finished a gig at a fair in Reynosa, Tamaulipas.
Known by the nickname "the Golden Rooster," Elizalde was part of the norteño Mexican music scene. Also known as grupero or banda, the music is mainly focused on the accordion. Though he never saw his music make the top 20 of the Billboard Top Latin Albums chart, after his death, Elizalde's 2006 album "Vencedor" was the best-selling Latin album of early 2007, according to Reuters. Several of his earlier albums also hit the charts after his death.
John Echevarria, president of Universal Music Latino, said of Elizalde (via Reuters), "He was a man who was very entrenched with his people." Elizalde had a legion of young fans from across Mexico, visualized by his YouTube views, routinely in the millions per video.
Elizalde was shot after a gig in Tamaulipas
On November 25, 2006, Valentin Elizalde finished his gig in Reynosa and prepared to leave. Twenty minutes later, he was dead, with at least eight bullets in his body. Two cars chased Elizalde's black Suburban as he was leaving Reynosa and began to fire automatic weapons, ultimately letting loose close to 70 bullets on the three passengers, according to the SFGATE.
According to Remezcla, Elizalde was warned before going to Tamaulipas to perform. It is believed his murderers were part of a powerful drug cartel. Before his death, one of his narcocorridos, or songs honoring drug cartel leaders, "A mis enemigos," was used in a gang video posted on YouTube. The release of this song began a cyber war between various drug cartels, according to The Washington Post. Since his death, the number of violent and death-filled gang videos posted online has gone up. He even sang one of his narcocorridos with Mexican prison inmates in 2005 (via the Los Angeles Times). One frequent recipient of Elizalde's praise was Sinaloa cartel leader Joaquin "El Chapo" Guzman, who has been at large in Mexico since escaping from prison in 2001.
Elizalde defended his narcocorridos to the Associated Press in 2005 through a Spanish-language interview (via the Los Angeles Times): "In no way do I think they should be banned, because they are part of popular expression, what the people sing and what they want," he said. "All we do is sing them, like minstrels."
How Elizalde's legacy continues
Since Valentin Elizalde's death, the sales of his albums have gone up. In 2007, there was talk of releasing a posthumous album due to the sheer amount of unreleased material Elizalde left behind, writes Reuters. Four albums were ultimately released, all in 2007. His albums also hit the No. 1 and No. 2 spots on the Billboard Top Latin album charts, a feat few deceased artists have achieved.
"He was one of those few acts that could gain men's respect and women's adoration," said Pepe Garza, program director for the radio station KBUE, hosted in Los Angeles (via Reuters). Elizalde and his father both died young. For a period in 2007, KBUE aired an hour-long radio show of their music, as well as that of Adan Chalino Sanchez and his father Chalino Sanchez, who also both died young. All four were firmly entrenched in the regional Mexican music scene, and all have legacies that have lasted.
Ultimately, "the Golden Rooster" captured young people's attention through his charisma and performance. He toured in both Mexico and the United States and was poised to break out in the Latin music scene. Though his life was unfortunately taken away from him, his music still brings joy to fans.