George Clinton's Odd Request To His Guitarist Eddie Hazel On Funkadelic's Maggot Brain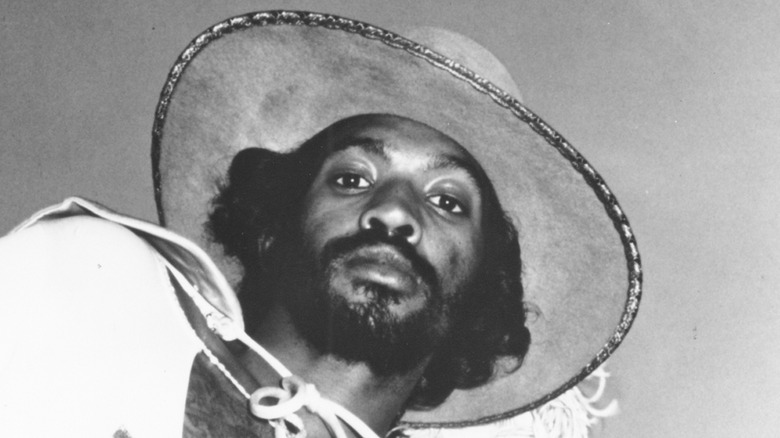 Michael Ochs Archives/Getty Images
Guitarist Eddie Hazel may not have the same mainstream recognition as some of his six-string contemporaries, but that doesn't diminish his influence on pop culture. As stated in Live For Live Music, he's most famous for his time with Parliament-Funkadelic (or P-Funk), fitting right in with the band's over-the-top stage persona with his equally outlandish garb that included a kaleidoscopic unitard, cape, and huge hat. But it wasn't just his outfit that earned him a place in the annals of funk and rock — he was also one of the greatest guitarists of his era, as can be heard in his solo for "Maggot Brain."
However, before Hazel established himself as a guitarist's guitarist, he was born on April 10, 1950 in the Bronx, later moving to Plainfield, New Jersey at the behest of his mother, Grace Cook, as stated in Live For Live Music. He spent much of his youth practicing guitar and became friends with bassist Billy "Bass" Nelson, eventually making their way into George Clinton's band, The Parliaments. While Hazel only recorded a few albums with the band, followed by sporadic appearances following his initial stint, that was enough to prove to the world that he was a force to be reckoned with.
How a legendary recording was born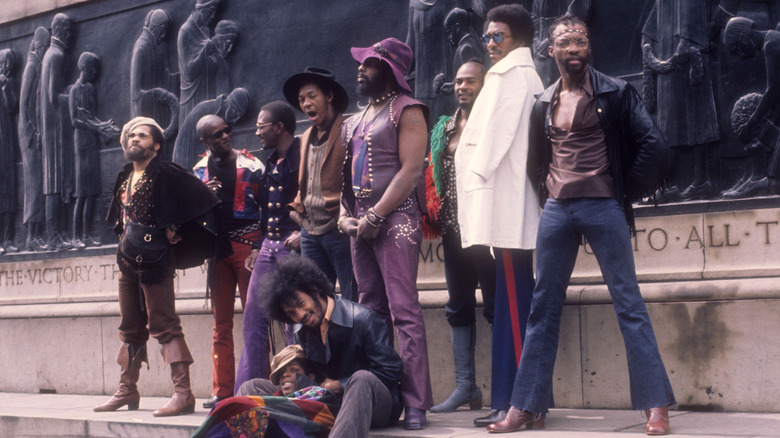 Michael Ochs Archives/Getty Images
Far Out Magazine outlines how "Maggot Brain," the lead track from the eponymous album by the Funkadelics, exemplifies the absurdity and confusion of the transition from the peace-and-love 1960s to the tumult and uncertainty of the 1970s. The 10-minute masterpiece opens with a dark declaration from George Clinton, followed by a powerful extended guitar solo by Eddie Hazel that perfectly captures the spirit of a world in flux, putting every six-string technique known at the time to good use.
While Hazel deserves the lion's share of credit for the stratospheric guitar psychedelia of "Maggot Brain," George Clinton is worthy of a mention for his contribution to the track. As stated in Far Out Magazine, when it came time to record the iconic track, he gave Hazel some unusual advice: "I told him to play like his mother had died, to picture that day, what he would feel, how he would make sense of his life, how he would take a measure of everything that was inside him and let it out through his guitar." Hazel did as he was told, and committed an act of sonic alchemy in a single take. As outré as Clinton's request was, it undoubtedly worked.
Eddie Hazel's legacy lives on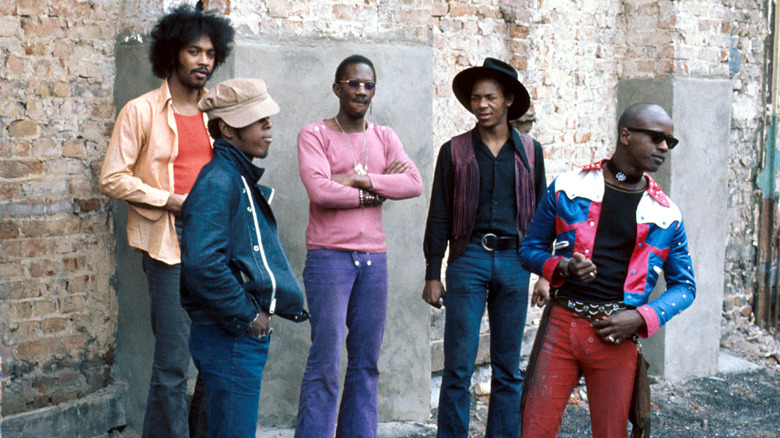 Michael Ochs Archives/Getty Images
Eddie Hazel's transcendent guitar solo on "Maggot Brain" is far from his only amazing performance, but it's definitely his best, and is the one that truly put him in the pantheon of guitar gods. According to Fender, his work on the iconic track pushed the buddy fusion of rock and funk into new territory; Kris Needs wrote in his book, "George Clinton & the Cosmic Odyssey of the P-Funk Empire" that it was a "stairway to hell and the closest [Hazel] got to generating the spiritual catharsis achieved by his idol [Jimi] Hendrix."
Hazel tragically passed away on December 23, 1992 from chronic stomach problems, as stated in AllMusic. However, his music and influence are still as strong as ever. Among the long list of musicians compiled by Fender who have cited him as an impact on their work are such figures as Flea of the Red Hot Chili Peppers, Prince, Lenny Kravitz, Vernon Reid, and many more.