Valentina Tereshkova, The First Woman In Space, Wanted Vladimir Putin In Power Until 2036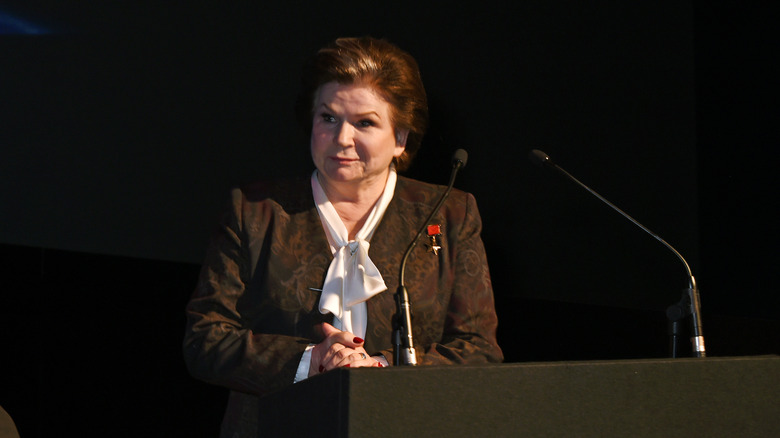 David M. Benett/Getty Images
First woman in space, Valentina Tereshkova, has been a powerful figure in Russian politics since the 1960s. Aside from her landmark visit to space, Tereshkova's fancy suits, down-to-earth manner, and strong speaking abilities have all won her considerable respect and admiration. To date, her career has survived both the downfall of the Soviet Union and a popular backlash in 2020.
Now in her 80s, the ex-cosmonaut has been criticized by the press for her continual support of Vladimir Putin (via ATI). While her devotion might raise eyebrows in the west, she is not alone. Although Putin took a knock in the polls due to the Russian draft, he is still sitting pretty with a 77% approval rating as of September 2022 (via The Moscow Times).
Speaking to The Guardian, Tereshkova once stated that "Putin took over a country that was on the brink of disintegration; he rebuilt it and gave us hope again." It's a sentiment echoed by many Russians past and present.
Stratospheric rise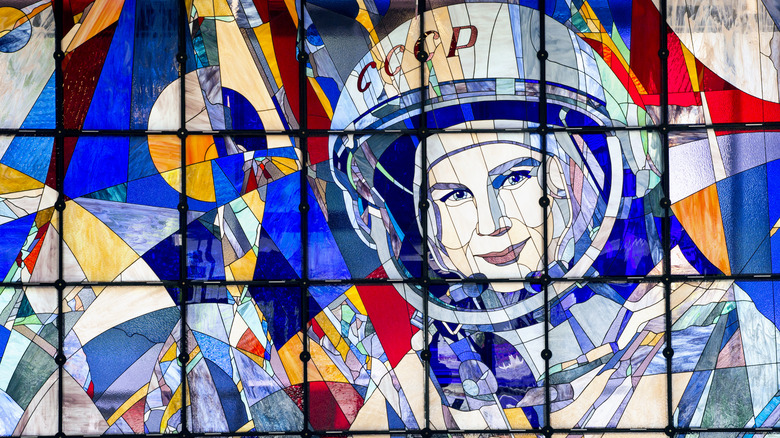 Scifier/Shutterstock
Tereshkova's path to prominence certainly reads like an inspiring underdog tale — although not everyone sees her in a positive light. Once an impoverished factory worker in remotest Russia, her father was killed when she was killed during WWII, reducing her family to penury. Later in life, she trained to be an engineer and a parachute jumper, and by the early '60s, she was specially selected for an all-female space program (via ATI).
Tereshkova's critics maintain that she was never a brilliant student, but was chosen because the optics looked great, and because of her considerable charisma (via Putin's List). Either way, the gutsy cosmonaut changed history, blasting off into space 20 years before the first American woman.
After becoming the first woman in space, she maneuvered her way into politics, becoming a member of Russia's supreme council (via Russia Beyond). Going on speaking tours and heading committees, Tereshkova was a true Soviet icon in her day.
When the USSR collapsed, on the other hand, she simply morphed into a different sort of politician. Despite once commenting that she was fighting for atheism by demystifying the heavens, she today advocates for Christian values (via Women in the Khrushchev Era., 2004). In 1995 she was made Russia's first female general, and today she is still part of Russia's lower house, the Duma.
Putin's girl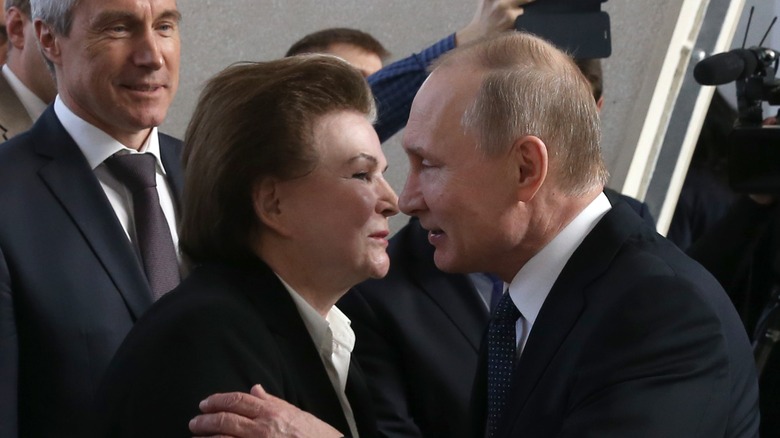 Mikhail Svetlov/Getty Images
Tereshkova became friendly with Putin himself in 2007 when he invited her to his estate to celebrate her 70th birthday (via Reuters). One year later she won a seat in the Russian Duma as a member of Putin's party, United Russia (via Putin's List).
Finally, in 2020, she caused outrage when she put a bill forward in parliament that would allow Putin to stand for reelection again in 2024 (via The Moscow Times). The amendment slid through both chambers of the Russian parliament with suspicious ease, enabling the Russian President to remain in power till 2036, when he will be 83 years old (via Politico). Putin, whose detractors have an unfortunate habit of falling out of windows, has been prime minister or president of Russia since 1999 (via The Guardian).
Several online petitions in Russia have called out the ex-cosmonaut for backing a tyranny by stealth, calling for the removal of her titles, and for the renaming of Tereshkova Street in the city of Artyomovsky (via Reuters). Responding to her critics, Tereshkova simply stated "I don't even want to talk about these people who don't love the country."