The Controversial Civil Rights Figure Cicely Tyson Was Related To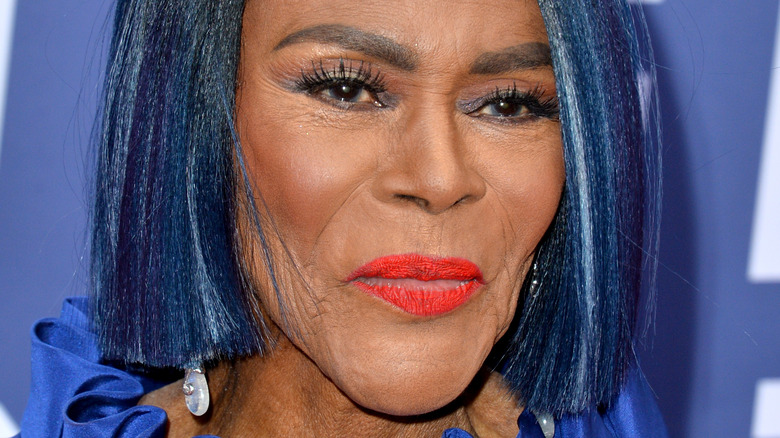 Featureflash Photo Agency/Shutterstock
Cicely Tyson was an award-winning actress who died on January 28, 2021, at the age of 96. Her acting career began in 1959 when she appeared alongside Harry Belafonte in "Odds Against Tomorrow," which triggered a series of other notable roles in films like "The Last Angry Man" and "The Heart is a Lonely Hunter." She stayed away from the film industry for a while because she refused to star in "blaxploitation" films, per Variety. The term was used by the NAACP to denote films from the late '60s and early '70s that, according to the organization, perpetuated harmful stereotypes, portraying African Americans as drug dealers, pimps, and prostitutes (via Britannica).
Tyson returned to film in 1972 to appear in the drama "Sounder" for which she received a best actress nomination. Throughout her career, she took roles in film and TV that had layered plots and characters, avoiding the exploitative stereotypes that proliferated the industry. Her career spanned 70 years, with her last film role occurring in 2017, per Variety. She had an illustrious life, including a marriage to jazz legend Miles Davis in 1981, but what few people know is that she was first cousins with a famous civil rights leader (via Moguldom).
The Early Life of Cicely Tyson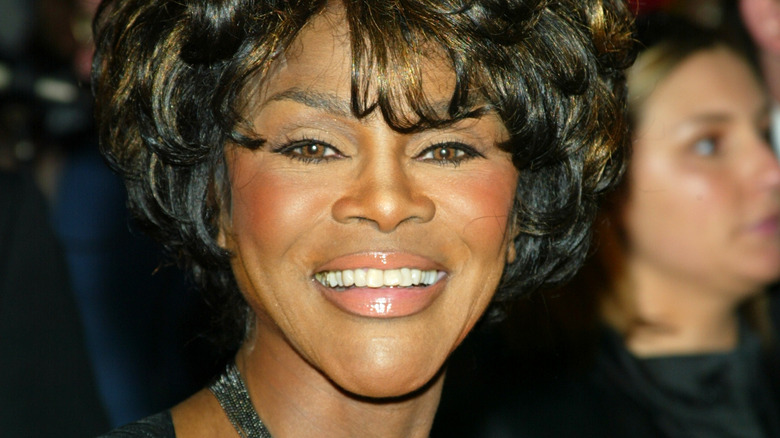 DFree/Shutterstock
Cicely Tyson was born in Harlem, New York on December 19, 1924. According to Britannica, while certain sources claim her birth year was actually 1933, most agree on 1924. She was raised by strongly religious parents who hailed from Nevis, an island in the Caribbean. In the beginning, she started her career as a model when she was discovered by an editor with Ebony Magazine. Unfortunately, her mother's staunch devotion to her religion led to acrimony in the Tyson home, and Cicely was kicked out when she was a young mother, per Moguldom.
She ultimately persevered, even repairing her relationship with her mother two years later. Tenacity seemed to run in her family, as proven by her relationship with first cousin Louis Farrakhan, who grew to prominence as the leader of the Nation of Islam — a controversial movement that combined elements of Black nationalism with Islam, per Britannica. Like her relative, she was comfortable going against the grain, even when it meant being turned away by Hollywood executives for her refusal to play roles that she saw as damaging to the Black community, per Medium.
Her Connection to Louis Farrakhan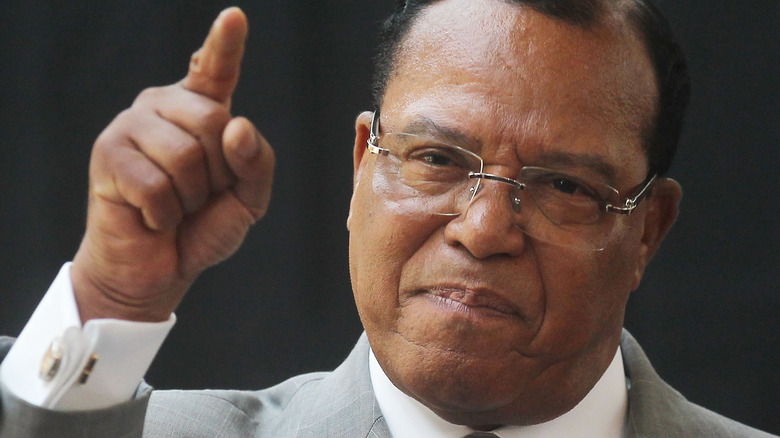 Mario Tama/Getty Images
Born on May 11, 1933, Louis Farrakhan, whose birth name was Louis Eugene Walcott, was originally from the Bronx, New York, but grew up in Boston. His mother, Sarah Mae Manning raised him on her own, and like Cicely Tyson's mother, also originated from Nevis. He was a devout member of an episcopal church and also had an early passion for music, learning the violin and even dropping out of college to pursue music as a career. In 1955, he joined the Nation of Islam and replaced his last name with "X" in-keeping with the group's tradition of purging one of the names possibly held and given by slaveholders. Eventually, he received the Muslim surname "Farrakhan," per Britannica.
Tyson and Farrakhan walked very different paths, but they shared a commitment to civil rights. As someone who strove to be a role model through her role choices, Tyson said (via The Hollywood Reporter) "there are traces of who I am in every woman I have portrayed" and she said her roles gave her "an emotional, spiritual, and psychological inheritance I will forever carry with me." Her last contribution to society was her memoir, "Just as I am," which was published two days after her death.