Kurt Cobain's Final Message To Courtney Love Was Truly Heartbreaking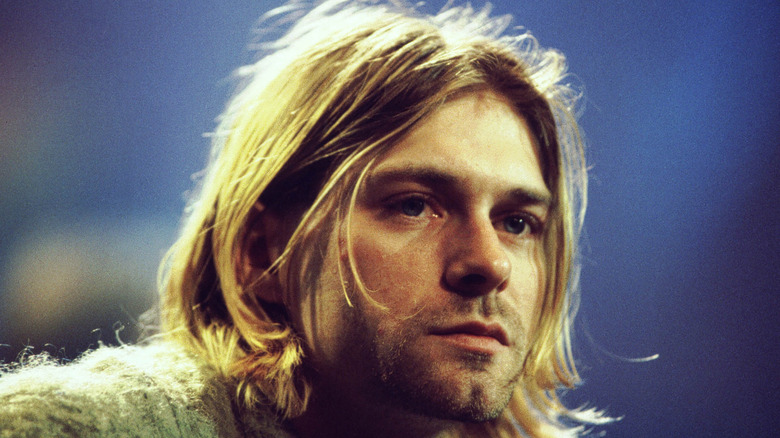 Frank Micelotta Archive/Getty Images
Kurt Cobain is one of the most influential musical artists of all time and one of the major pioneers of the grunge movement. Biography states that he started Nirvana in 1988, and they became one of the leading groups to come out of the budding Seattle grunge scene in the late 1980s and early 1990s. Their album, "Nevermind," was a massive hit in 1991 and cemented the band's place in rock 'n' roll history. Nirvana followed up on this success with the release of 1993's "In Utero," further proving that grunge was more than just a passing fad. 
Unfortunately, as Cobain's fame increased with his band, so too did his drug use, according to Amherst Wire. While he had a family at the time (he was married to fellow grunge rock singer Courtney Love of Hole, and the two had a daughter named Frances Bean Cobain), that didn't stop him from using. On April 5, 1994, he died by suicide with a shotgun, with a combination of Valium and heroin found in his system, culminating in the demise of one of rock's greatest icons (via History).
If you or anyone you know needs help with addiction issues, help is available. Visit the Substance Abuse and Mental Health Services Administration website or contact SAMHSA's National Helpline at 1-800-662-HELP (4357).
His heartbreaking final message to Courtney Love
Lindsay Brice/Getty Images
Kurt Cobain's induction into the 27 Club is tragic, as his musical talent proved that he had so much more to give to the world. However, his untimely death is made all the more heartbreaking with the final words he left us, written in the form of a letter that he wrote to his wife, Courtney Love and daughter Frances Bean Cobain. Here is the content of that ultimate missive, according to HITC: "Frances and Courtney, I'll be at your alter. Please keep going Courtney, for Frances. For her life, which will be so much happier without me. I LOVE YOU, I LOVE YOU!"
HITC states that the note also includes a nod to Neil Young's song, "My My, Hey Hey (Out of the Blue)," with the line, "It's better to burn out than to fade away." Before signing off at the end of the letter, Cobain makes a call for "peace, love, empathy." Even with Cobain's mental health issues, it was still important to him that he let his family know how much he cared about them.
If you or someone you know needs help with mental health, please contact the Crisis Text Line by texting HOME to 741741, call the National Alliance on Mental Illness helpline at 1-800-950-NAMI (6264), or visit the National Institute of Mental Health website.
An ominous pre-death interview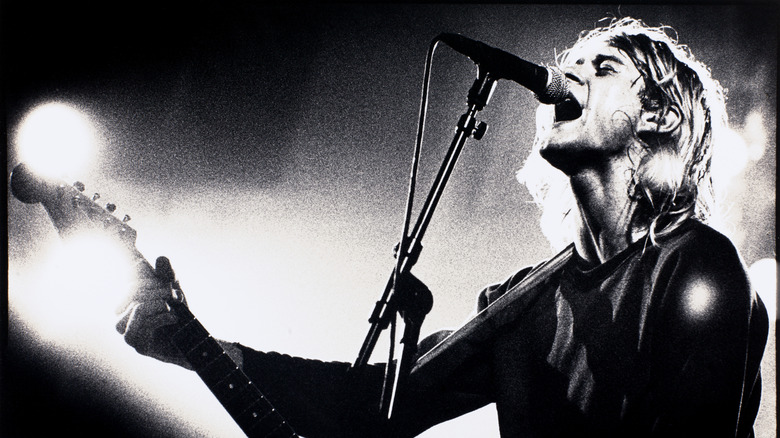 Niels Van Iperen/Getty Images
We may never know the full details of what pushed Kurt Cobain to commit his final tragic act, and the few insights he did offer only raise more questions about what was going through his mind the day he pulled that trigger. In one of his final interviews, conducted months before his death, Cobain seems happy and thoughtful in his demeanor and gushes over his love for Patrick Suskind's novel, "Perfume," revealing that it was the source of inspiration for the Nirvana song, "Scentless Apprentice." However, despite his cheerful disposition, he reveals why the book resonates with him so much, describing the main character as someone who, "Every time he smells a human, like a fire from a far off way, he'll just get really disgusted and hide. He just tries to stay away from people ... I can relate to that." Not exactly a reassuring comment, is it?
But Cobain's interview takes a slightly more uplifting tone when he discusses the positive effect that getting married and having a child had on him, saying, "I really was a lot more negative and angry and everything else a few years ago, but that had a lot to do with not having a mate, not having a steady girlfriend ... So now that I've found that, the world seems a lot better for some reason!" One wonders what may have changed for the music icon between that time and when he died by suicide.
If you or anyone you know is having suicidal thoughts, please call the National Suicide Prevention Lifeline​ by dialing 988 or by calling 1-800-273-TALK (8255)​.