Viewers Want No Part Of Peacock's Casey Anthony Docuseries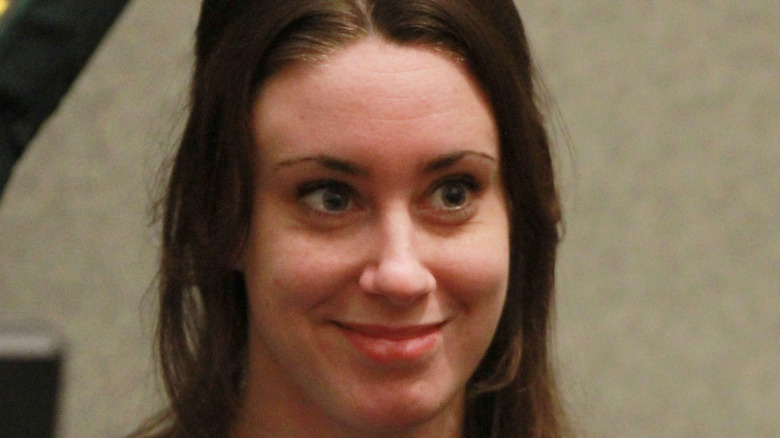 Pool/Getty Images
In the summer of 2011, it seemed like there was only one story in the news: the trial of Casey Anthony. The 25-year-old Florida mom had become the most hated woman in America over the 2008 death of her two-year-old daughter, Caylee Anthony. According to Casey's mother, Cindy Anthony, the toddler had been missing for more than a month. And each time Cindy asked Casey about seeing Caylee, Casey had a new lie as to her daughter's whereabouts. Finally, Cindy had enough and called 911 to report that Caylee was missing, famously telling the emergency operator that Casey's car "smelled like there's been a dead body in the damn car," per "Today."
Caylee's remains were later recovered from a wooded area near the Anthony family's residence, precipitating the trial in which the prosecution sought the death penalty. Per NBC News, Casey Anthony's legal team provided no evidence; they simply called into doubt almost every aspect of the prosecution's case in the eyes of the jurors. Casey never took the stand during the trial, leaving many questions completely unanswered. Per The Guardian, the strategy of Casey's defense team was enough for the jury to find her not guilty of the most serious crimes — first degree murder, aggravated child abuse, and aggravated manslaughter of a child — while she was found guilty of four misdemeanors related to lying to the police during their investigation. With no murder conviction and no other leads, it seemed there were more questions than answers.
Getting Casey Anthony to talk
For more than 10 years, Casey Anthony managed to avoid questions about her daughter, her parents, and the trial. But that all changed when documentary filmmaker Alexandra Dean got Anthony to talk on camera for a three-part docuseries, titled "Casey Anthony: Where the Truth Lies," streaming on Peacock. (The trailer is on YouTube.) "Here was a woman that was known still, a decade after being acquitted by a jury, as one of the most hated women in America," Dean told BuzzFeed News. "And I thought, 'Well, we never heard from her, so shouldn't we hear her side of the story?'"
To do that, Dean set up shop in an Airbnb in Orlando for six months, where she interviewed Anthony for hours upon hours. "Casey had never given an in-depth or on-camera interview explaining her actions until now, and as a filmmaker and journalist, my interest was in getting closer to the unbiased truth by hearing all sides of the story — from opposing voices to Casey herself," Dean said (via Decider). Dean said that her team had editorial control over the final version of the project and that Anthony had not seen it, nor had she given notes on the film. The result, as far as Dean is concerned, was worth the effort. "What emerges," Dean said, "is a startling psychological portrait of Casey Anthony and a complete narrative of what she says happened to her daughter." But are potential viewers willing to listen?
Social media revolts against giving Casey Anthony a platform
When "Casey Anthony: Where the Truth Lies" was released on November 29, 2022, people already had strong reactions to the docuseries. On Twitter, users trashed Peacock for giving Casey Anthony a platform. "Shame on peacock for letting Casey Anthony create another fictional sob story in attempt to sway public opinion. Nobody believes you and there's a special place in hell for you," @lexfalco tweeted. Twitter user @OzzieR89 piled on, posting: "I can't even begin to explain how s***** it is of Peacock to give this monster a platform." Others, like Twitter user @Pete_Chi_Fan, didn't want to see Anthony making any money off the death of her daughter: "Just a reminder that absolutely NOBODY needs to watch that Casey Anthony documentary. Do NOT let that murderer get rich off this."
Others did try to give the series a chance, but quickly turned the other way when the story just didn't match reality in their view. "i turned the casey anthony documentary off as soon as she said caylee drowned. she was literally found in a plastic trash bag with DUCT TAPE over her mouth. i'm not listening to three hours of lies," @dxhoex posted. Another, @wahaholly, put it more graphically: "I would rather take a cheese grater to my eyes than to watch a series that lets casey anthony try to convince the world she isn't a child murderer."