Who Are Anderson Aldrich's Parents?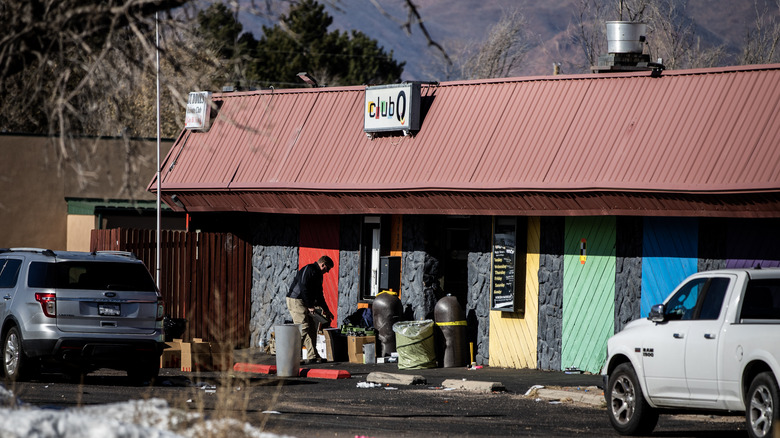 Chet Strange/Getty Images
On November 19, 2022, a shooter opened fire at a bustling LGBTQ+ nightclub named Club Q (pictured) in Colorado Springs, Colorado. As one patron told KOAA News 5 Southern Colorado: "I thought it was the music, so I kept dancing. Then I heard another set of shots and then me and a customer ran to the dressing room, got on the ground and locked the doors and called the police immediately."
Within minutes, five people were killed and 25 more were injured, according to CNN. The main suspect — who was eventually restrained by two of the nightclub's patrons and taken into police custody — was later identified as 22-year-old California-born Anderson Lee Aldrich. They were raised in Texas and Colorado and identifies as non-binary, according to court filings submitted by their defense team, per the Los Angeles Times.
Per the same source, numerous relevant details from Aldrich's life emerged, showing a troubled upbringing and recent violent tendencies that led to encounters with the police, including a bomb threat the alleged murderer made against their own mother in June 2021, per The Gazette. But Aldrich reportedly also had a twisted relationship with their father, too. Here are the details.
Anderson Aldrich's mother, Laura Voepel
In the aftermath of the Colorado Springs nightclub mass shooting allegedly committed by 22-year-old Anderson Lee Aldrich, many news outlets uncovered details of the suspected killer's family life, including their relationship with their mother, 45-year-old Laura Lea Voepel.
As reported by The Denver Gazette, Voepel is well-known to law enforcement, with three warrants for her arrest still active in California. She was arrested numerous times and, in several cases, failed to turn up to court. In June 2021, she contacted police to report that Aldrich threatened to kill her with a homemade bomb, which led to an evacuation of their neighborhood and a stand-off with police. Voepel did not press charges against Aldrich, which resulted in Aldrich's ability to retain possession of the weapons they would allegedly later use in the deadly nightclub shooting. More recently, Voepel and Aldrich were involved in an air rage incident, footage of which was released on Fox 31 Denver in the aftermath of the shooting. According to The Daily Beast, Voepel was arrested hours after the Club Q shooting due to disorderly conduct during a police visit.
But Voepel also has ties to members of the government. According to Newsweek, Voepel's father — and Aldrich's grandfather — is Randy Voepel, a Republican state assemblyman in California. A supporter of Donald Trump during his administration, Randy Voepel received criticism for attempting to draw comparisons between the January 6 Capitol Hill Riots and the American Civil War.
Anderson Aldrich's father, Aaron Brink
According to CNN, in 1999, Laura Voepel married Aaron Brink, a mixed martial arts fighter. The two had a child, Nicholas Brink, who later changed their name to Anderson Aldrich. Aaron Brink's MMA career was moderately successful. However, he later worked in the pornography industry as an actor after developing a drug addiction and being charged with drug offenses, per The Metro. More recently, he has been arrested for burglary, according to Rocklin Police Department. He divorced Voepel in 2002.
As revealed by CBS News, in 2016, at 15 years old, Aldrich applied in Texas to change his birth, reportedly due to online bullying. However, the petition obtained by the Associated Press and published in The Detroit News claimed that: "Minor wishes to protect himself and his future from any connections to birth father and his criminal history. Father has had no contact with minor for several years."
Brink has given several news interviews since the mass shooting, claiming in one that Aldrich had "a lot of rage," according to the New York Post. Brink and Aldrich were estranged for many years, with Brink claiming that Voepel told him in 2016 that Aldrich killed himself. Brink also stated that Aldrich finally contacted him a year before the shooting, per CBS 8 San Diego.
If you or anyone you know needs help with addiction issues, help is available. Visit the Substance Abuse and Mental Health Services Administration website or contact SAMHSA's National Helpline at 1-800-662-HELP (4357).