Richard Branson And Elon Musk's Friendship Explained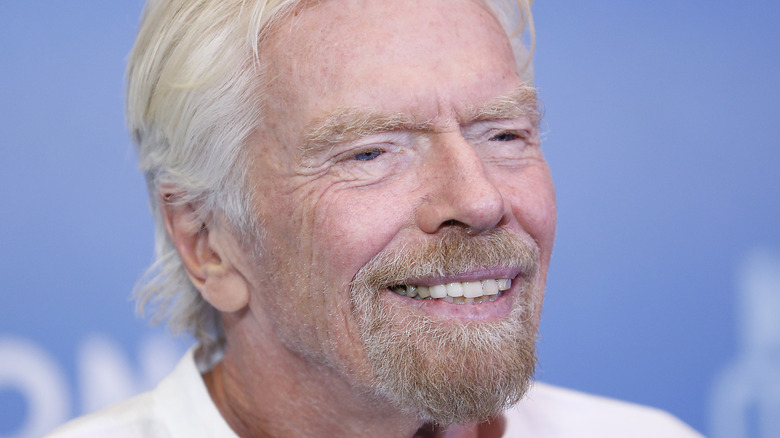 John Lamparski/Getty Images
Billionaires Richard Branson and Elon Musk have much more in common than one might believe. Besides having massive amounts of money, they are both known for their space endeavors and distinct business ideas, according to CNN. Branson, per Britannica, first made waves when he cofounded Virgin Records in 1973. He went on to form Virgin Atlantic, an airline, and Virgin Galactic for space travel. Musk's claim to fame is PayPal. However, he has become a polarizing figure thanks to SpaceX and Tesla Motors, via Biography. As another article by CNN explains, Branson and Musk have different ideas regarding space exploration.
According to Yahoo! News, Virgin Galactic wants to make traveling to space accessible to all. SpaceX, meanwhile, wants to colonize the planet Mars, per Insider. Of course, Branson and Musk are not the only billionaires that have plans for space. Amazon founder Jeff Bezos has his own company called Blue Origin, which intends to make space exploration affordable. That being said, the New York Post reports that Musk and Bezos are not fans of each other. The same cannot be said for Branson and Musk. The South China Morning Post notes that they are openly supportive of each other's space goals.
Musk visited Branson before his historic flight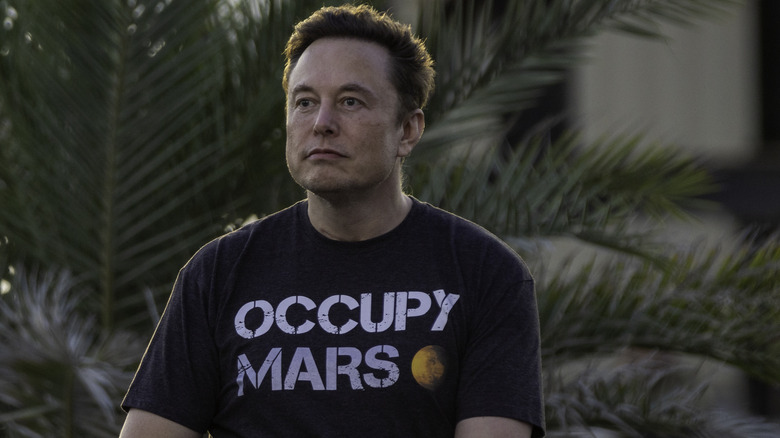 Michael Gonzalez/Getty Images
In July 2021, Branson traveled to the edge of space in a Virgin Galactic spacecraft, according to The New York Times. Per Reuters, Branson and his crew departed from Spaceport America in New Mexico. The trip was brief; he experienced weightlessness and then safely returned back to Earth. Before boarding for this monumental journey, the South China Morning Post writes that Branson had a special visit from Elon Musk. He commemorated this moment by tweeting a photo of them together. The caption read, "Big day ahead. Great to start the morning with a friend. Feeling good, feeling excited, feeling ready."
Per the South China Morning Post, Musk watched Branson's flight from Spaceport America. The publication notes that Virgin Galactic itself did not invite Musk. Spokesperson Barney Gimbel explained, "This is all Richard's inviting him. They're buddies." Musk subsequently tweeted, "Congratulations, beautiful flight!" Branson later held a press conference where he divulged that Musk showed up at his house at 3 a.m., per Insider. He said, "I'd already been to bed and he still hadn't gone to bed." Branson continued, "He's an all-nighter, and our time clocks are completely different. But so nice of him to come all this way to wish us well."
Richard Branson wants to fly with SpaceX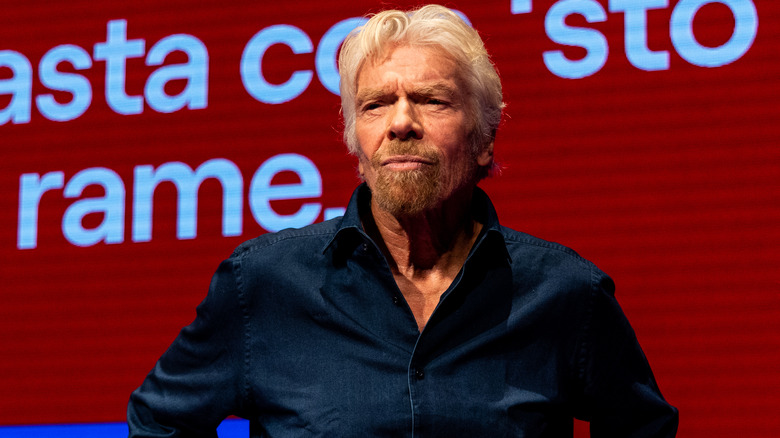 Roberto Finizio/Getty Images
According to The Verge, Musk purchased a ticket to travel to space on Virgin Galactic before Branson's successful trip. Forbes later reported that Musk bought it in 2006. The trip is said to last 90 minutes and Musk would be joined by five other passengers and two pilots. However, it's unknown when and if Musk will fly to space. Will Whitehorn, the former president of Virgin Galactic, explained why he believes Branson and Musk have bonded. "[Musk] had a vision which Richard had of basically space being a place profitably [to] save humanity — to put it in the bluntest terms," Whitehorn told Forbes.
Insider reports that Branson told The Sunday Times Musk paid a $10,000 deposit to score a seat on a future flight. Musk is currently on a waiting list and that the total cost for the trip is $250,000. However, the New York Post describes Branson and Musk as revivals, despite their apparent camaraderie. Nevertheless, in 2022, Branson expressed his desire to fly with SpaceX and explained that he and Musk are indeed "good friends," via CNBC. He stated, "Hopefully, I'll be able to go up on one of his spaceships one day, and he'll be able to go up on one of ours."