Why Nazi Director Leni Riefenstahl Was Not Given A Warm Welcome In Hollywood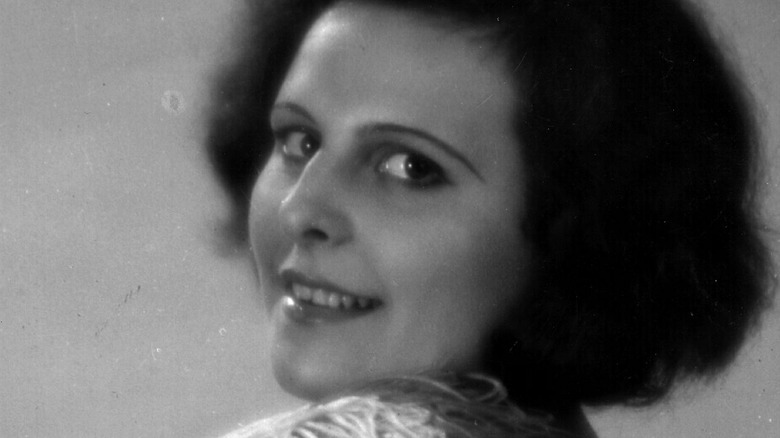 Hulton Archive/Getty Images
According to the BBC, female directors in the modern film industry are far and few between. However, Leni Riefenstahl, who was born in Berlin in 1902, managed to leave a polarizing mark in cinema history (via Britannica). According to The Guardian, Riefenstahl began her career in the entertainment industry as a dancer and later as a silent film actress. In 1929, she starred in the film "White Hell of Pitz Palu" (via IMDb). The Hollywood Reporter writes that this film may have changed the trajectory of her life and career. The publication notes that Adolf Hitler allegedly viewed the film and became infatuated with Riefenstahl.
The Guardian reports that Riefenstahl was also a fan and saw Hitler speak at a rally in 1932. In 1934, Hitler commissioned Riefenstahl to film a Nazi Party rally at Nuremberg (per The Hollywood Reporter). The New York Times states that this resulted in the film "The Triumph of the Will." The controversial documentary has been simultaneously hailed as a masterpiece and a work of evil. The Museum of Modern Art (MoMA) explains that "Triumph of the Will" idealizes the power of both Hitler and the Nazis. The success of the film led to her next project, the documentation of the 1936 Berlin Olympics.
Another article from the BBC notes that Riefenstahl's film "Olympia" forever revolutionized sports documentaries. Upon its release in 1938, the film was a critical success and Riefenstahl was determined for American audiences to see it (via The Hollywood Reporter).
Kristallnacht changed attitudes toward Leni Riefenstahl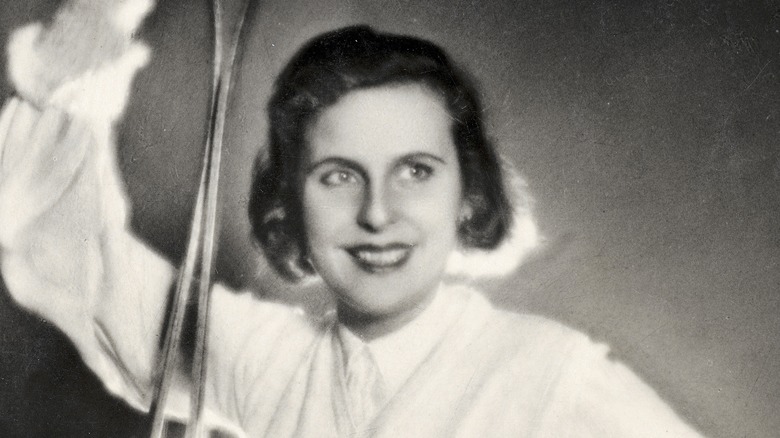 Brandstaetter Images/Getty Images
Per The Hollywood Reporter, Riefenstahl first traveled to New York in November 1938 to promote "Olympia." She was treated warmly by the press, which was fascinated by her. The New York Daily News wrote, "The mysterious fraulein of Germany, the shapely and auburn-tressed Leni Riefenstahl — reported to be the object of Hitler's next Anschluss — arrived on the Europa yesterday, declaring that all is platonic between her and Der Fuhrer." Shortly after, the Jewish Virtual Library writes, news of Kristallnacht soured any positive feelings the media and the film industry had for Riefenstahl. History explains that Kristallnacht was a two-day episode of unimaginable violence toward Jews across Germany. 
The United States Holocaust Memorial Museum reports that synagogues, homes, and businesses were looted or destroyed in the riots. Some 91 Jews were killed, while thousands of others were arrested and sent to concentration camps. According to The Hollywood Reporter, Riefenstahl was asked about Kristallnacht. She denied the incident happened and continued on with her American excursion. On November 28, Riefenstahl arrived in Los Angeles. She wanted "Olympia" to be widely distributed with Hollywood's help. However, Riefenstahl was met with disgust and disdain.
A 1938 article from The New York Times states that the Hollywood Anti-Nazi League ensured she would not be welcomed. The organization took out full-page ads in film industry publications that proclaimed, "There is no room in Hollywood for Leni Riefenstahl. In this moment when hundreds of thousands of our brethren await certain death, close your doors to all Nazi agents."
Walt Disney and Hedda Hopper decided not to shun her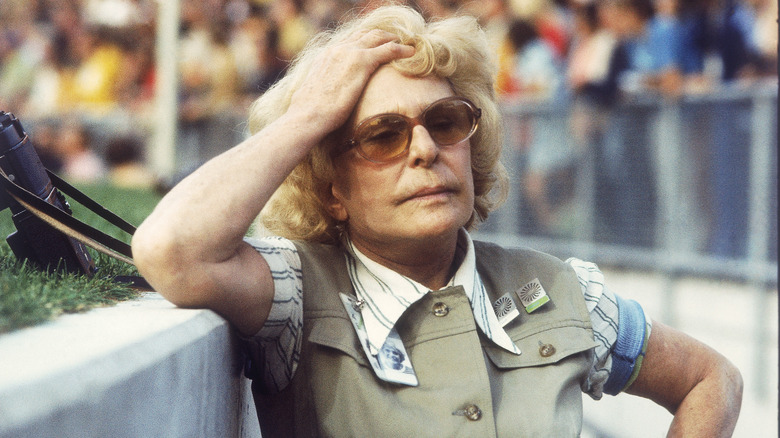 Brandstaetter Images/Getty Images
The Hollywood Reporter states that film studios refused to see Riefenstahl. Moreover, she was refused service at restaurants. The Jewish Virtual Library adds that celebrities like Gary Cooper also rescinded social invitations. With this, she stated, "I am surprised that a lady making a vacation trip in America to see the most interesting places in this land should be thus personally attacked." However, the BBC reports that Walt Disney agreed to see Riefenstahl. He gave her a tour of the studio but decided against hosting a screening for "Olympia." Famed gossip columnist Hedda Hopper also met with Riefenstahl and described her as "perfectly charming."
According to the Jewish Virtual Library, Riefenstahl failed to find a distributor for her film. Nevertheless, she did screen "Olympia" to a small group of 50 people, including Hopper. Per The Hollywood Reporter, Riefenstahl spent the rest of her trip traveling around California. She returned to Germany in January 1939. 
After the war ended in 1945, Riefenstahl was arrested and charged for her role in the Nazi party. The Guardian writes that she was eventually freed but remained a pariah for her connections to Nazism. In her later years, Riefenstahl turned to photography and scuba diving. Leni Riefenstahl died in 2003 at the age of 101. Her legacy remains a point of contention.